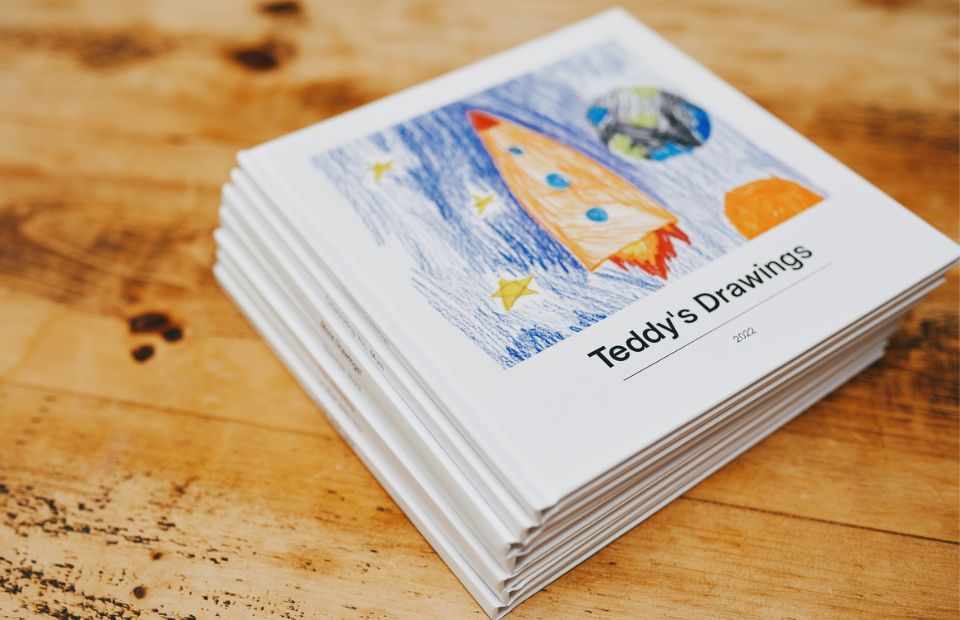 Children are prolific artists. As soon as they learn how to put crayon to paper, it's one work of art after another. And whilst it's a joy to receive another hand-crafted masterpiece, what do you do with all those pieces of paper?
A kid's art book is a beautiful way to preserve and display your child's artwork. By turning their best creations into a photo book, you can look back on the pictures they were so proud of – and create a lasting memento of their littlest years. Without a crumpled pile of paper in sight!
What is a kid's art book?
A kid's art book is just like a regular photo book. But instead of the usual family photographs, your child's artwork takes centre-stage.
You can include your child's drawings and paintings, the colouring-in that took them a whole week, their crafty collage, or the sweet note that they wrote for you (with the funny misspellings).
By transforming all of these scraps of paper into a single child's art photo book, you create a keepsake that you can treasure forever.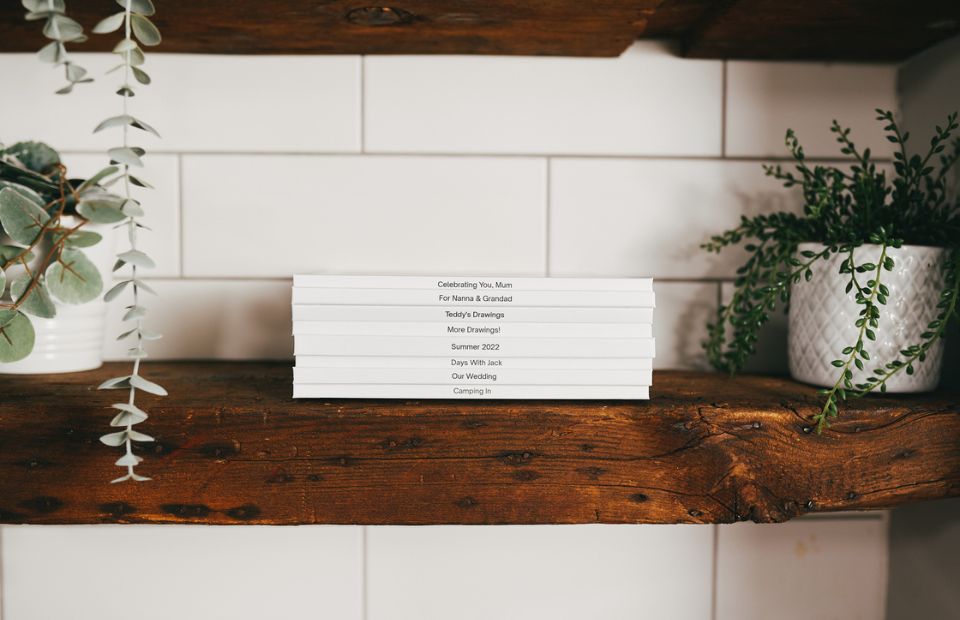 How to make a kid's art photo book: step by step
It's really easy to make a book of your child's artwork. Just follow these simple steps:
Step 1: Select your favourite pictures
If you already have a pile of your child's artwork at home, go through it and pick out your favourites.
Step 2: Take photos
Use your smartphone (or any camera you have) to take photographs of your child's artwork.
Try to take your photos in natural lighting. And get yourself and your camera into a position where you won't cast any shadows on the picture.
Once you've photographed all past works of art, you can keep up-to-date by taking a snap of any new creation. And when you have enough photographs (we'd recommend a minimum of 24), you're ready to choose a photo book to put them in.
Step 3: Choose a photo book template
Create your child's art book with Inkifi and you can choose from a range of photo book designs. The soft cover photo book, the classic photo book and the hardcover photo book are some of our most popular options. Once you've chosen a template, you can select a size and a theme and then set to making this kid's art book look and feel like your own.
Step 4: Upload your child's artwork
Click the Upload Photos button. Then select the photographs of your child's artwork that you want to add. For a super speedy upload, collect photos of your child's artwork into a designated folder on your device. That way, it's quick and easy to find the pics you want to include.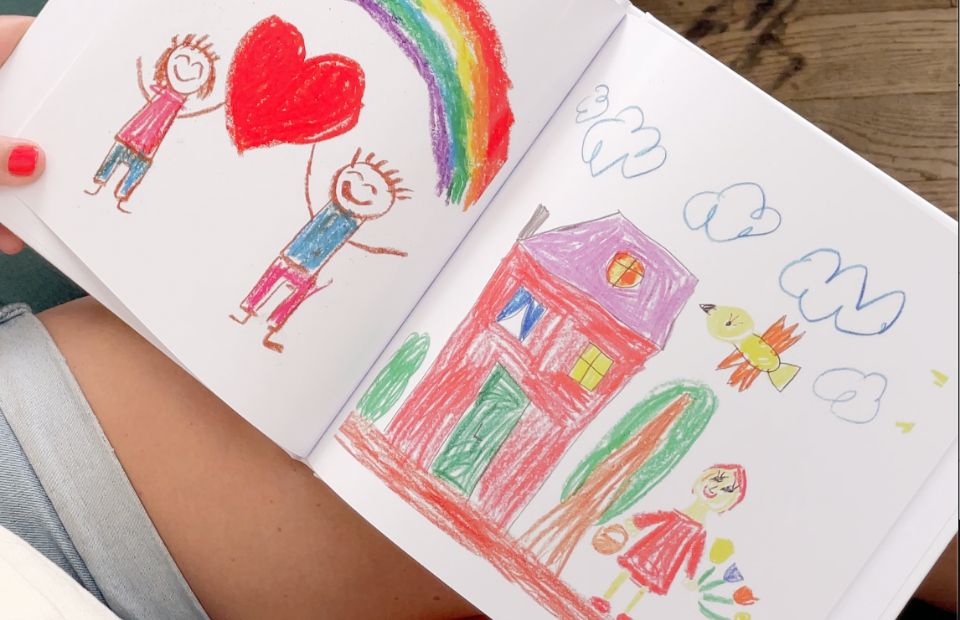 Step 5: Customise the design
Every Inkifi photo book starts out with a minimal, contemporary design. If you want to keep things classic and simple, skip straight ahead to the next step.
But if you'd like to customise your kid's art photo book, there are plenty of ways to do so. You can play around with the layout, rearranging your child's artwork to show it off in its best light. You can also add backgrounds, borders and illustrations to make your kid's art book completely unique.
Step 6: Add a title and captions
Happy with your child's art book design? Then it's time to add some text. You can put a title on the front and spine of your kid's art photo book. You can also add captions to the pages, labelling your child's artwork – and perhaps reminding your future self that that purple squiggle is supposed to represent the family dog.
Step 7: Print
Now all you have to do is checkout. And we'll do the rest. Soon you'll have a special kid's art book to share with your little one and the rest of the family.
Some of your child's art deserves extra special treatment. If you love the idea of seeing one of their drawings or paintings up on the wall every day of the year, then take a look at our framed photo prints.
four great reasons to make a child's art photo book?
Now you know how to make a book of your child's artwork, here are four very good reasons to create one.
Preserving memories
A scribble. Then a stick man. Then a scene featuring a zoo, a spaceman and what looks like an oversized strawberry?!?
When you look at your child's artwork over the course of a year or two, you see how much they've grown and changed. You see their interests and their artistic skill evolving. And you get a lovely reminder of the things they care about most.
Turn your child's artwork into a book, and you bring together wonderful memories of your little one, all in the same place – creating a snapshot of who they are at this particular age.
Clearing piles of paper (without the guilt!)
A lot of time, effort and creativity goes into each little work of art that your child makes. So it feels like a tiny betrayal when some of those pieces of paper quietly make their way to the recycling bin.
A child's photo book soothes some of that parental guilt. When you make a child's art photo book, you preserve those wonderful creations – and all of the memories associated with them – without having piles of paper cluttering up your home.
Inspiring little artists
Kids love seeing their artwork as part of a beautiful photo book. It shows them how special you think their paintings, drawings and scribblings are. And they feel so proud to show it off to their friends and family.
And who knows? Maybe seeing their artwork given pride of place in a real-life book will inspire them to create bigger and better artistic creations.
Giving the perfect gift
Stuck for a gift for the grandparents? A photo book of your child's art makes the perfect present. It's unique, personal and sure to bring lots of joy to any special person in your child's life.
Ready to make a kid's art photo book? Then simply pick a photo book and start uploading!