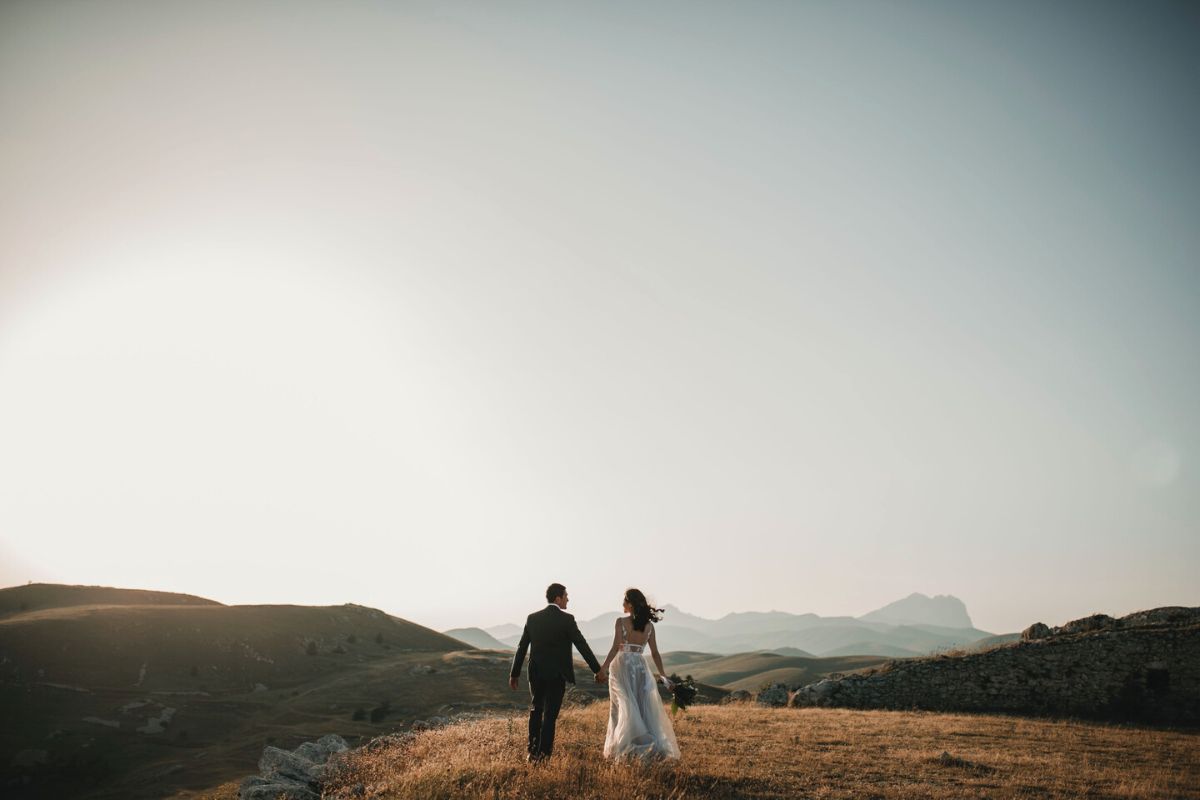 The excitement of the big day may have been and gone. But – thanks to your wedding photos – you can relive it as often as you like, particularly when you give beautiful photographs, a beautiful home.
Here we take a look at how to make your own wedding album – a precious photo book that you can cherish for decades to come.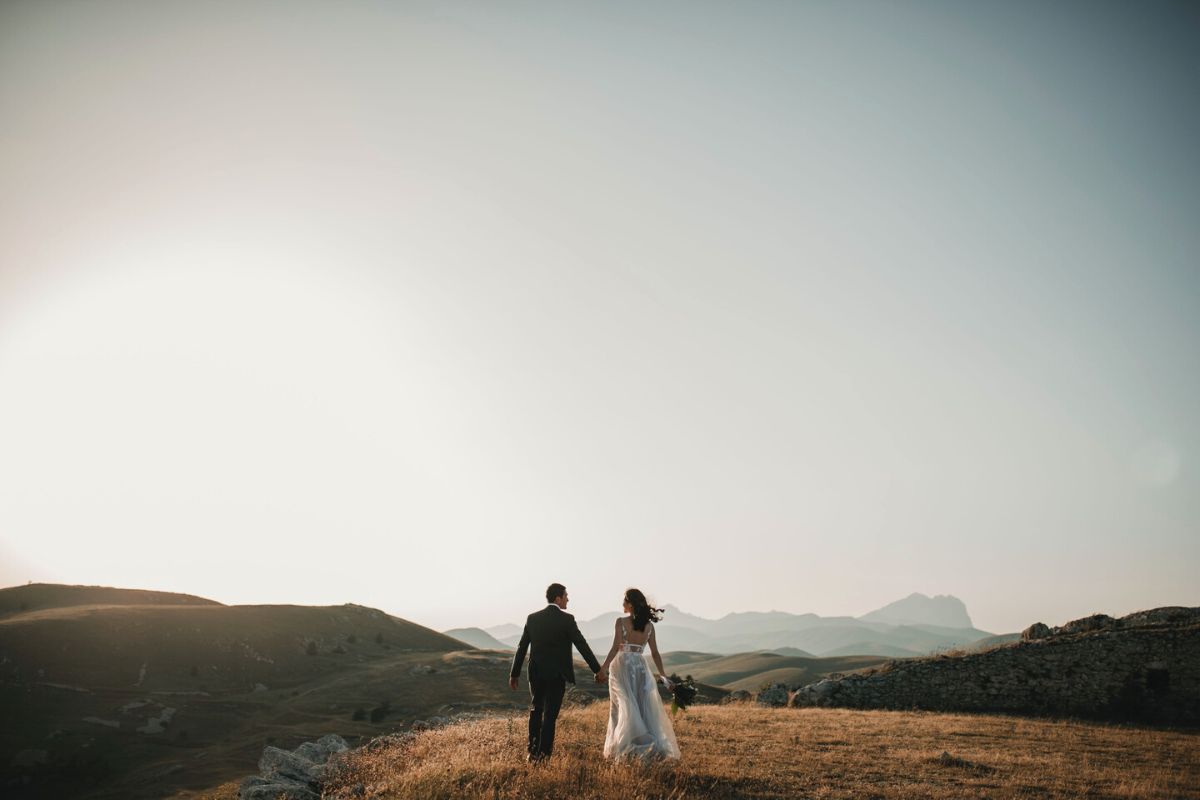 In this article we cover:
1. How to put together a wedding photo album: step by step
2. What pictures to put in your wedding album
3. What else to include in wedding album
6. Wedding album layout inspiration
8. Wedding photo book wording ideas: quotes and captions
9. Our favourite wedding album examples
10. More wedding album inspiration
How to put together a wedding photo album: step by step
Let's start with a quick summary of the steps involved when you want to make a wedding album.
Step 1: Select and organise your wedding photos
So your wedding photographer has finally sent over your edited wedding photographs! Time for a cup of tea (or some fizz) and a journey back through the most magical day of your life.
Every photo probably reminds you of a wonderful moment, but you're going to have to be selective if you want to squeeze your whole wedding day into a beautiful wedding photo album.
First things first, be sure to back up your images to the cloud or an external hard drive. Then create a wedding album folder and start copy pasting your favourite photographs into it.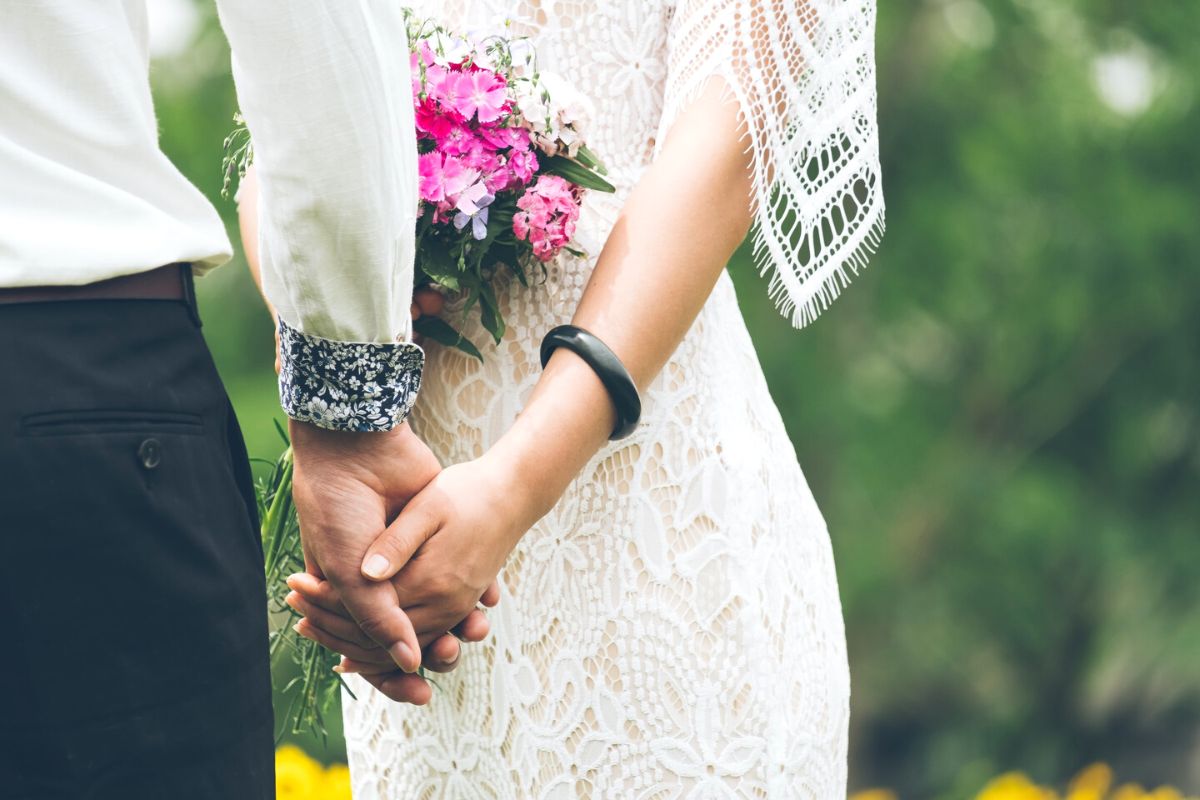 Step 2: Choose your wedding album type
Once you have a fairly clear idea of the images you want to include, you need to actually pick a wedding photo album to house them.
A softcover wedding album is a more informal choice, perfect if you want to send a few bespoke albums to your nearest and dearest.
Hardcover wedding albums are more special and substantial.
But for a truly exceptional wedding memento, it has to be the layflat photo album, which contains super thick pages that lay flat when opened.
Step 3: Choose a template or theme
Your wedding album template is the basis of your design. It provides a background, font and layout that you can then work from.
Step 4: Plan the layout
One image per page? One stand out photograph and a smaller cluster alongside? A double-page spread?
There are so many different ways to arrange your wedding album layout. But here are a few rules of thumb:
- Vary layout throughout your wedding album
- Extra special moments deserve their own space to shine
- If you're including multiple image on a page, be sure to include landscape and portrait shots, as well as a variety of perspectives
- White space (the blank space around your images) is important to layout too – don't overcrowd your pages
Step 5: Choose your album cover
We know you shouldn't judge a book by its cover. But we just love seeing wedding album covers that make you feel excited about the photos within.
Your wedding album cover should represent the mood of your wedding album – whether that's fun, romantic, dramatic or epic. And it should include a title too.
What pictures to put in your wedding album
Every wedding is unique. So it follows that every wedding photo album will be too.
Nevertheless, if you're in search of a handy tick list, here are a few photographs you should always try to include when you make a wedding album:
The pre-wedding anticipation - getting ready and travelling to the venue
The ceremony - the all-important I dos
Your guests - the family and friends who stood by you on your big day
Beautiful details - like your flowers, rings and shoes
The location - table settings, décor and your venue
The speeches - including a few expressive reaction shots
The party - eating, dancing and general merriment
Whatever your big day looked like, be sure to select photographs that represent every special part of it.
What else to include in a wedding album
A wedding album filled with beautiful photos tells the story of your big day. But you can say even more with a few added extras.
Dried flowers from your bouquet, wedding stationery like your invitations and running order, a copy of your vows and even messages from your guests all make wonderful and evocative wedding album additions.
This is the beauty of a DIY wedding album. Make a wedding album with a few blank pages and you have space to paste and preserve special wedding mementoes.
Wedding album design ideas
The design of your wedding album should fit your wedding photographs – and the style of the day itself.
Bold and dramatic wedding photography? A black album background can really make your photos pop. A vintage-inspired day? Your album should reflect the era you chose to evoke.
Here are a few wedding album design ideas if you're in need of a little inspiration.
Dramatic
If you chose your photographer because you liked their striking, editorial style, a dramatic album design could be just the right fit. Think big, full bleed images and a bold background colour.
Vintage
Art deco glamour. Swinging sixties style. Bridgerton Regency decadence. If your wedding had vintage vibes, highlight your theme with carefully chosen fonts, page borders and patterns.
Quirky
Not the kind of couple to take yourselves too seriously? There are plenty of ways to inject a sense of fun into your wedding photo album - start with a cluster layout and a few text anecdotes.
Timeless
A minimalistic wedding photo album helps to create a classic, timeless feel. A crisp white background, and lots of white space, gives beautiful images space to shine.
Wedding album templates
Wedding album templates provide the basis for your design. Pick one you like and you'll have very little editing to do.
Here at Inkifi, we have a couple of simple, stylish, and completely customisable wedding album templates for you to choose from.
Classic: The perfect choice when you want to make a wedding album with timeless style.
Positive Space: Crisp white borders and plenty of space to add your own text.
Sophisticated: A simple black background, full bleed images and a contemporary font.
To find your perfect template, simply select a photo book, click Customize and choose from our collection of templates. From here you can add photographs and adjust layouts.
You can also play around with the design – or leave it as it is. It's completely up to you.
Wedding album layout inspiration
Imagine you're telling the story of your day. The order in which you place your photos has a big impact on how that story looks and feels.
Chronological
When you arrange your wedding photographs in time order, flicking through your wedding photo album is like watching the day unfold all over again.
By subject matter
Arranging your photographs by subject means having double page spreads dedicated to a different aspect of your wedding – the location, the dress, the food, your guests.
By colour
For a really striking effect, group photographs together based upon their predominant colours. You can then create a changing colour scape as you move through your wedding photo album.
Wedding album cover ideas
Now onto another really exciting bit – choosing your wedding album cover.
Wedding album cover ideas with photographs
If you choose to put one of your beautiful wedding images on the front of your wedding photo book, it should represent your day (and the album) as a whole.
So what aspect of your day sticks in your mind the most?
If it's the romance, make a close-up, intimate shot of you and your other half your cover image. Confetti throwing photographs highlight the joy of your big day. A detailed shot of your rings emphasises the commitment you've made to each other. And a wide angle shot can showcase your location or venue.
When adding a title, remember that laying text over your photograph helps you to create a wedding album with a contemporary feel, whilst a title placed in a border underneath your photograph creates a classic, traditional look.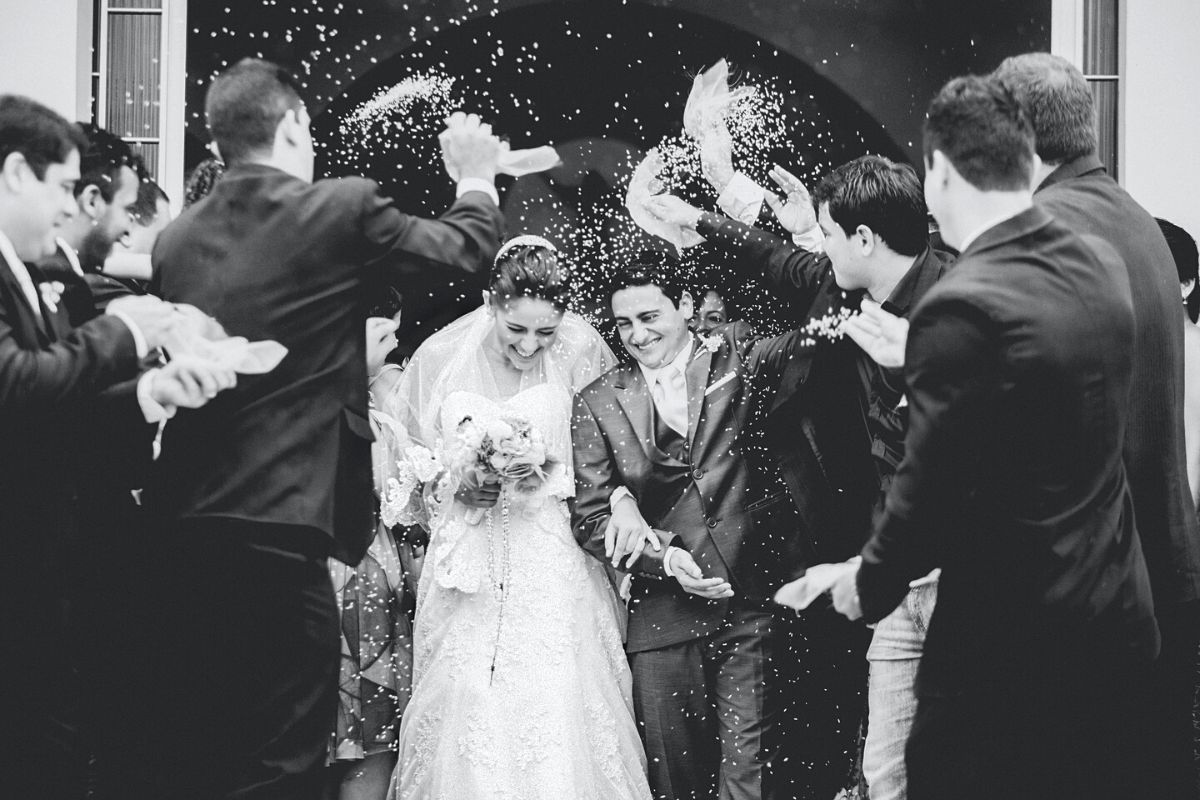 Non-photographic wedding album cover ideas
A plain cover, with a luxurious finish, can be equally as impressive.
Try to pick a colour that reflects your wedding colour scheme. And put some thought into the title, as this is much more prominent on a plain cover.
Don't worry about coming up with something completely unique though. Yours and your partners initials along with the wedding date make a beautiful and minimalistic cover title.
Struggling for title inspiration? Let's take a look at a few wedding photo book wording ideas.
Wedding Photo Book Wording Ideas
From a front page title, to wonderful captions and anecdotes inside, there's plenty of space to add text to your wedding photo album.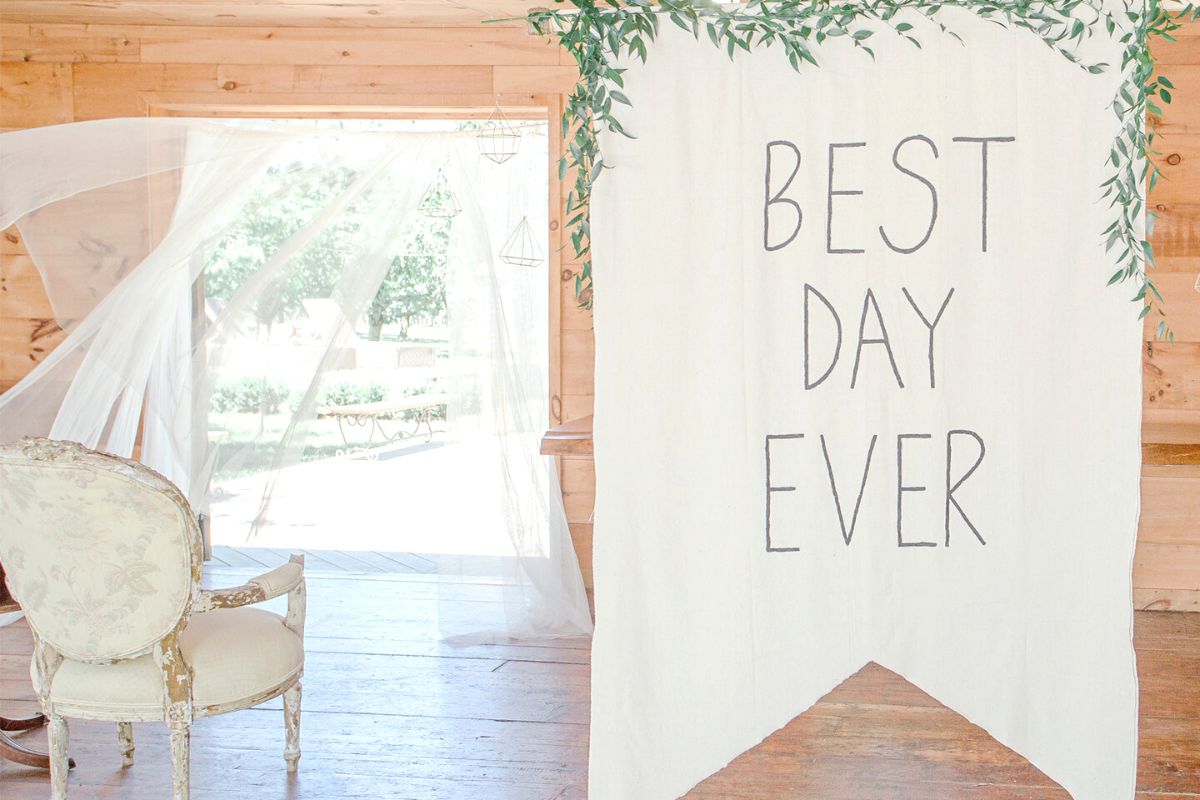 Just married
…and they lived happily ever after
Mr & Mr
The story of us
To have and to hold
You and me
The Taylors – Est. 2022
L O V E
We do
Always and forever
Best day ever
All you need is love
Wedding photo book quotes
How wonderful life is while you're in the world. - Elton John
Some day, when I'm awfully low, when the world is cold, I will feel a glow just thinking of you and the way you look tonight. – Frank Sinatra
Love is friendship on fire. – Susan Sontag
I would rather spend one lifetime with you, than face all the ages of this world alone. – J.R.R. Tolkien
How sweet it is to be loved by you... – James Taylor
Love does not consist of gazing at each other, but in looking together in the same direction. – Antoine de Saint-Exupery
'Cause all of me loves all of you. – John Legend
When two become one. – Spice Girls
Those that truly love have roots that grow towards each other underground, and when all the pretty blossoms have fallen from their branches, they find that they are one tree and not two. – Louis de Bernieres
You know you're in love when you can't fall asleep because reality is finally better than your dreams. – Dr. Seuss
Our favourite wedding album examples
Ready for some inspiration? Take a look at these amazing wedding photo book examples.
More wedding album inspiration
And a few other wedding album ideas…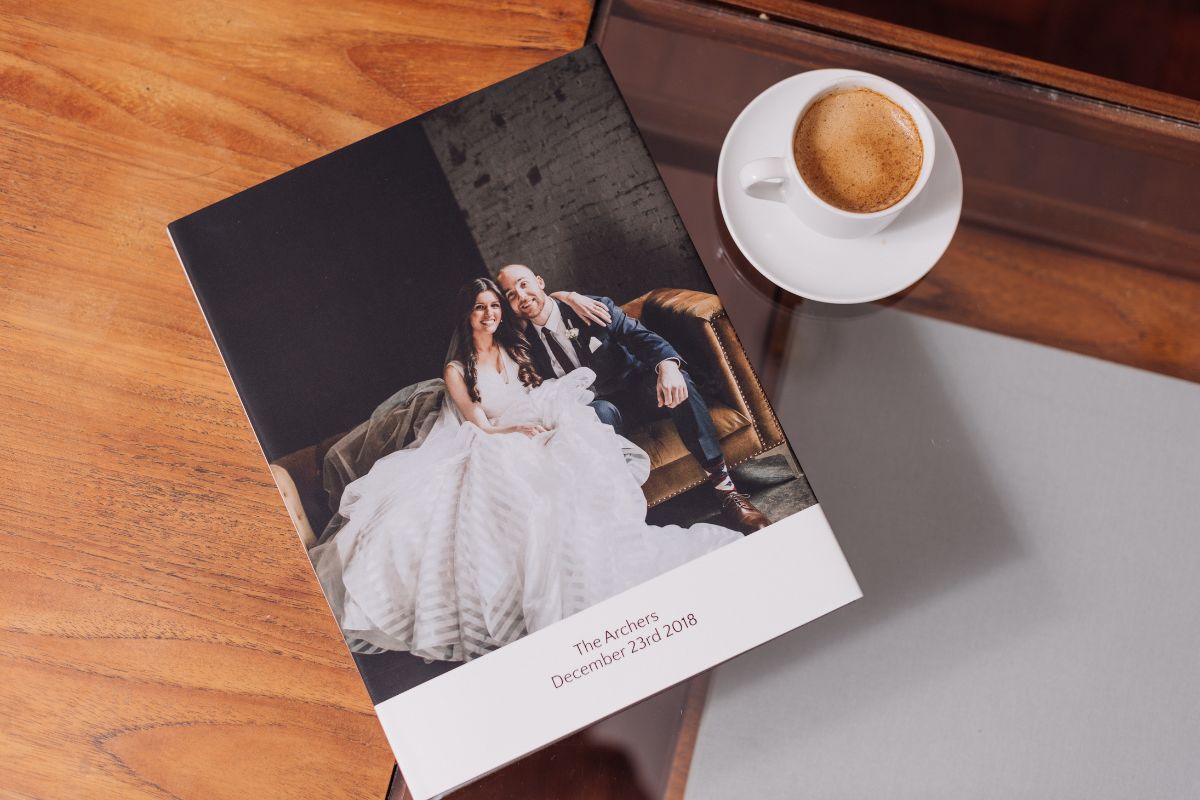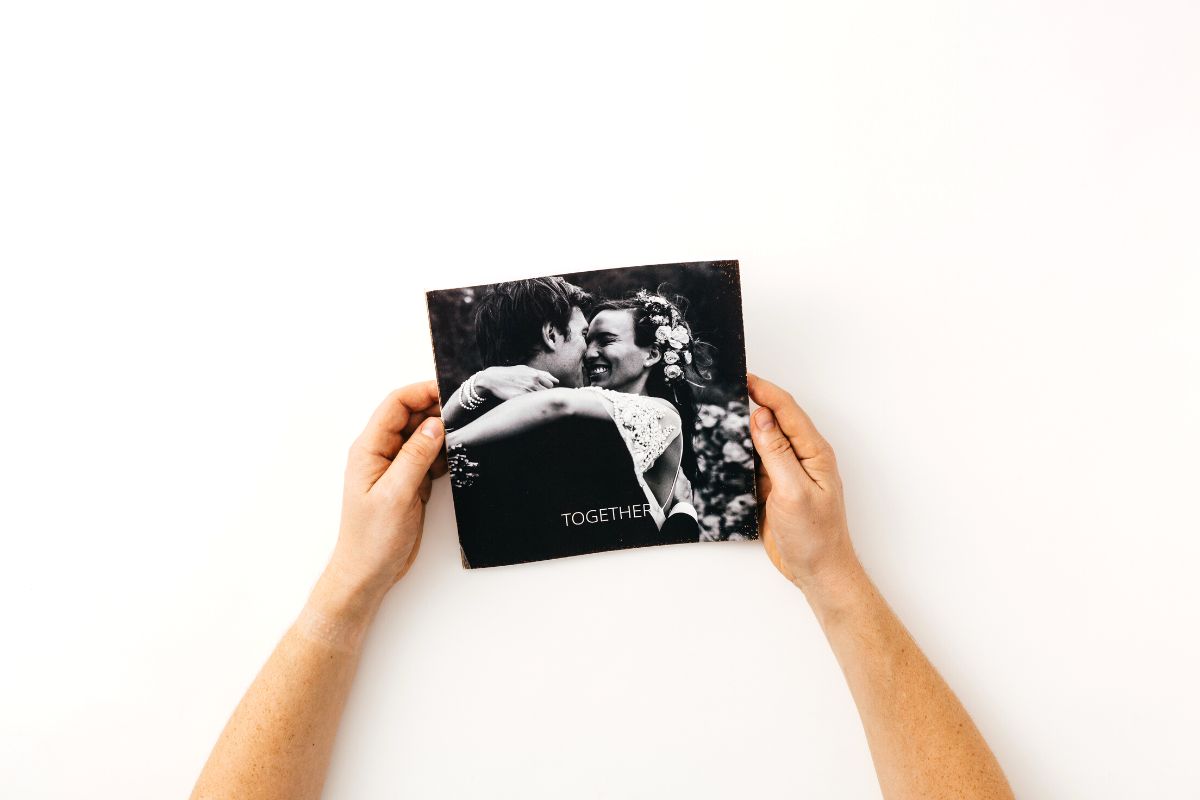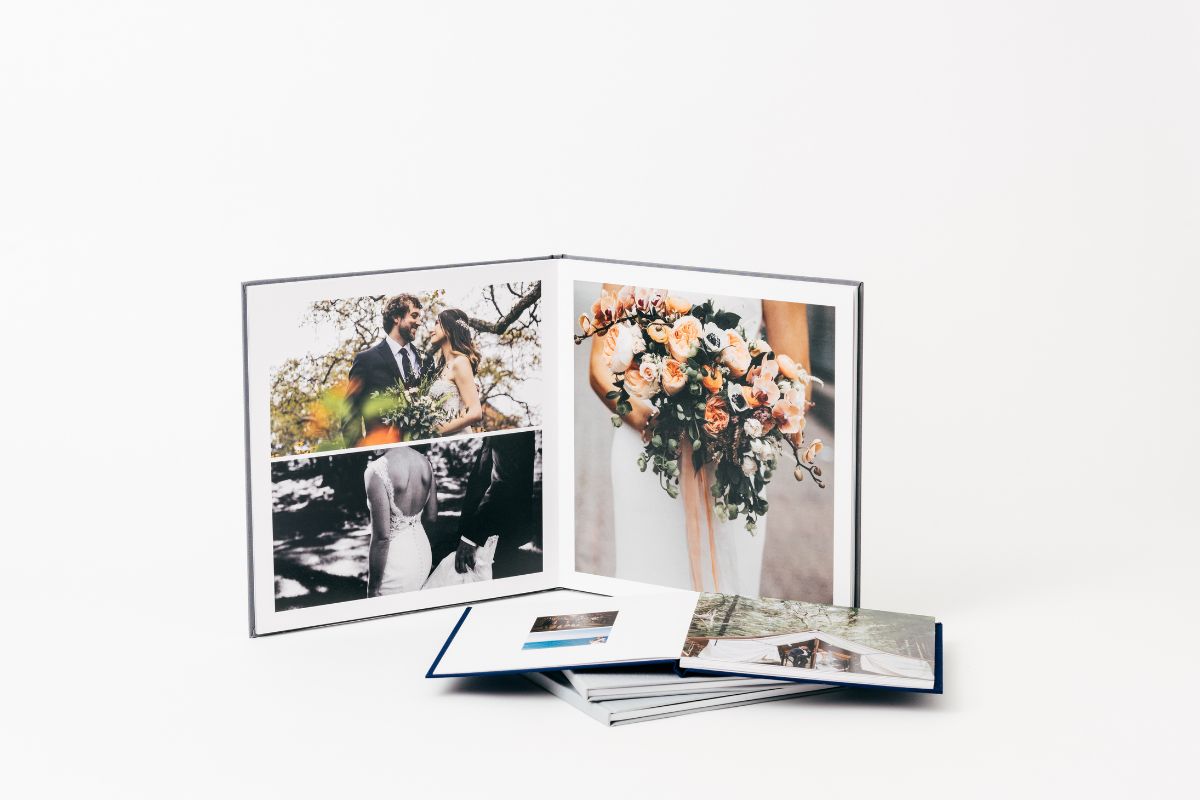 Excited to make your own wedding album? Pick one of our Photo Books. Then, with the help of our easy-to-use editor, customise to create the beautiful story of your big day. Or, take a look at our premium wedding prints, wedding photo frames, or for those just getting started, save the date cards.
Looking for more wedding photo inspiration? Read:
How to Design a Wedding Photo Gallery Wall
How To Choose A Wedding Photographer
Eco-Conscious Wedding Planning