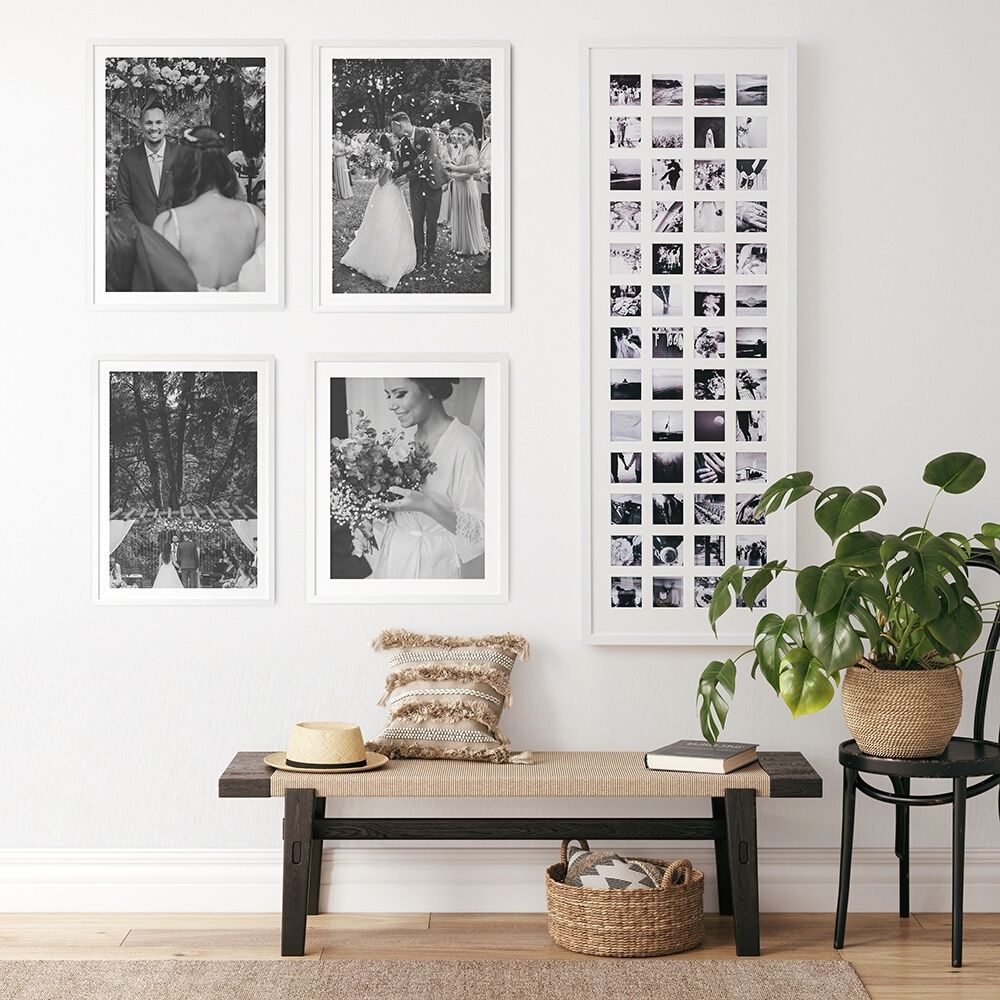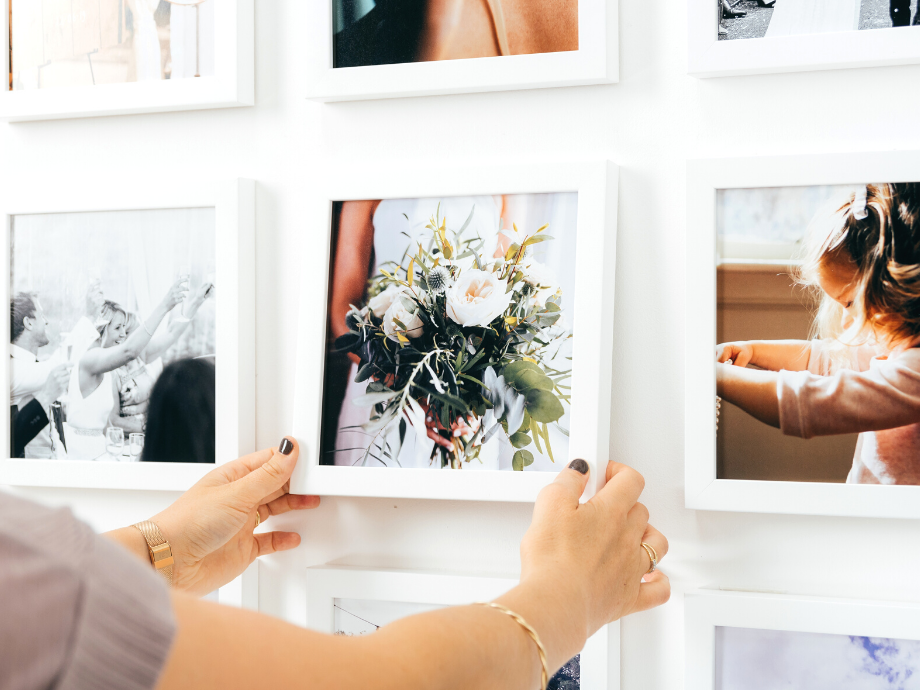 Too many special wedding photographs to choose from? Wondering how to display wedding photos on a wall?
A wedding photo gallery wall could be just the solution you're looking for.
Here's how to design a beautiful picture wall collection and create a permanent home for cherished wedding day memories.
In this article:
Steps to take before you design a wedding photo wall
Before you start thinking about wedding prints or wedding photo frames you have to tackle a few practical gallery wall basics.
Decide on your location
Where are you planning to hang your wedding photographs? Pride of place – of course.
But you need to know exactly where you want your gallery wall to go in preparation for your next step.
Do you want it above a sofa or above the head of your bed? We've seen amazing gallery walls along stairways and in little hallway nooks too.
You can place your wedding picture wall pretty much anywhere as long as there's space to hang at least three frames.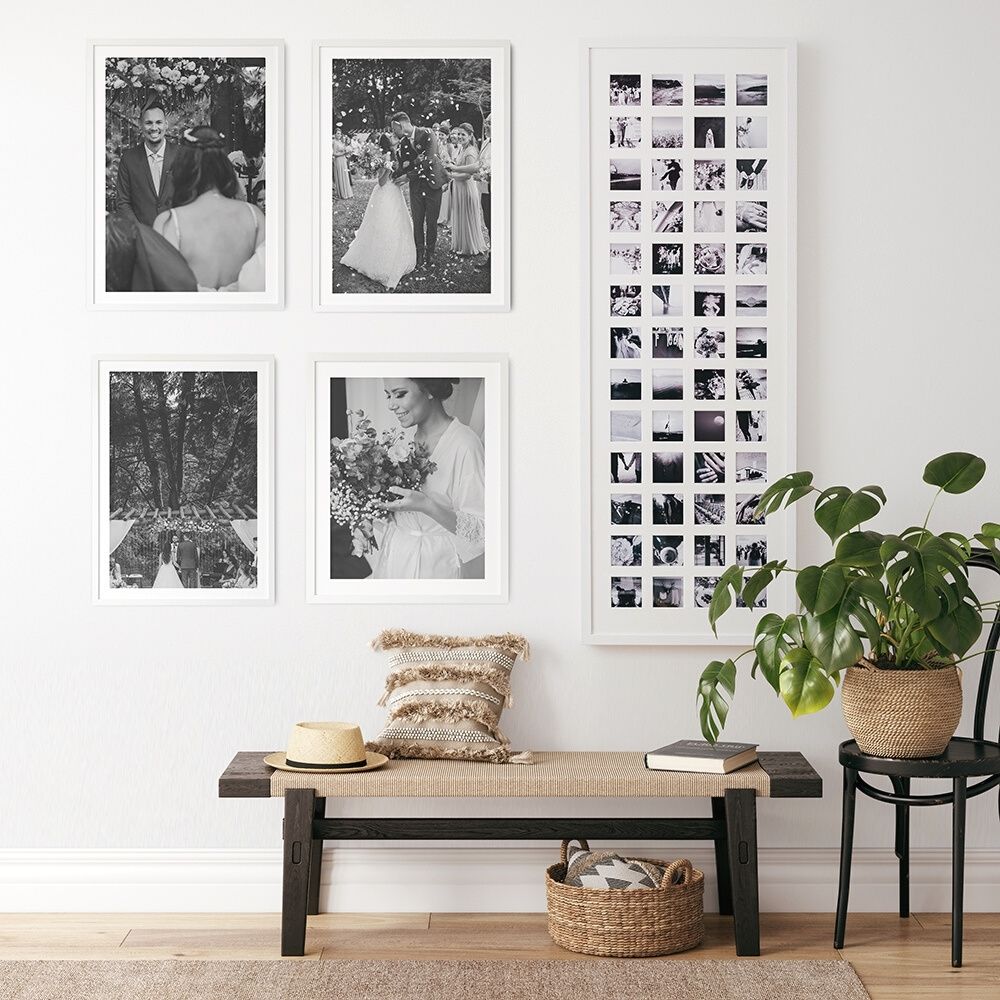 Image features Moments Frame and Gallery Frames
Measure your space
Now you know where you're putting your wedding picture wall, it's time to work out how much space you have to play with..
Use a tape measure to measure your wall.
You might also want to measure any large pieces of furniture (like your bed or the sofa) that may dictate the size of your wedding photo wall.
Decide on a layout
Different gallery wall layouts require different sized prints.
So it's really important that you choose your layout before you start printing and framing your photographs.
Here are a couple of the most popular wedding gallery wall layouts to choose from:
Triptych: Three equally-sized (usually fairly big) framed prints hung alongside one another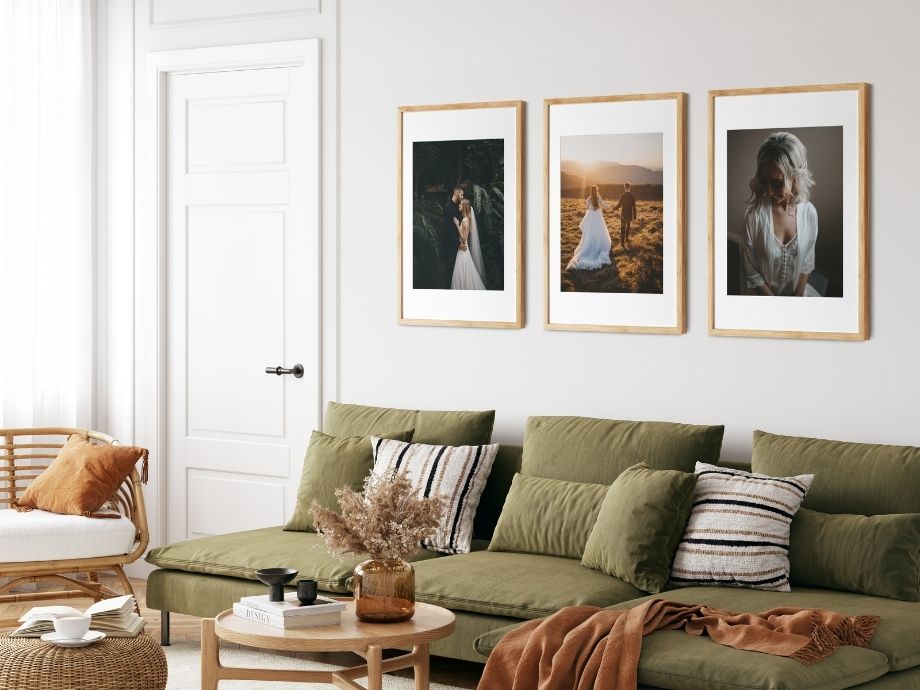 Image features; Large Format Photo Prints and Ikea Ribba Frames
Grid: A symmetrical square or rectangle of prints, all equally spaced
Cluster: A beautiful mismatch of frames, clustered around a central point
Shelfie: Frames propped up on an eye-height shelf
How to design a wedding photo gallery wall
Step 1: Pick your favourite prints
It can be really difficult selecting just a few standout prints from your wedding photo roll. But these gallery wall considerations may help you narrow down the shortlist.
Colours
Think about how your images will look together. Are colours complementary? Would everything look better in black and white? Chances are your wedding colour scheme will act as a great basis for your composition.
Orientation
All landscape? All portrait? Or a mixture of the two? The wedding picture wall layout you've chosen will help you decide which combination works best.
Perspective
The best wedding photo gallery walls make you feel like you're living your big day all over again.
To do that, pick prints that show different perspectives. The happy couple and their guests. Close ups and wide angles. The emotional ceremony and the awesome party afterwards.

Image features; Large Format Photo Prints
Step 2: Pick your frames
Frames should complement the print – and your interior décor. And there are lots of different options to choose from.
Sleek, black frames are the epitome of minimalism. Natural wooden frames highlight other natural materials within a space. Eclectic, mismatched frames help to emphasise boho vibes.
Anything goes. Just make sure your frames fit rather than fight with their surroundings.
Step 3: Confirm your layout
Once you have your framed prints in front of you, it's time to double check your layout. You can do this by laying your prints on the floor and playing around with them until you love the configuration.
Happy with your layout? Take a quick phone photo of it so you have a handy reference when you start hanging your frames.
Step 4: Measure twice, hang once
This is the trickiest part of the gallery wall process – and one of the most important. Arm yourself with a tape measure and a pencil, and then mark or make a note of the following figures.
- The width of the gallery wall space (so you can find a central point at eye height which will acts as the central point of your gallery wall layout).
- The width and height of each framed print.
- The distance from the top of the frame to the hanging fixture on the back.
With the help of these measurements, it's time to start hammering in picture hooks.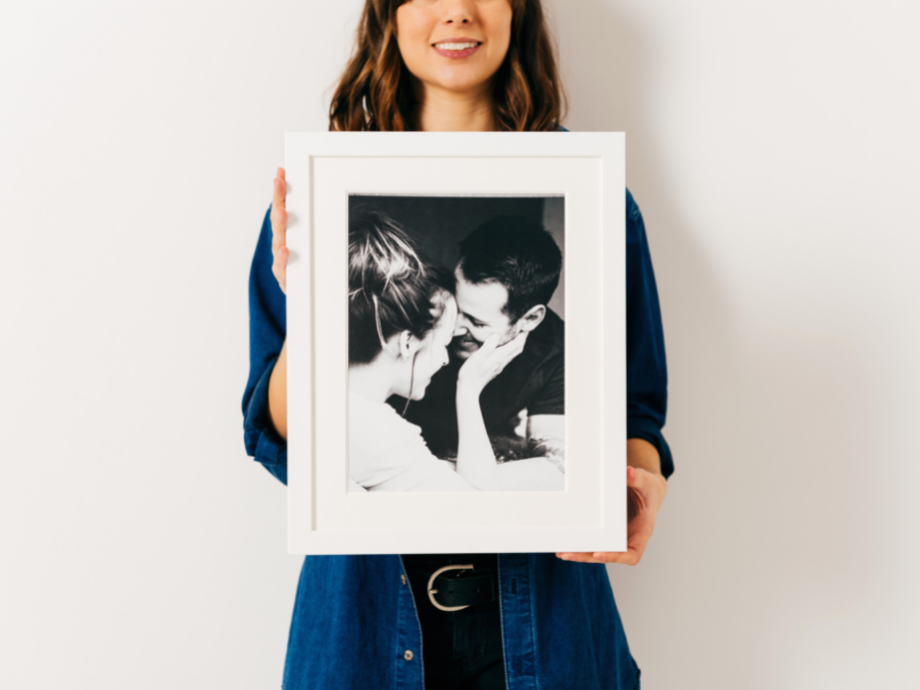 The best wedding photo gallery walls make you feel like you're living your big day all over again.
Of course, if you choose a shelfie wedding gallery wall layout, you don't have to worry about any of this stuff. Just play around with your prints, moving and overlapping them until you find a composition that works for you.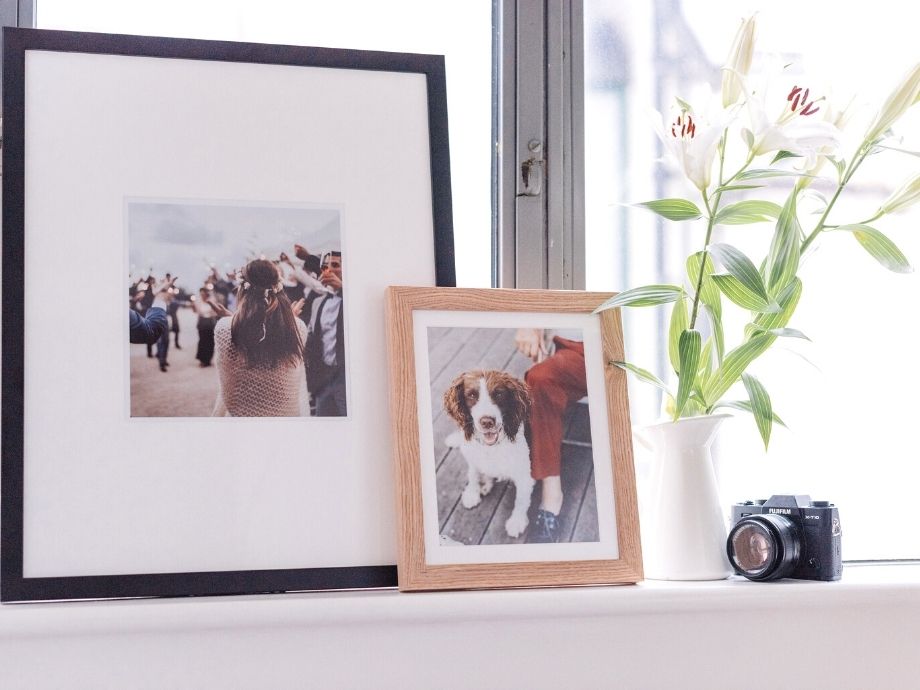 Don't rate your DIY skills? Our Photo Tiles are a great way to hang prints without the picture hooks. Simply stick and unstick to create a beautiful wedding picture wall layout.
Step 5: Admire your creation
Step back and admire the beautiful wedding picture gallery wall you've just created.
It may have taken a little time and effort, but this framed collection will now serve as a lifelong memento of your happy day.
Wedding photo wall inspiration
Want some wedding picture wall ideas? Take a look at what these inspirational Instagrammers have been up to.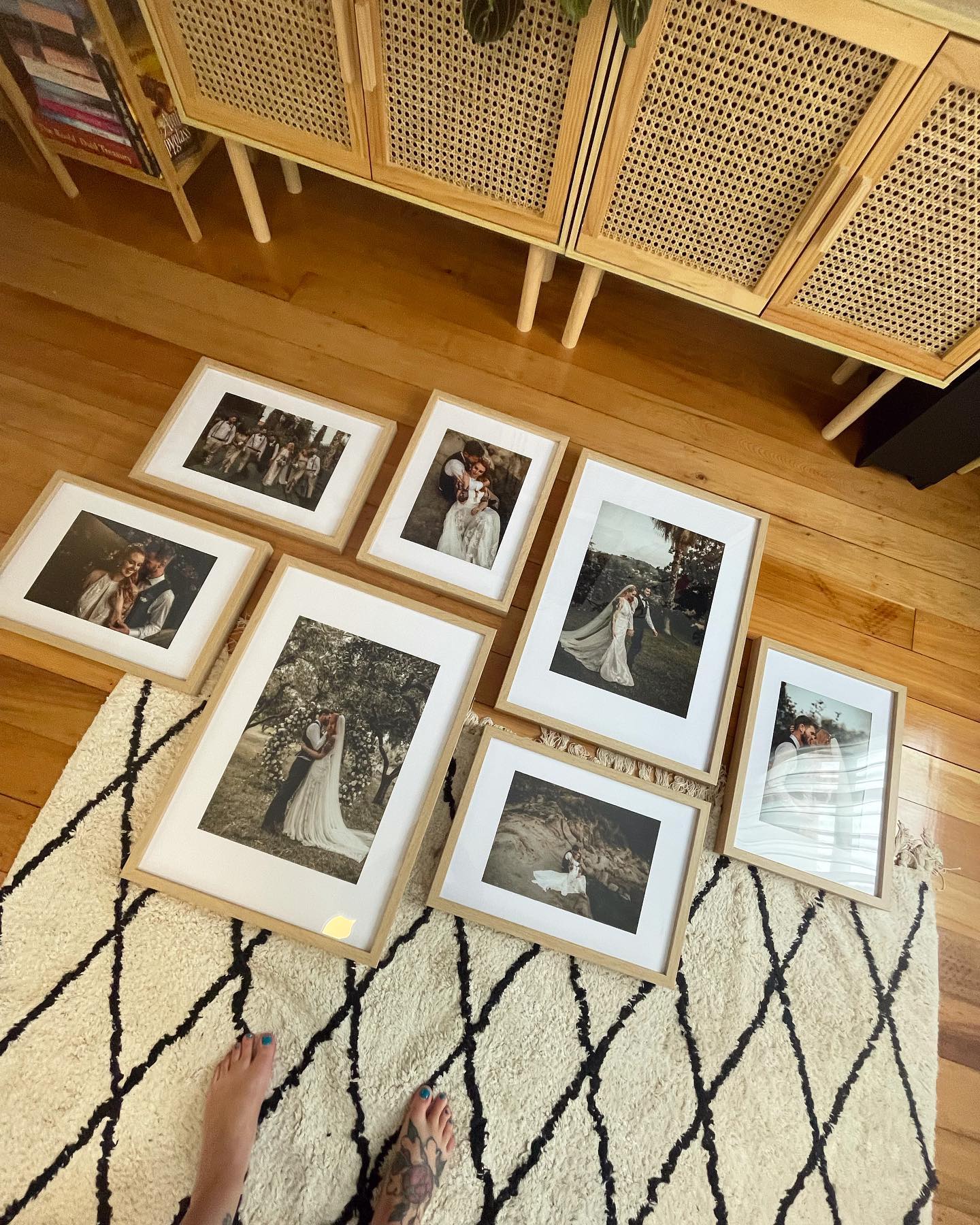 Image by our.place.gets.a.peel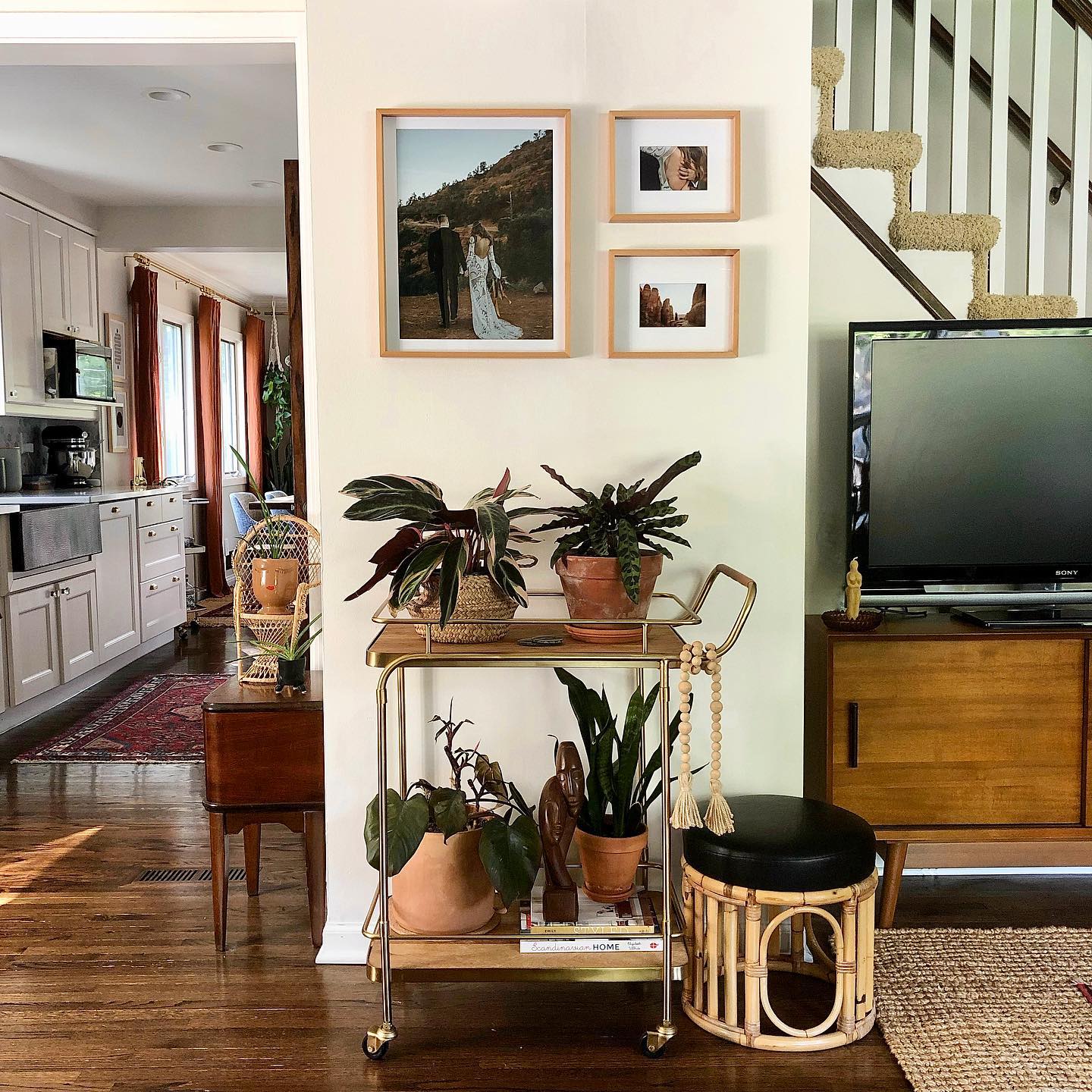 Image by @mollhausdesign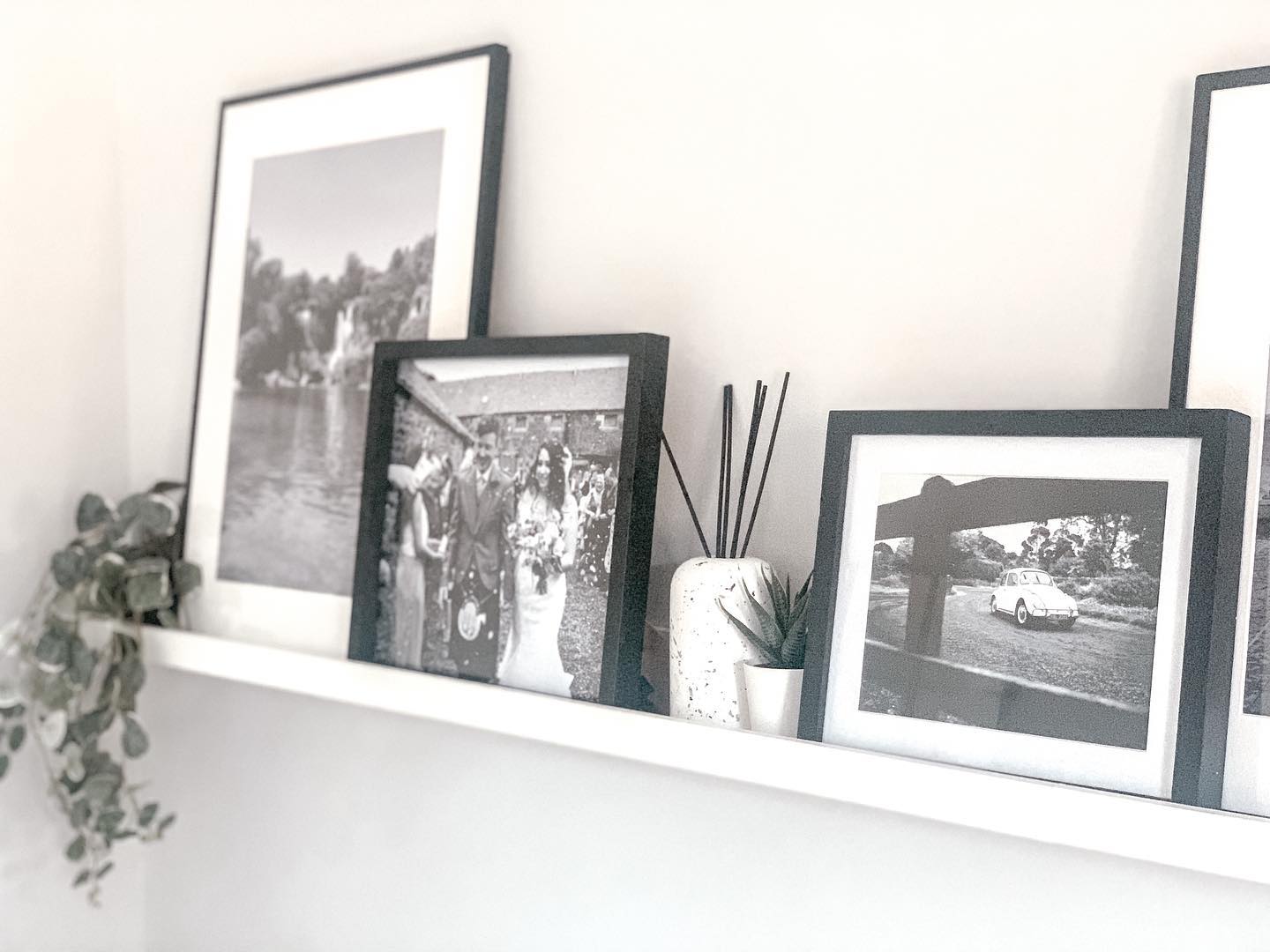 Image by @where_lou_lives
Creative ideas to add a personal touch
Want to make your wedding photo wall even more personal? Photos aren't the only wedding keepsakes worthy of a place on your wedding picture gallery wall.
Why not capture all the fun, beauty and love you experienced on your big day with these creative ideas?
Framed wedding stationery
Don't hide your wedding stationery away in a dusty old box! Include it in your wedding picture gallery wall by framing beautifully designed invites and save the dates.
Framed wedding mementoes
Pressed flowers from your bouquet, a heartfelt note from one of your guests, the original place cards you spent ages creating – all of these things can be framed and featured in your gallery wall.
A typography print
A personalised typography prints brings something a little different to wedding gallery wall composition. Create a print that features a few lines from your wedding vows or the lyrics from your first dance song to add another special memory into your gallery wall mix.
Ready to create your own wedding photo gallery wall? We make it easy with our gallery wall set! Upload, view and print beautiful, framed gallery wall photographs.
For more wedding photo inspiration, take a look at:
How to Make Your Own Wedding Album
How to Choose a Wedding Photographer