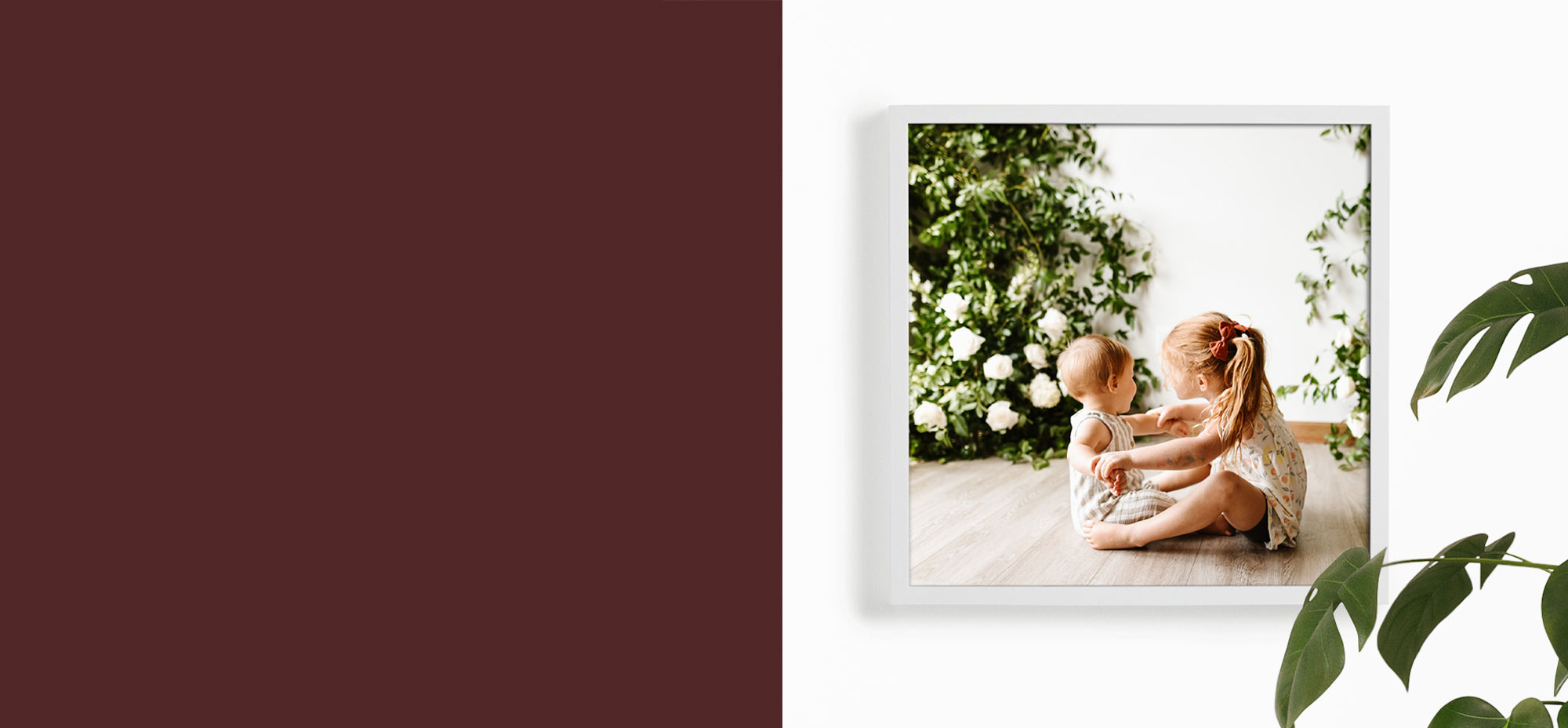 Framed Photo Tiles
Turn Your Photos Into Incredible Stickable & Restickable Wall Art
No Nails Needed
Special Price
£11.81
Regular Price
£15.75
Today You Save 25%
Payments available
Excellent 4.5 out of 5 on Trustpilot
Need it for christmas?
Order by 16th December
Turn your pictures into beautiful and affordable wall art with our personalised photo tiles.
- No nails needed!; These Frames stick to any wall.
- Comes with removable tape for hassle-free hanging.
- Square photo tiles for creating personalised wall art.
- Printed on professional grade Giclée photographic paper.
- Choose a white or black wooden frame.
- Perfectly sized for your photo wall collage at 8 x 8 inches.
Photo Tiles for your wall
Make your photo tiles in minutes
Creating stick on wall tiles is as easy as pie with our online digital designer.
Choose your design
To get started, pick your chosen frame colour including crisp white and classic black
Add your photos
Upload images straight from your smartphone, computer or Instagram feed
Display in seconds
Stick and unstick with reusable tape that won't damage your wall
Create a personalised picture wall with ease
Whether you've just moved in or your home needs a personal touch, our stickable photo tiles make the perfect photo wall art. Available in neat square wooden frames, you can create a collage in minutes. Tile pictures look their best in a collection. Choose a set of 4, 9 or 12 to keep to a square mosaic, or create a unique arrangement with different coloured frames and heights. Go asymmetrical for a gallery wall that you can keep adding to over the years.
Say goodbye to the faff of nails, hooks and string! If you're renting your home - or slightly indecisive - our photo tiles are for you. Each tile comes with tape that allows you to stick and unstick on the wall without leaving a mark. So don't worry if your design doesn't look perfect the first time around.
A thoughtful gift for that special someone
Photo tiles are a beautiful present for your family and friends. Whether a favourite holiday photo, cherished moment or forgotten family photograph, picture tiles are a gift that show just how much you care. Printed on premium materials, you can create personalised wall art that's stylish, affordable and compliments any home. Make your loved ones smile and order your photo tiles to y our home or straight to their door.
Photo tile reviews
"These ready made stick on framed tiles from Inkifi finish the wall off perfectly and it was super easy to order them straight through their app too, they also arrived within days of ordering which was an added bonus!"
@eli_at_home
"I love them displayed here on the middle landing wall, but the best thing is they come fitted with a sticker so you can adjust and move whenever you feel like it."
@clareduffyxx
"I ordered a photo of my daughter and my photo tile is fantastic, they stick to the wall really well, I am going to create a large wall display in my hall downstairs, thank you!"
Nina
"'ve purchased about 10 of these tiles now and they are the best gifts to give to family members, everyone comments on them as soon as they come in, will be back for more."
Jenni O
"What a wonderful and creative product. My photo wall looks absolutely stunning. Thank you!"
Tristan
Photo Tile FAQ
How do Photo Tiles Stick?
Each Photo Tile comes complete with a specialist adhesive strip that allows you to attach and place your print securely on a clean, flat wall. Each custom photo tile can be easily hung without tools, simply peel the adhesive strip and stick into place.
What Are Photo Tiles Made Of?
These Framed Photo Tiles are made of 50% recycled plastic content and each tile features a premium quality, professional, Giclée photographic print.
Do Picture Tiles Damage Walls?
This product has been designed to cause no damage to your walls, they can be easily hung without nails and are designed to leave no residue when removed. We do, however, recommend waiting 1 week before putting your Photo Tiles onto freshly decorated walls.
How can I clean my Photo Tiles?
Your Photo Tiles can be kept looking as good as new with a quick wipe of a dry cloth.
What shape and size are your photo tiles?
Our picture tiles are all square shaped and measure 8 x 8 inches (20.3cm x 20.3 cm). You can also purchase different sized framed photographs from our selection of wall art. Here we have a wide range of acrylic prints, canvas prints, posters and frames you can use to create a bespoke gallery wall.
How Many Photo Tiles Should I Order?
This product is ideal for creating statement photo walls. As such we recommend ordering a set of 3,6,9 or 12 Photo Tiles so you can create your own perfect gallery wall.
How do I order personalised picture tiles?
Our user-friendly photo tiles app allows you to print your photographs in a matter of minutes. After you've selected your frame's colour of choice, upload your images into our online tool straight from your laptop, smartphone or social media. Here you can print as many photo tiles as you like to create your wall art collage.
How many photo tiles should I order to create a gallery wall?
First choose whether you'd like a symmetrical or asymmetrical design. Because our photo tiles are square, you can easily create a square mosaic with 4, 9 or 12 tiles. Or arrange an odd number of tiles in a straight or vertical line at different heights for a modern display. The secret to a perfect gallery wall is to pick photographs that compliment each other and tell a story. Choose a combination of landscapes, family photos or even pictures of your pets!
Copyright © 2023 Inkifi. All rights reserved.