Layflat Photo Books
The prefect home for your wedding photos
Today You Save 25% With Code: Autumn
Excellent 4.5 out of 5 on Trustpilot
The stunning new lay-flat photo Album will leave you or your clients speechless.
Featuring super-thick pages that lay flat when opened. This is the book for your most precious memories that you wish to preserve for generations.
For memories that deserve nothing but the best
A layflat photo book is a perfect way to create a family heirloom. It will take pride of place on the coffee table and is the ideal way to showcase your most precious memories for generations to come. The unique binding techniques used in these books will give them a double-page appearance, allowing you to enjoy seamless memories of your favourite moments.
Layflat photo books are also ideal for displaying photos from your wedding day or showcasing panoramic images from your trip of a lifetime.
Product Features
Sustainable printing and UK-based tree planting for every order placed.
24 to 80 pages - Each additional page £0.50
Super-thick 200gsm FSC silk paper
2 formats: landscape and square
4 sizes; 215 x 280mm - landscape. 215 x 215mm, 254 x 254mm, 305 x 305mm - square
Made in the UK
Dispatched in 5-6 working days
10 clean and stylish themes to choose from
Display the moments that define your story
Choose from various curated templates to showcase your favourite photos on the front and back of the book and add text to introduce the story behind the pages.
You can customise the layout of each page to create a personalised photo album that will complement your existing double-page spreads. The layflat binding will also ensure that your album will stay in place for an uninterrupted viewing experience.
Find a space in the house to display your photo album where you can return to it often. We believe that the power of photos to lift spirits or bring a smile of recognition to your visiting friends' faces is a pleasure that cannot be replicated in the virtual world.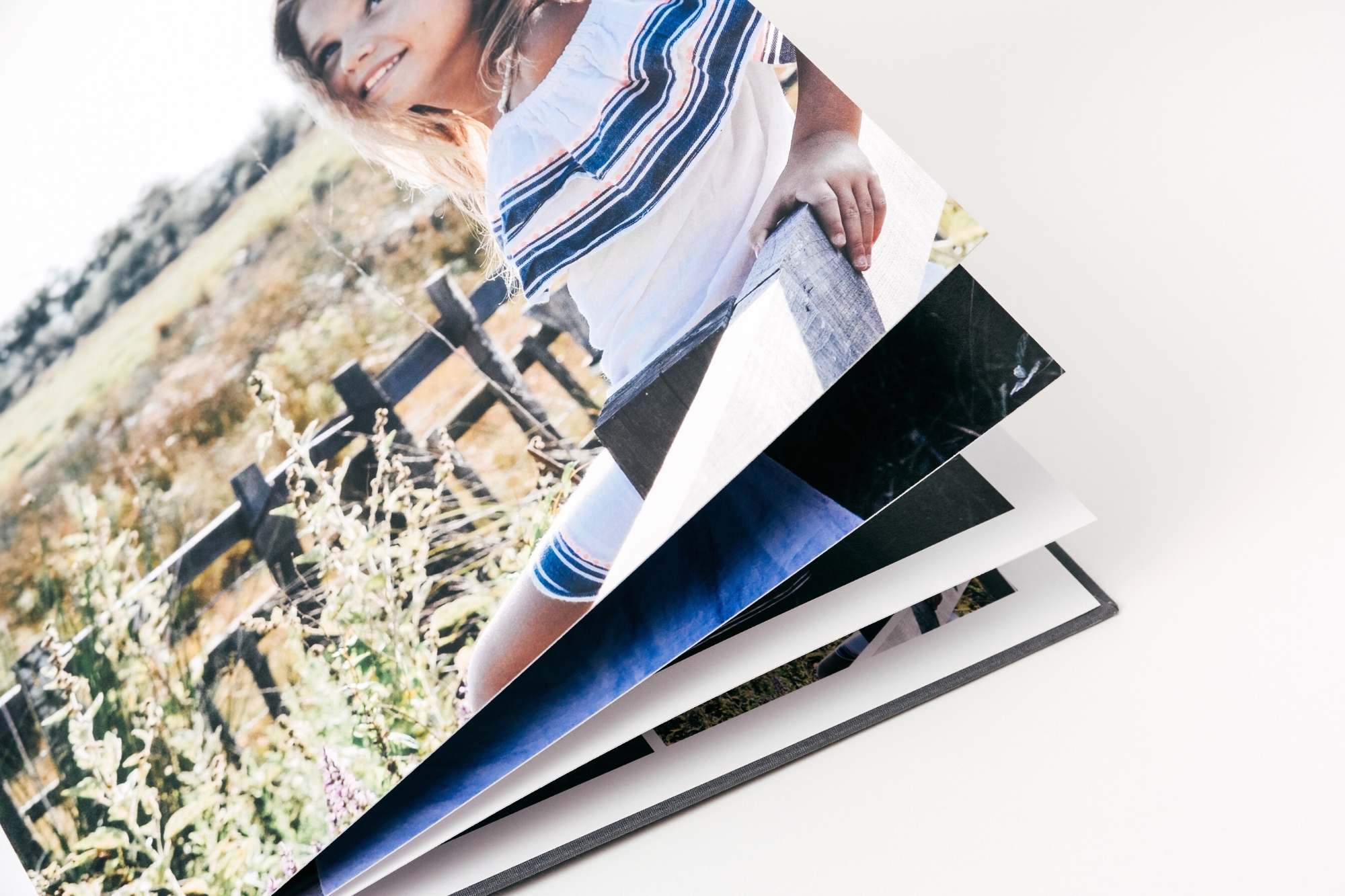 Premium quality layflat photo books
After consultation with some of the world's leading photographers, we are delighted to introduce lay flat photo books into our collection. This type of book is made with a traditional binding technique that allows you to enjoy the pages of your photos without holding them down. It also allows you to preserve the details of your favourite images in the central fold.
Our Layflat photo books are made from the finest paper and are bound with the utmost care. They are ideal for capturing moments of your life and can be personalised with your choice of text and photos. We have selected paper types for the interior pages of your album, which are carefully selected to ensure that they are both durable and beautiful.
Questions And Answers About Layflat Photo Books
What is a Layflat Photo Book?
'Lay Flat' refers to a type of binding for a photo book. The Lay Flat binding allows your pages to lie completely flat when opened as this binding technique removes the centre crease you find in other types of photo books. Our Lay Flat photo books feature ultra thick 200gsm paper and allow for edge-to-edge printing to showcase your most precious photos at their absolute best.
What Paper Type Do You Print On?
The cover of the Lay Flat photo book is printed on 170gsm FSC-approved Silk paper. The interior pages are printed on 200gsm FSC-approved Silk paper.
How long will my Lay Flat Photo Book take to arrive?
Lay Flat Photo Books are hand-bound, meaning the production time is longer than other photo books in our range. Your Lay Flat book will be custom-made in 5 working days in London. You can select Royal Mail first class or tracked at checkout.
How many pages can I have?
Our Lay Flat Photo Books come with 24 pages as standard. You can add up to 56 additional pages. The maximum amount of pages we can print in the Lay Flat format is 80.
Are Lay Flat Photo Books printed sustainably?
These books are printed digitally in the UK without using film separations, plates and associated processing chemicals. During its production, 99% of all dry waste associated with this process has been recycled. The paper used throughout is from FSC® certified material, ensuring there is a chain of custody from trees in well-managed forests through to the finished item. Our professional print lab is a CarbonNeutral® company as well as an advocate of the WWF Global Forest and Trade Network-UK, has ISO14001 and is registered to EMAS, the Eco-Management and Audit Scheme, and also holds the Queen's Award for Enterprise: Sustainable Development.
Don't just take our word for it...
5 out of 5 - 6 Reviews
"Ordered one of these books for my daughter's birthday, and she was over the moon. So happy the book went down so well."
Patricia
"First-time customer, and I must say I am surprised how great my lay flat turned out. Consider me a fan!"
Lauren
"I made a layflat photo album and it turned out fabulous."
Tom
"I expected the book to look good, but not this good! So happy with how it's turned out."
Eli
"The pages are thick and the photos are beautifully printed."
Emma
"My wedding album is stunning."
Jack
Create your layflat photo album online
Use our photo book app or your computer to create a Latflay photo album quickly and easily. Choose the format and cover design you prefer, and with our auto-fill feature enabled, our editing tool will automatically add the photos to the pages of your choice. You can also drag and drop your favourite photos into the pages of your album. The tool will organise your photos in the order in which they are uploaded and automatically choose the most appropriate page layout for your album. We have a variety of page templates that will allow you to add up to nine photos per page. You can also choose double-page or full-page formats to create a stunning album.
You can also add text to the pages of your album to narrate the story you're telling. Our easy-to-use tool will help you create a personalised photo album perfect for your visual style and aesthetic.
Our team in the UK will print and create your album using our sustainable press printing method rather than the harmful silver halide method that many other companies use. Every order placed contributes towards our tree planting programme in the UK.
Seamless panoramic photos in their full glory
Panoramic photos are ideal for creating a double-page spread in your Latflay photo book. With a Latflay binding, you can use the entire space in your album without losing any detail. This binding allows you to preserve the details of your photos without leaving any space behind. Whether it's a family photo, a fantastic panorama from your trip, or a group shot from your wedding day, your album will be full of your favourite images.
A Latflay photo book is ideal for creating a wedding album or a collection of incredible travel adventures. These books are also perfect for creating collections of your favourite memories. You can choose from our wide range of sizes and formats to create a personalised book.
Our high-quality materials and elegant designs will allow you to keep track of your favourite memories alive for years to come.
If you have any questions or queries, please don't hesitate to contact our team, who will be happy to help you create a photo album you will love for years to come.
Copyright © 2023 Inkifi. All rights reserved.