Create a personalised photo calendar and treasure your magical moments each and every month. Photo calendars are perfect for customising your home or sending a thoughtful gift that will be loved all year long. Choose our best selling wooden desk calendar or display your calendar on the wall with our spiral-bound design.
Filter
---
Personalised calendars for every occasion
From your favourite travel photos to your special family moments, there's no better way to celebrate your treasured memories than turning them into a beautiful customised calendar. With each design you can choose to start on any month or year.
Premium photo calendar printing
Made with the highest quality materials, our custom made calendars are guaranteed to last a lifetime. Your cherished photographs are professionally printed on premium 300gsm matte paper or fine art cardstock.
Your choice of design and style
Create a Personalised Wall Calendar or wooden desktop accessory with a unique clipboard design, perfect for displaying in your office, on the table or on the kitchen fridge! Each page can contain multiple photographs and be customised with text.
From your phone to print in minutes
Creating photo calendars online couldn't be easier with Inkifi. Upload images straight from your smartphone, computer or Instagram account directly into your design. Here you can personalise your calendar even further before it's delivered to your door.
Photo Calendar Inspiration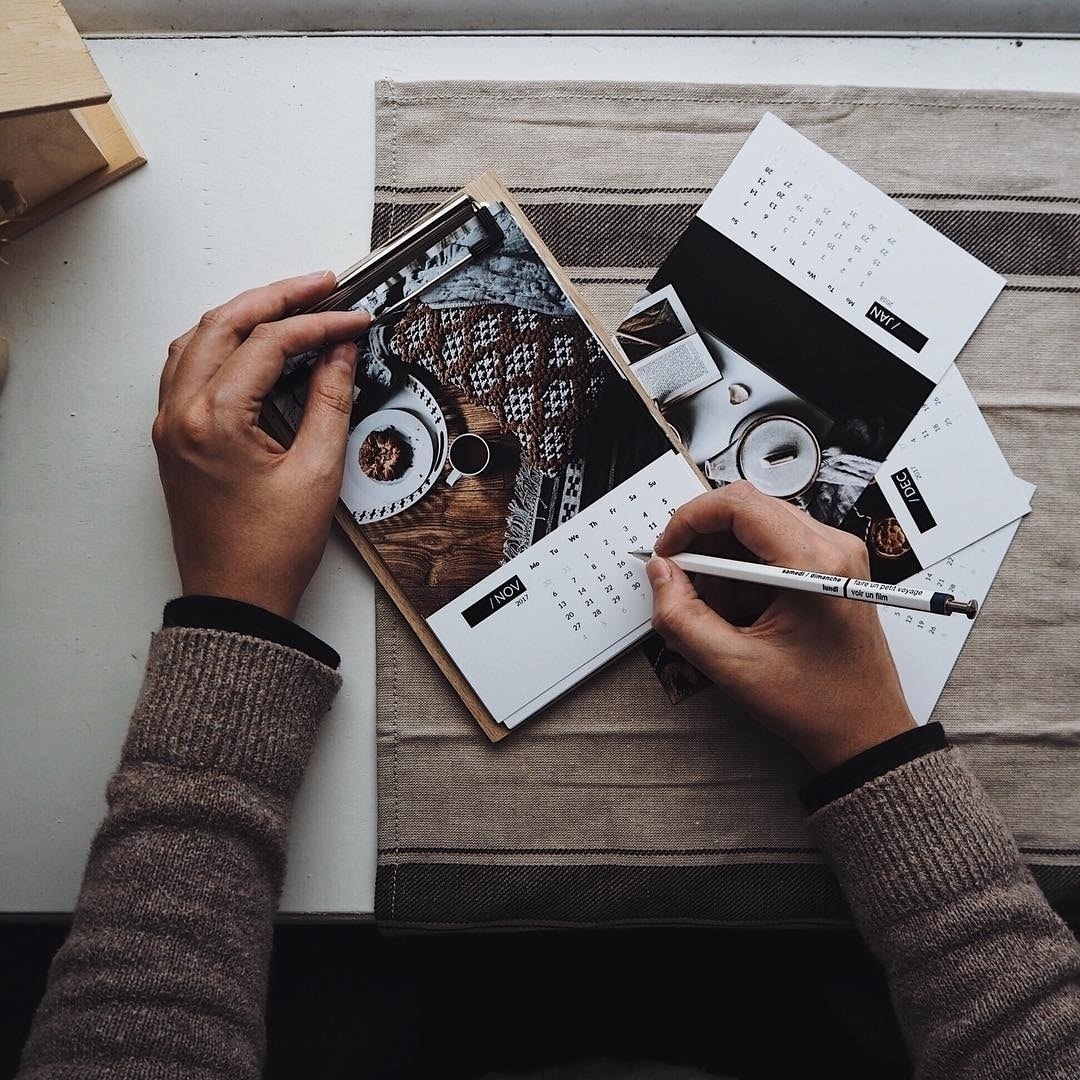 "Love this Inkifi calendar. A new month always feels so full of possibility and excitement, irresistible to planning addicts like me" - @simpleandseason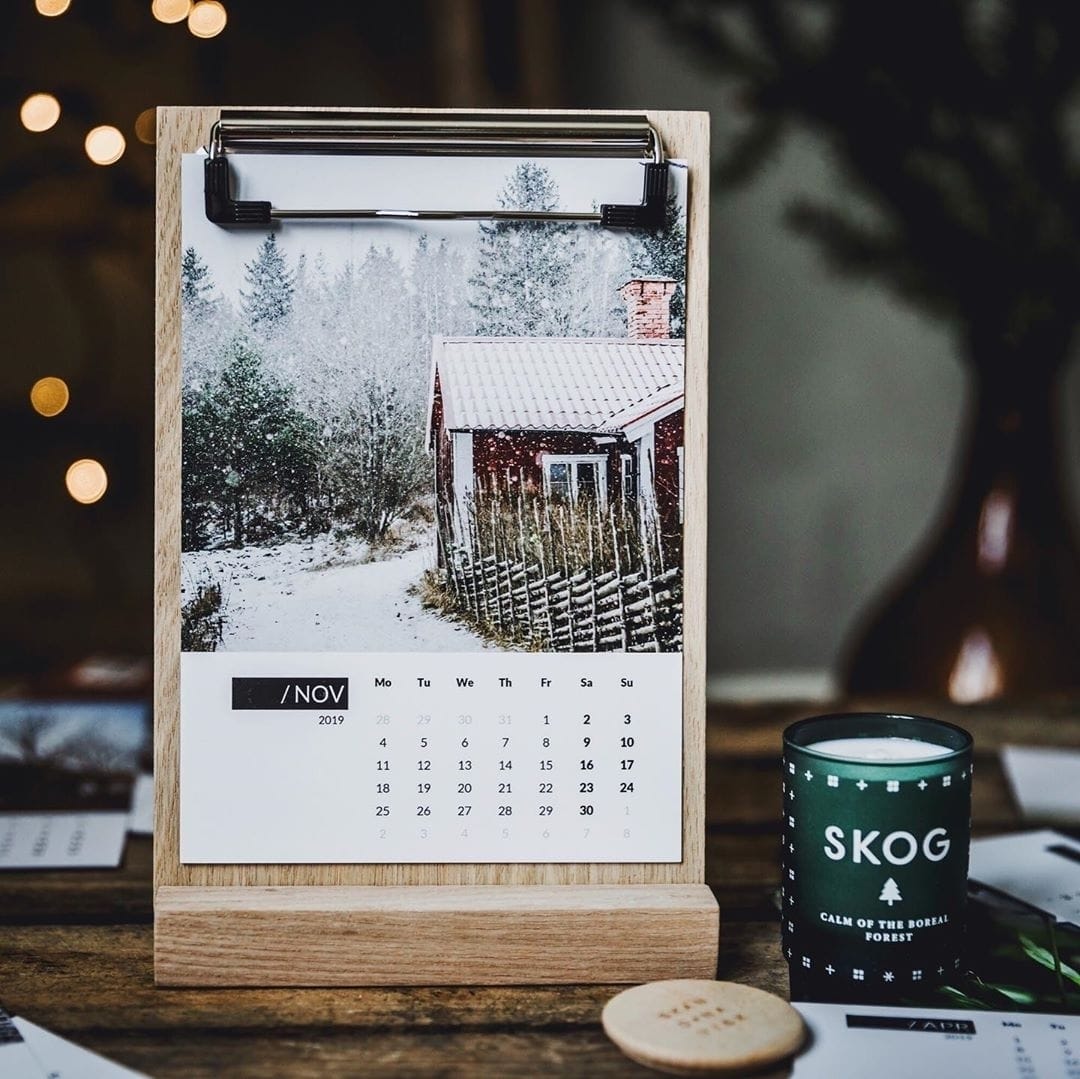 "I had the opportunity to make a wooden calendar of reclaimed wood with some of my favourite photos of the Sweden countryside" - @allthingsgreen.nu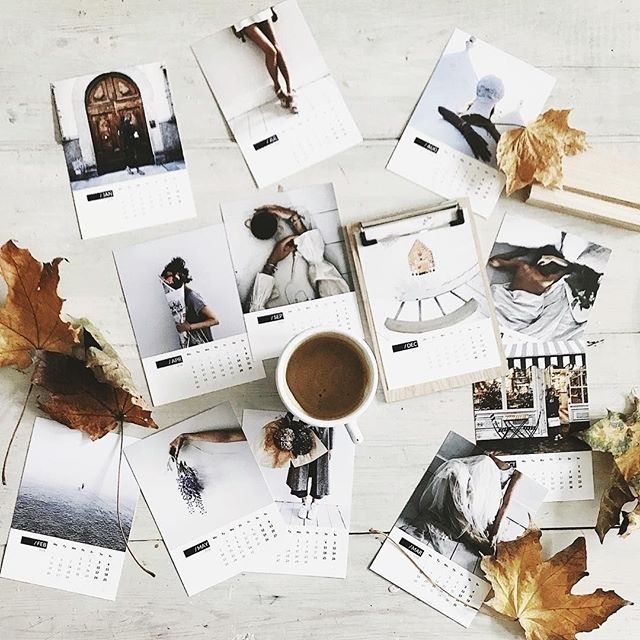 "This beautiful Wooden Calendar is made up of moments passed and shows me all the moments to come" - @paintandhaven
How to make a personalised calendar online
Make your own photo calendar in minutes with our easy-to-use digital tool. Choose your style and start date before adding one or more photographs to each calendar month. In our online photo calendar creator, you can annotate pictures with text to include a caption and personalise with custom backgrounds and designs.
Personalised calendar reviews
"It's so lovely to see some of my favourite photos to be made into a calendar."
@stefiereads
"I personally love the reclaimed wood calendar and I am so thankful that Inkifi helped me create it."
@mynorthernheart
"Last year we made photo books for all the special people in our lives and this year I'm planning on gifting these wooden photo calendars from Inkifi. The perfect way to display your photos from the previous year."
@mary_maddocks
Frequently asked questions
How do I make my own photo calendar?
Our user-friendly photo calendar maker allows you to print your design online quickly and easily. Start by choosing from our best selling range. Our personalised desktop calendar makes a statement with its stylish wooden clipboard, whilst our slim wall design is the perfect kitchen photo calendar.
Choose your start date before uploading your photos into our online tool straight from your laptop or smartphone. Here you can crop, edit and filter your images before adding text to caption each memory. You can also combine multiple pictures on each page, creating a collage calendar design.
Once you've finalised your photo calendar, decide whether you're happy with our classic white background, or pick from one of our coloured and patterned designs. Double check you're happy with your final layout before placing your order.
Can I create picture calendar gifts?
A custom photo calendar makes the perfect present for that special someone. Whether a cherished moment, once in a lifetime holiday or those old forgotten photographs, personalised family calendars are a gift that truly show how much you care.
Printed on premium materials, you can design your own photo calendar that's affordable, stylish and guaranteed to make them smile. Order your bespoke calendars to your home with speedy delivery or send it straight to your loved one's door.
What size are your printed calendars?
We have two different styles of custom photo calendars at Inkifi. Our classic wall design measures 12 x 18 inches, slightly smaller than an A3 photo calendar. Each month's image measures 8.5 x 12 inches.
Our personalised desk calendar comes in two parts. Twelve of your treasured photos are printed on fine art cardstock measuring 5 x 7 inches. These are then displayed on a 6 x 8 inch wooden clipboard which can be reused each year by ordering a refill of monthly sheets. Both are a slim calendar design that take up minimal space in your home.
Sustainability and trusted quality
We're proud to create printed calendars using high quality, sustainable materials including premium quality 300gsm matte paper, smooth fine art card stock and a wooden clipboard made of reclaimed timber from the Welsh Forests. Each is professionally printed and personally checked before shipping to ensure it meets our quality standards.
Exceptional service
Our team has been delivering online photo calendar printing services for over a decade. From design tips to order queries, we take care of our customers every step of the way. Whether you need help uploading photographs, creating your calendar or tracking your delivery, we're here for you no matter what.
Bringing your memories to life
In our modern world, we often capture a special moment only to never look back on it again. At Inkifi, we help our customers turn their cherished memories into beautiful keepsakes they can treasure for years to come. Through our range of premium quality photo books, wall art and unique photo gifts, you can celebrate life in print. Don't hesitate to get in touch with any questions or queries regarding your personalised photo calendars.