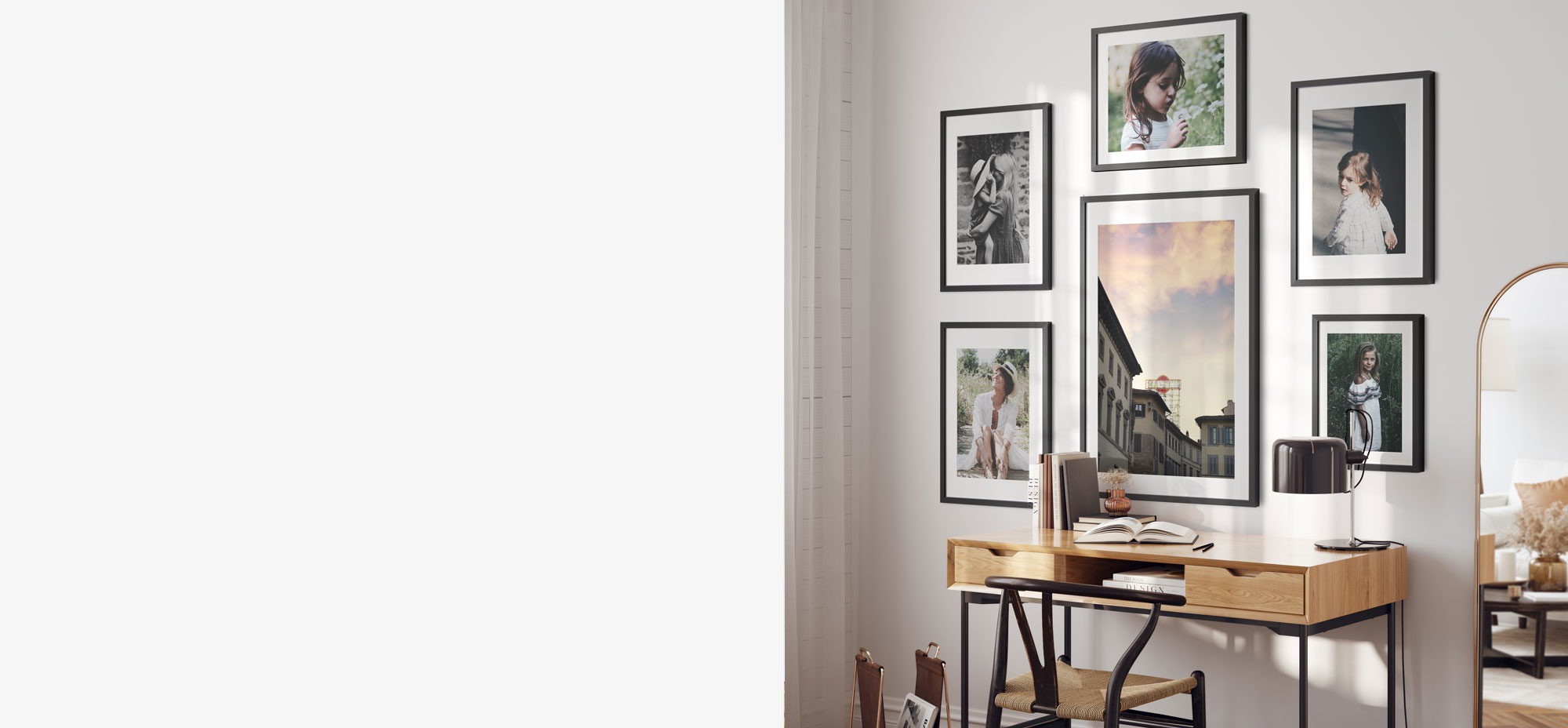 Easily create a photo gallery wall
Our collection of gallery walls will add a subtle touch of personalisation and personality to any room. Gallery walls are an ideal way to showcase your photos, reminding you of the people and moments that make life truly special.
Delivered To Your Door Ready To Hang · Premium Photo Print Included · Easy To Order & Fast Delivery
Special Price
£199.20
Regular Price
£249.00
Today You Save 20%
Featuring museum-quality frames and premium archival papers, this Photo Gallery Wall is the perfect way to display a collection of your most cherished memories.
You can easily customise your frames with our simple online editor & the collection of frames will arrive at your door ready to hang.
Each frame includes a premium giclée print, ultra-thick mat and museum-quality frame.
This Photo Collage Gallery Wall works perfectly in smaller rooms or wall spaces.
Featuring 5 frames;
1 - 20 x 28 inches
2 - 11 x 14 inches
2 - 16 x 20 inches
Photo Gallery Wall FAQ
How do I make a photo wall gallery?
Creating a photo wall gallery with Inkifi is easy;
Step 1 - Gather the photos that you would like to include in your gallery wall.. These could all be from a special event such as a family wedding or alternatively they could be a collection of images that have been gathered over time. The images you choose will be unique to you so feel free to let your creativity run free.
Step 2 - Choose your photo gallery wall design with Inkifi. We have done the hard work and created a range of gallery walls that will fit almost any wall and interior style.
Step 3 - Upload your images to Inkifi and customise your order.
Step 4 -We will deliver your photo gallery wall to your door, ready to hang, in 3 / 4 working days, ready for you to enjoy for years to come.
How can I create a family photo gallery wall?
A family photo gallery wall is the best way to celebrate your love. To create your family photo gallery wall, firstly select the photos that you would like to include. Great sources of family photos include family WhatsApp groups and family member Instagram accounts. If you can't find enough family photos to use you could also ask each family member to send you 5 of their favourite photos to include in the photo wall.
Once you have selected the photos to include it's time to choose a layout for your photo wall. Inkifi has curated a range of beautiful layouts that are ready to use. The best part? Inkifi's photo gallery walls allow you to create montages of family photos which means you can include so many more photos and your wall will be that bit more interesting!
How do I make a cohesive gallery wall?
A cohesive gallery wall features the right amount of frames, spacing and photos for your own wall. We have designed a wide range of designs that should fit any wall, however, if you have any specific requirements or are looking for advice simply in touch using the widget on the right-hand side of our website.
Copyright © 2022 Inkifi. All rights reserved.