Your home is your haven, the place where you are at your most comfortable, whether it's where you kick off your shoes at the end of a busy day and relax on your own or with your partner – or bustling and busy with a raucous, fun-loving family! It's yours – and it's where you can stamp your own, unique personality. Making a house into a home means adding those personal touches that reflect the person or family that you are and one of the areas where you can really express this is through wall art. Of course, strategically placed framed pictures always create an interesting conversation piece but there's more to it than adding a few colourful paintings or a set of minimalist, monochrome prints. If you're wondering how to make the best of your bare walls, let Inkifi give you some of our own suggestions – we're sure there's plenty of wonderful ideas below to really change-up your walls and add some excitement!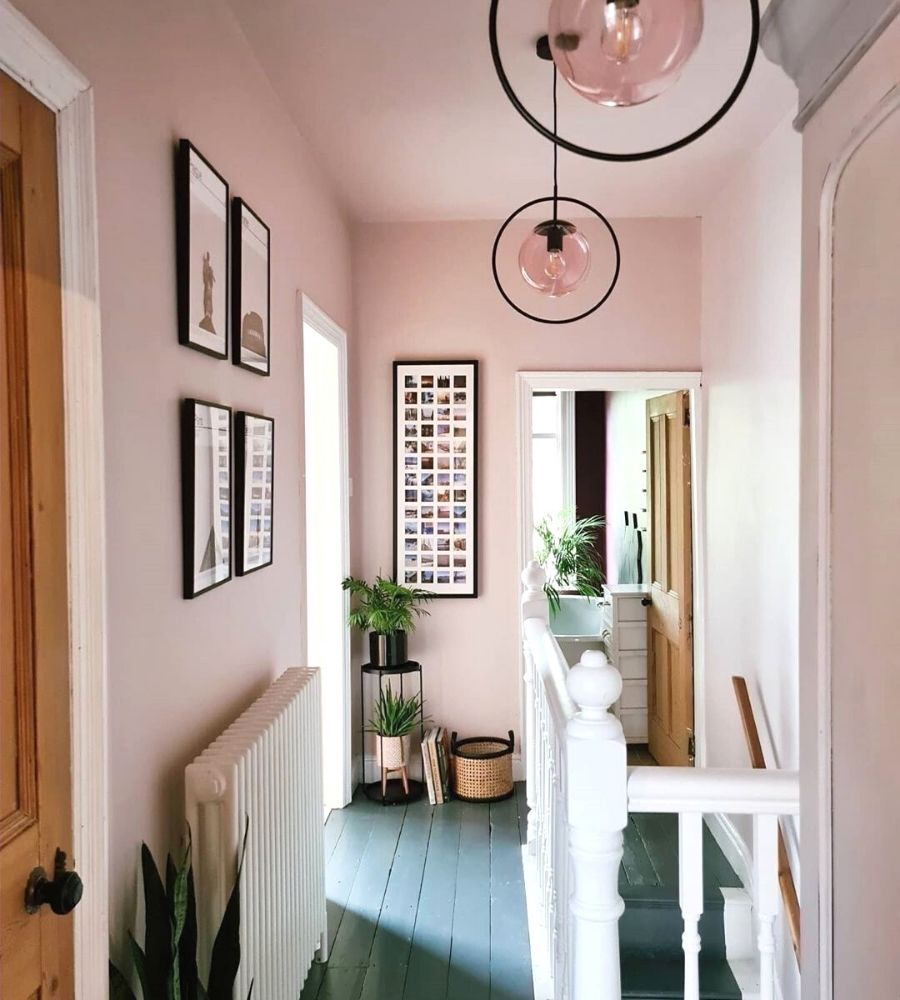 1. Narrow Walls Needn't Stay Bare!
Make the most of narrow walls with our Moments Frame – there's no reason not to use the space well and make it a feature area. Our Moments Frame has space for 52 images – yes, we said 52! Tell a story, perhaps a special occasion? Your son or daughter's birthday party, or your wedding day! Again, use the area to highlight a trip abroad to somewhere exciting, or, if you prefer something more artful, use the space to create something dramatic or restful. It's your choice, but if you've got a narrow wall, make it shine!
Top Tip: Cover your wall from top to bottom if you really want to make your narrow wall a focal area.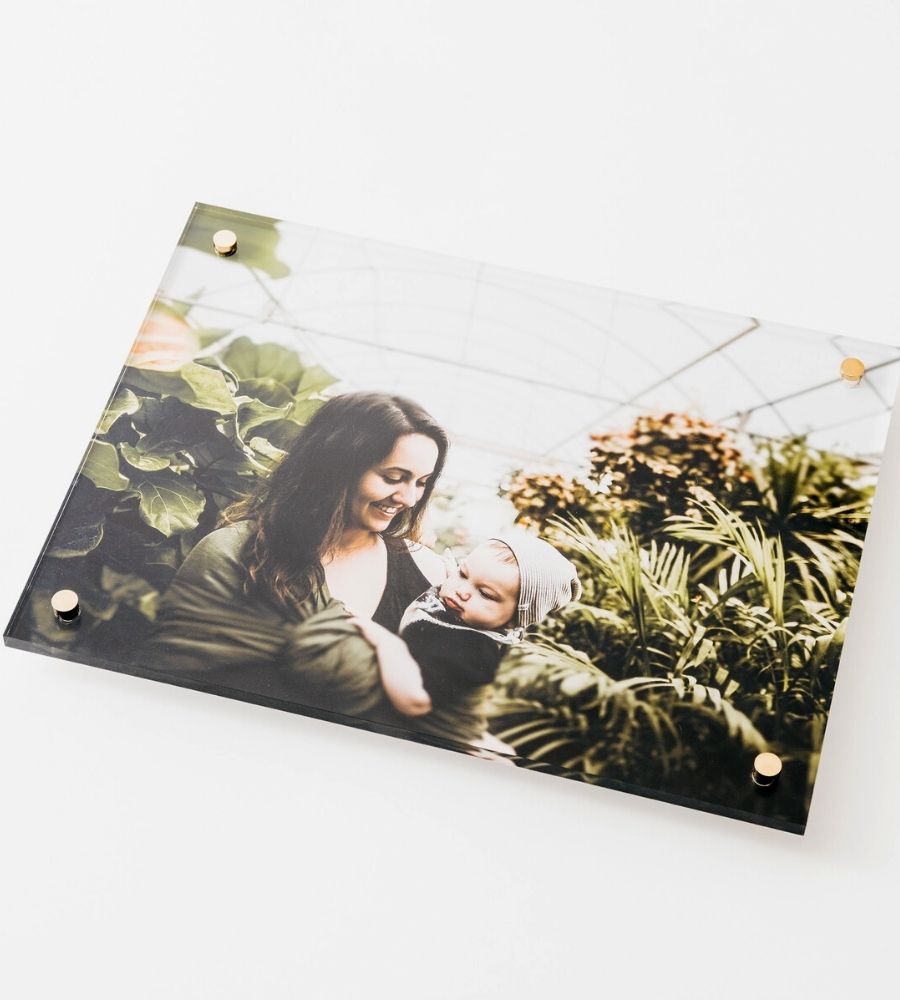 2. Mark Those Special Moments
Whether it's a wedding photograph, a family memory, or a trip of a lifetime, immortalise it forever with a large, Acrylic Photo Frame. These frames give that frameless, 3D illusion and are extremely modern in style - yet timeless too - plus they have that added "floating" appeal because they're not entirely flush to the wall. Easy to hang and with a special luminescent finish, they're a captivating way to draw the eye – and take yourself on a trip back down memory lane.
Top Tip: Why not create a dedicated travel wall in your home? Add a few Acrylic Frames and track your travels around the globe. Travel walls are the perfect conversation starter when you have guests for dinner, and they instantly breathe life into bare walls.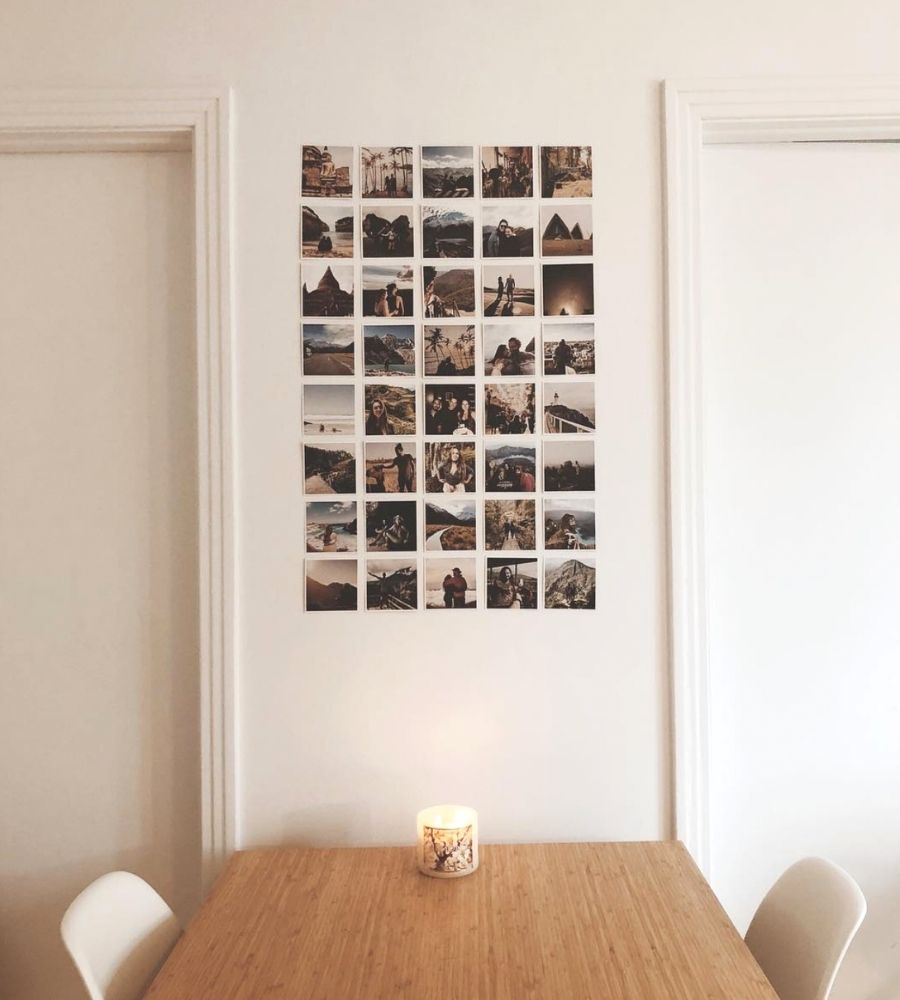 3. You Don't Always Need a Frame…
Photo walls are everywhere and bang on trend at the moment. Just hop onto Instagram and peruse interior influencers for budget ideas to dress up a bare wall, nothing beats a set of personal Square Prints perfectly aligned, mosaic-style to create a feature area. You will need to be particularly careful to line everything up with real precision, but you can use a ruler or tape measure (and a sharp pencil to lightly mark your wall where you want your prints to sit). There's no need to use nails, to get busy with hammers or even buy a set of picture frames – you could even use special strips that don't damage the walls.
Top Tip: Your frameless print wall doesn't have to be mosaic style! Change it up with different patterns if you want to, perhaps a geometric shape, or stepped for real no frame appeal!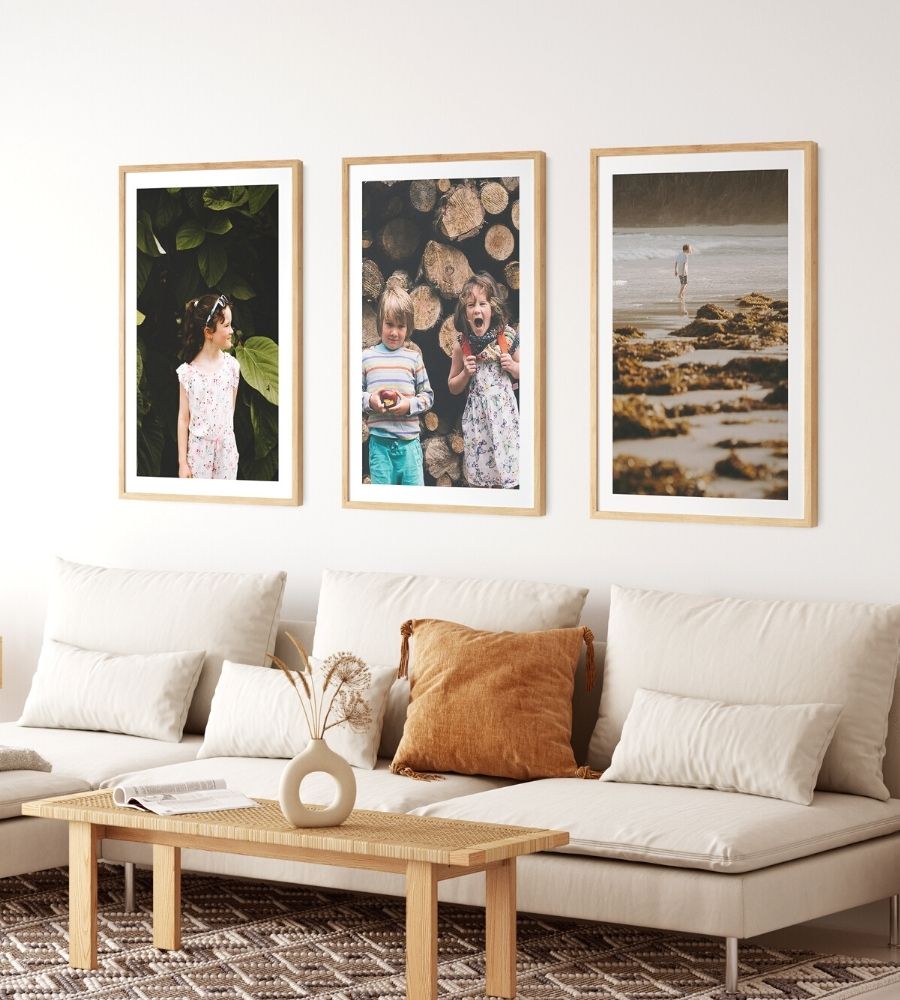 4. Panorama Drama
Our Gallery Frames come in three different frame shapes which gives you plenty of choice when dressing up a bare wall. One idea that our team loves is a Panoramic Wall. Choose portrait, landscape or square prints and depending on the size of your wall, select small, medium or large size (although we think this is best with a big wall and large size Gallery Frames). For best results, we'd recommend that each image is similar (but with a point of difference). Buildings, beautiful views, picturesque landscapes, the sea…think about a place that draws the eye and go wild!
Top Tip: Build a story using your chosen views…keep them as uniform as possible but slightly change the colours, so there's a subtle difference to each.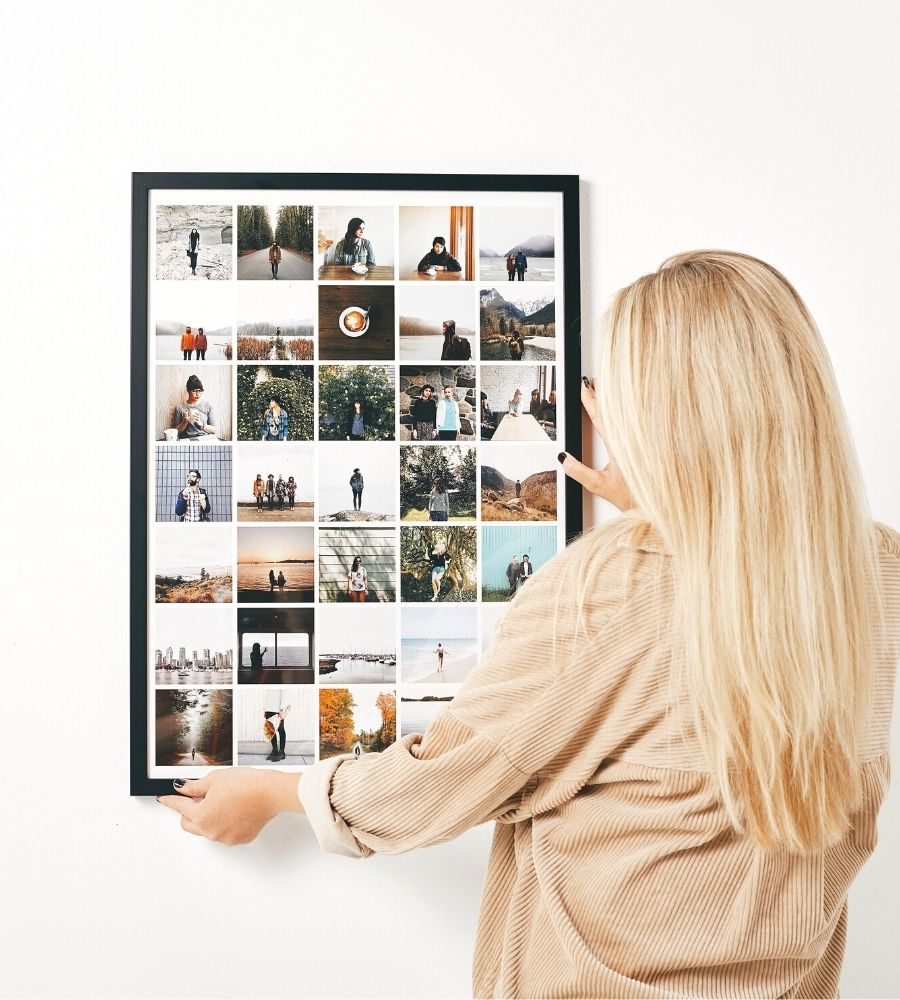 5. Statement Walls That Speak Volumes
If you've got an expansive wall and you want to fill it with something that makes it really pop – we'd recommend a Collage Poster Print. Big, bold, colourful (if you choose) or striking in black and white (if you prefer a monochrome look), our Poster Prints are perfect. Got an even bigger wall? Why not place two side-by-side and enjoy reflecting on a special moment, perfectly captured and framed (or unframed) in your home?
Top Tip: Kids love posters – a Poster Print of their choice always makes a terrific gift.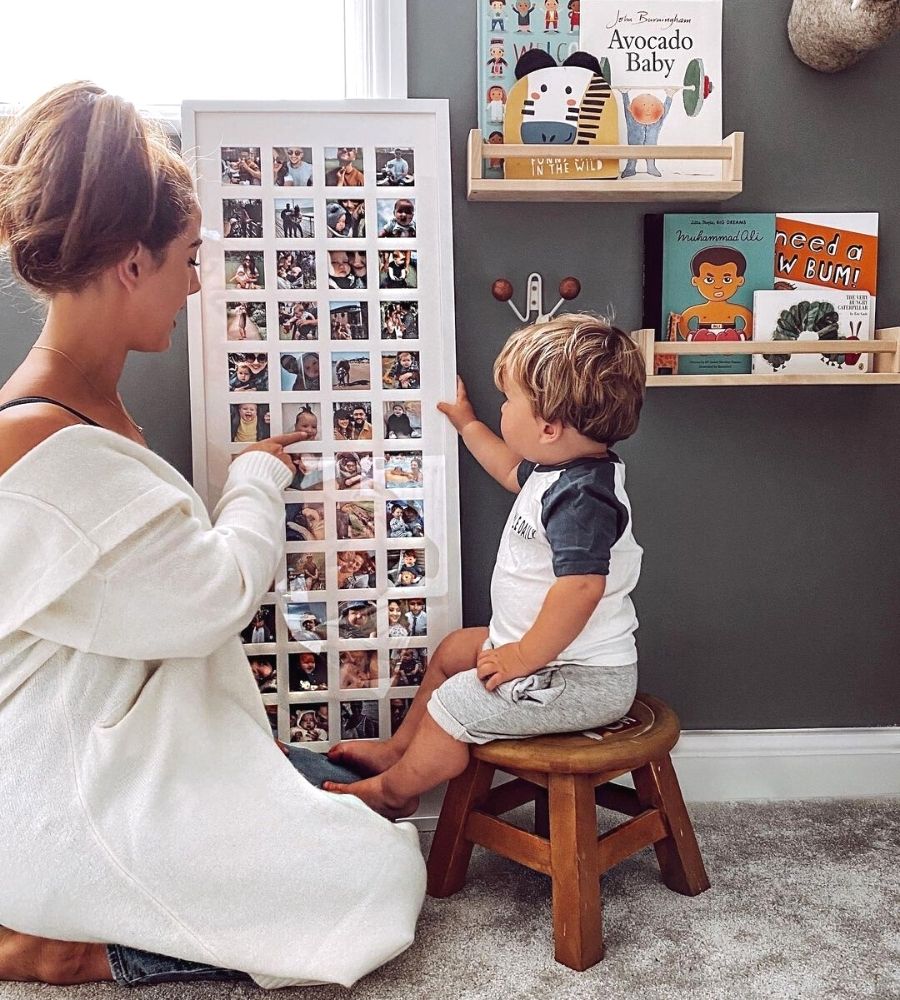 6. A Little Slice of History
Our 52 Aperture Moments Frame is perfect for storytelling. Why not dedicate one of your walls to your family history? Those old-fashioned black-and-whites and sepia images of times gone by always pack a punch and even more so when displayed in a modern, stylish frame. With fifty-two apertures, it's time to rifle through the old family albums and pay homage to times gone by. A family history wall is always a talking point and keeps old memories alive!
Top Tip: Instead of old family history, you could chart your own family history from start to present day – as you need to add more images, just pop another Moments Frame on the wall!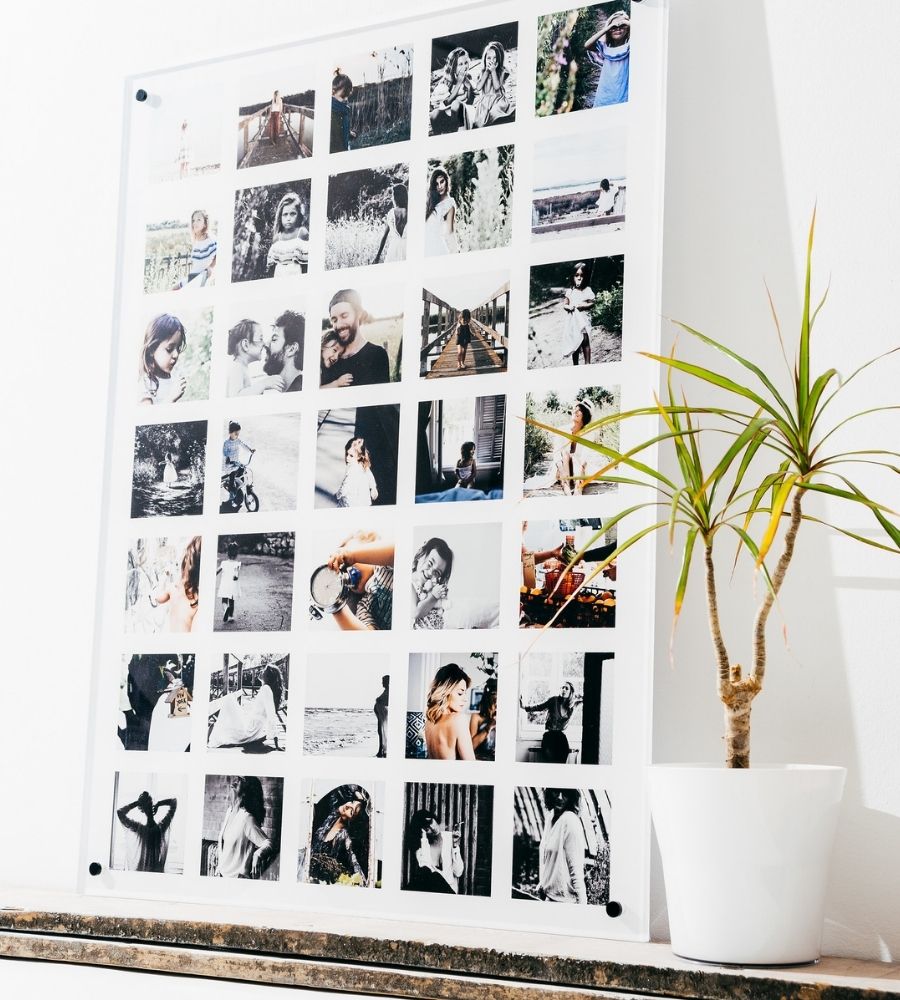 7. All You Need Is Love…
Our floating Acrylic Photo Prints are the ideal way to tell your other half and the children just how much you love them! Choose some of your favourite prints and get them framed in an acrylic but then, get a little creative! All you need is a wet or dry marker and write a message whenever you feel like it across your chosen framed acrylic. The beauty of acrylic is it's so easy to wipe clean.
Top Tip: This is such a unique way of wishing someone Good Luck for an exam, a job interview, or to say Happy Birthday, or just to say I Love You.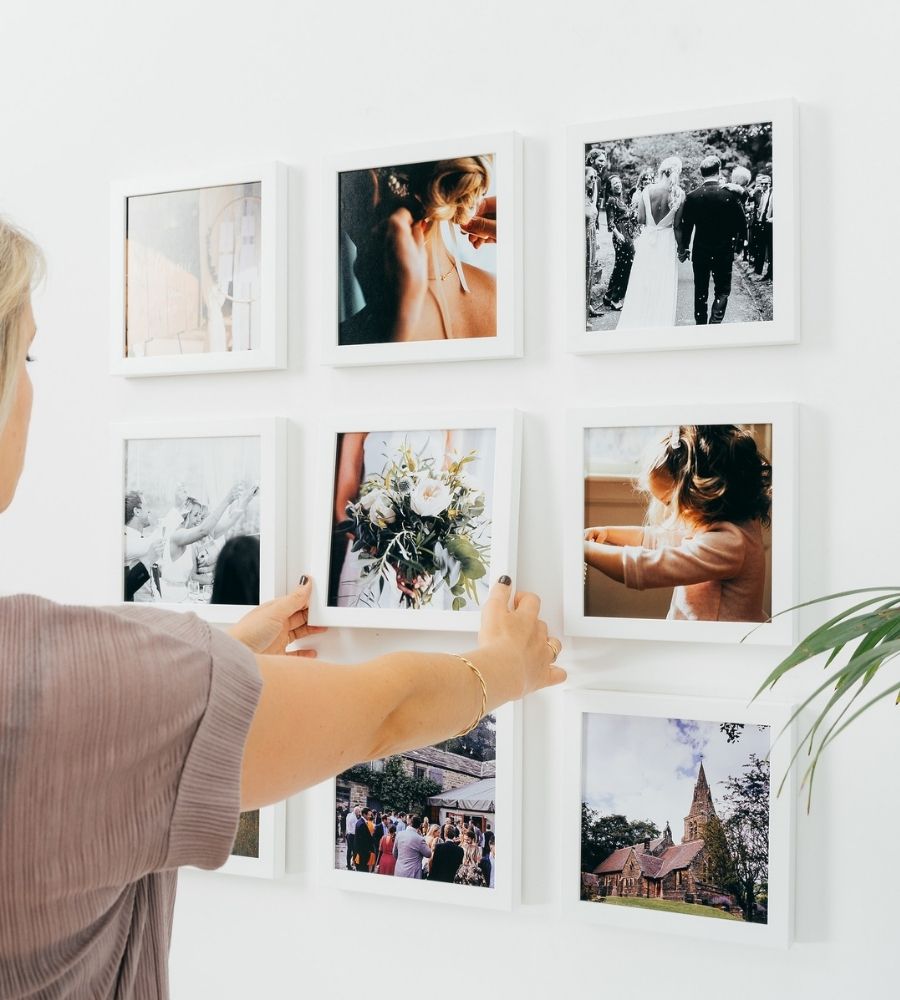 8. Update a Corner with a Photographic Gallery
Similar to our first wall art idea, a gallery theme is modern, impactful and easy to update whenever you want to. Even better, it's a super way to dress up a bare wall, or a small wall area that looks empty. Choose a couple (or more, if you have the space) of our modern Photo Tiles in one colour (or mix up our colours) and make a cute feature wall. You could keep all your Photo Tiles uniform, in the same size, or if you prefer a blend of sizes, it's a great way to draw the eye
Top Tip: Frame your favourite photographs and update your images whenever you want, so your wall is always a new, exciting area.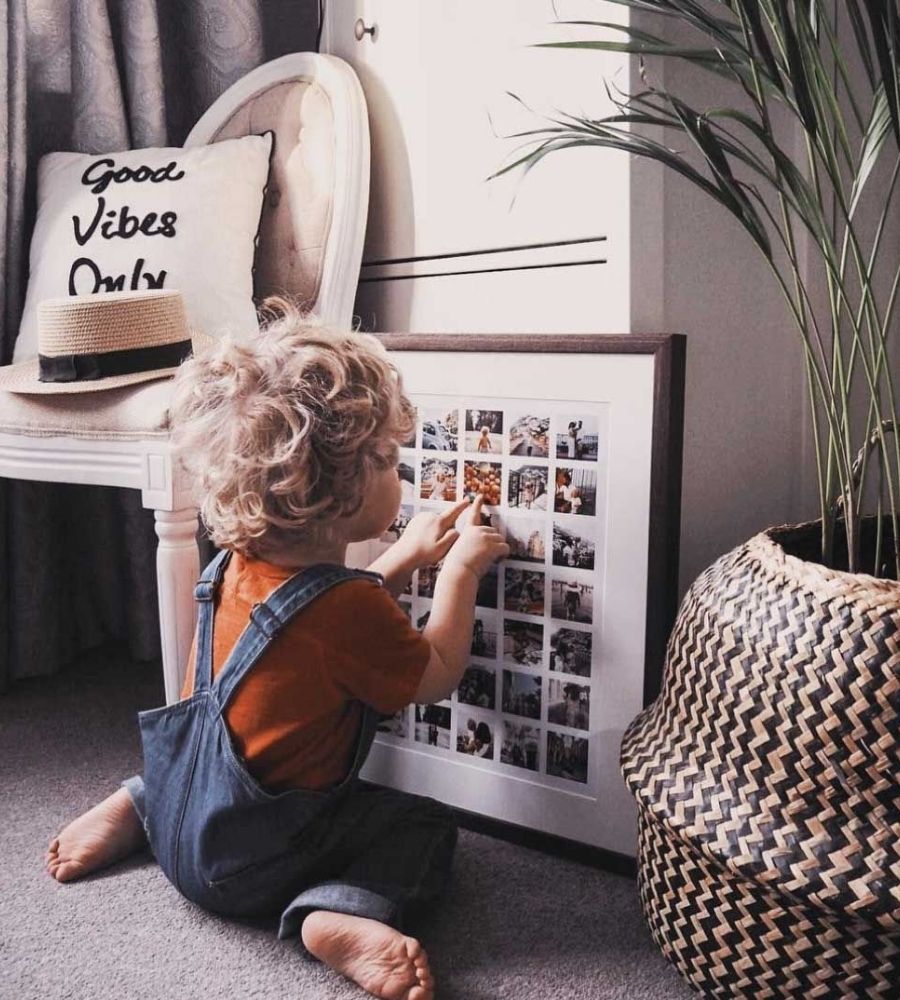 9. One Frame, Multiple Pictures!
A real customer favourite, our Montage Gallery Frame is ideal when you have lots of different pictures that you want in one, easy place. Use this to tell a story – for example, your wedding day, or to track one of your holidays, or your child's journey through school, there are so many ways to use a Montage Gallery Frame and instantly add a new dimension to an empty wall
Top Tip: If you have a particularly large wall, why not mix in some of our Gallery Frames to complement your Montage Gallery Frame story – you could designate one wall just to gallery pictures and really draw the eye. Or, if you're an Instagrammer, capture your favourite posts forever on display – and pop them in a Montage Gallery Frame.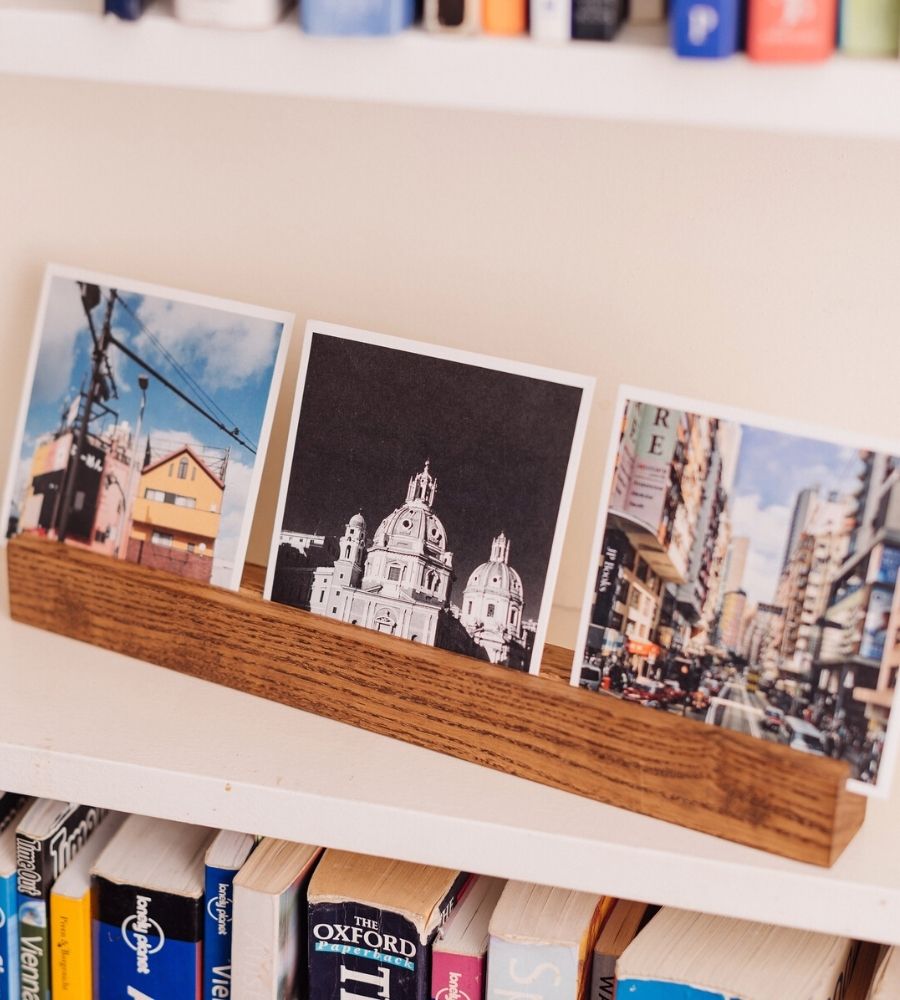 10. Photo Shelves – Your Very Own Shelfie!
Another on-trend idea for home décor is photo shelving. Just a few, small shelves especially for photographs changes up a bare wall nicely and you have the added bonus of switching your photographs whenever you want. All you need is a set of Square Photo Prints and some wooden photograph ledges, these can be small ledges or longer in length, perhaps to tell a photographic story. Play around with your display, display one underneath the other or a set of three or four close to each other, but making the most of the space you have.
Top Tip: If you have a narrow wall that's begging for a little TLC, consider a few short ledges stacked one on top of the other (just make sure there's enough space for your Square Prints!).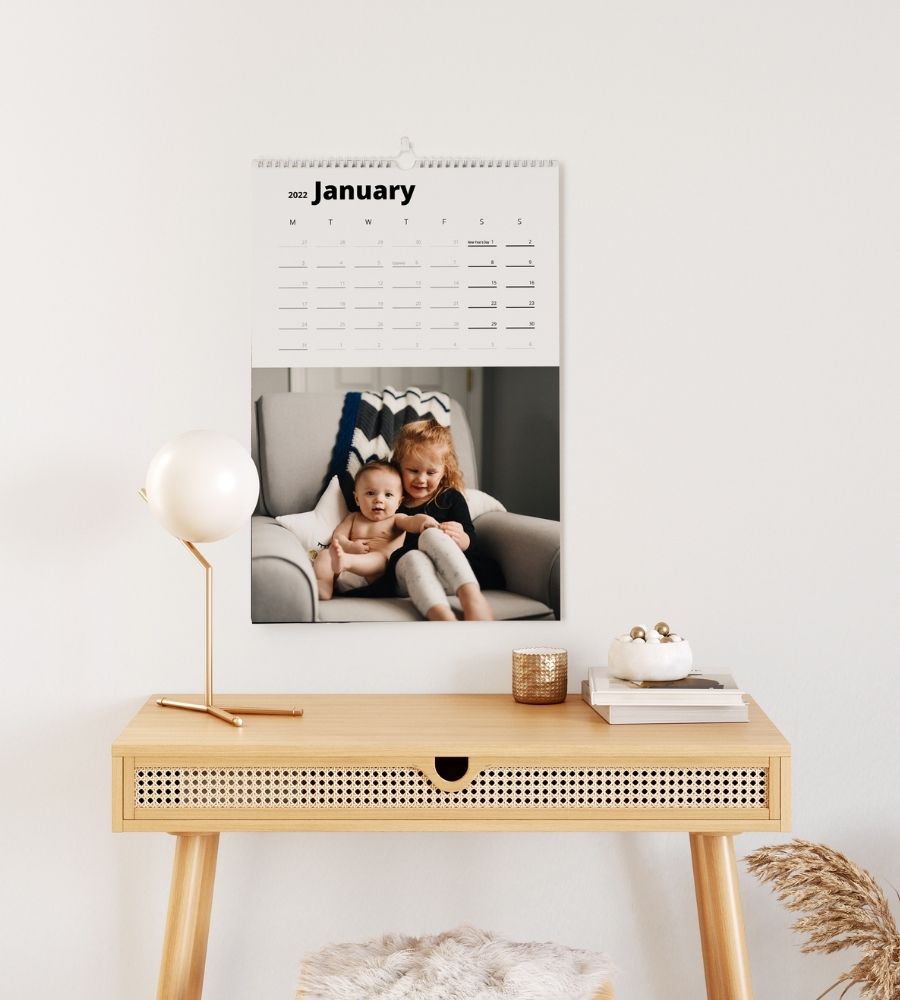 11. Calendar – Thoroughly Practical and Oh So Smart!
More on calendars - a calendar doesn't have to be just practical, and neither does it need to be shop-bought. With our Personalised Calendars, you can make it your very own, so every month displays another precious moment that takes you back to a memory you love. Our Personalised Calendars look incredible in kitchens and family areas and there's always that thrill when you reach the end of the month – with a new, gorgeous image to turn over! Don't forget, while we have spiral wall calendar, we also offer Wooden Desk Calendars too.
Top Tip: When you reach the end of the month, don't forget about the image you loved, get it framed again in a Gallery Frame or a Square Print, so you'll always have it on display.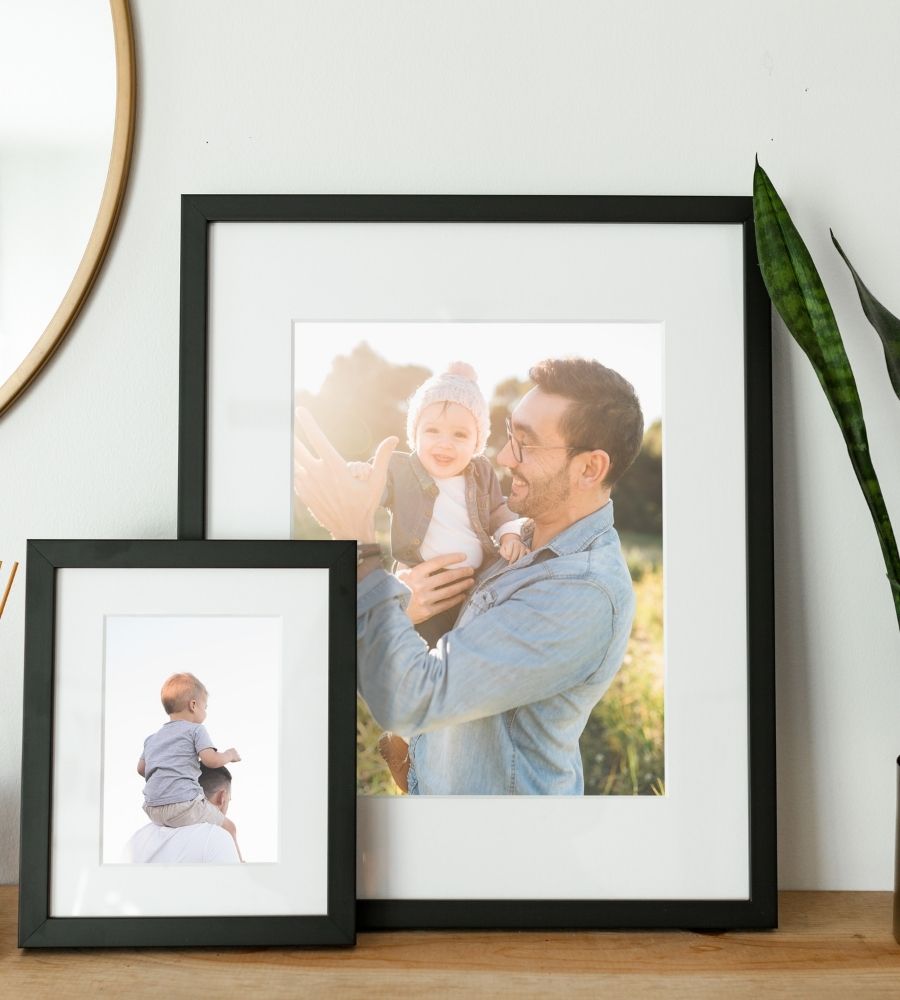 12. The Art of Layering
Layering – it's not just for clothes! Layering your prints against an empty wall immediately displays something beautiful, and in an artful way. Perhaps you have a console table that rests against a wall in your hallway? Prop up two or three Gallery Frames in different sizes (from large to small), mix these up with our Poster Prints for something even bigger and pop in some family photographs, or an artful scene you've captured. Overlap them as this gives that layering effect you're looking for. It's an easy way to display a group of pictures and you can change up your look whenever you want.
Top Tip: You could also use the same image but change the background colour, perhaps a colour version, a sepia version and a black and white version – or take three similar images that each have a small point of difference and grouped together, make a statement.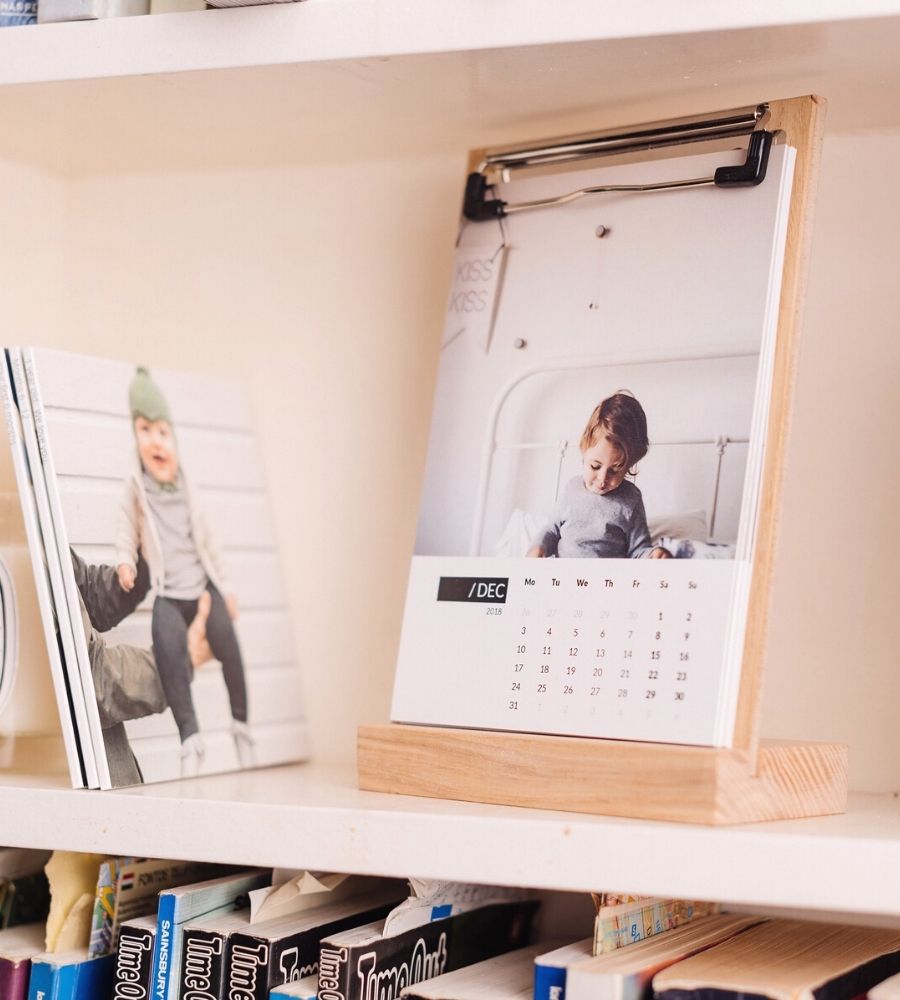 13. Shelf Appeal
Dress up a wall using shelves, or one floating shelf with multiple areas inside. Perhaps stack a couple of small, designer books and rest a Gallery Frame on top with a family photograph? You could even add a small, Personalised Calendar to your shelf. Use another shelf area to display an artful photo book (we have multiple Photo Book sizes from the mini to classic and the giant lay flat book too). The beauty of this idea is you can keep refreshing and reinventing your shelfie!
Top Tip: Bring the outdoors in and make your shelfie come alive. Add some foliage with a mini-trailing plant and a couple of small vases or ornament and create a real feature. Or use it as another place to organise your bits and pieces and shift the eye away from organisation by adding your Photo Prints or Gallery Frames.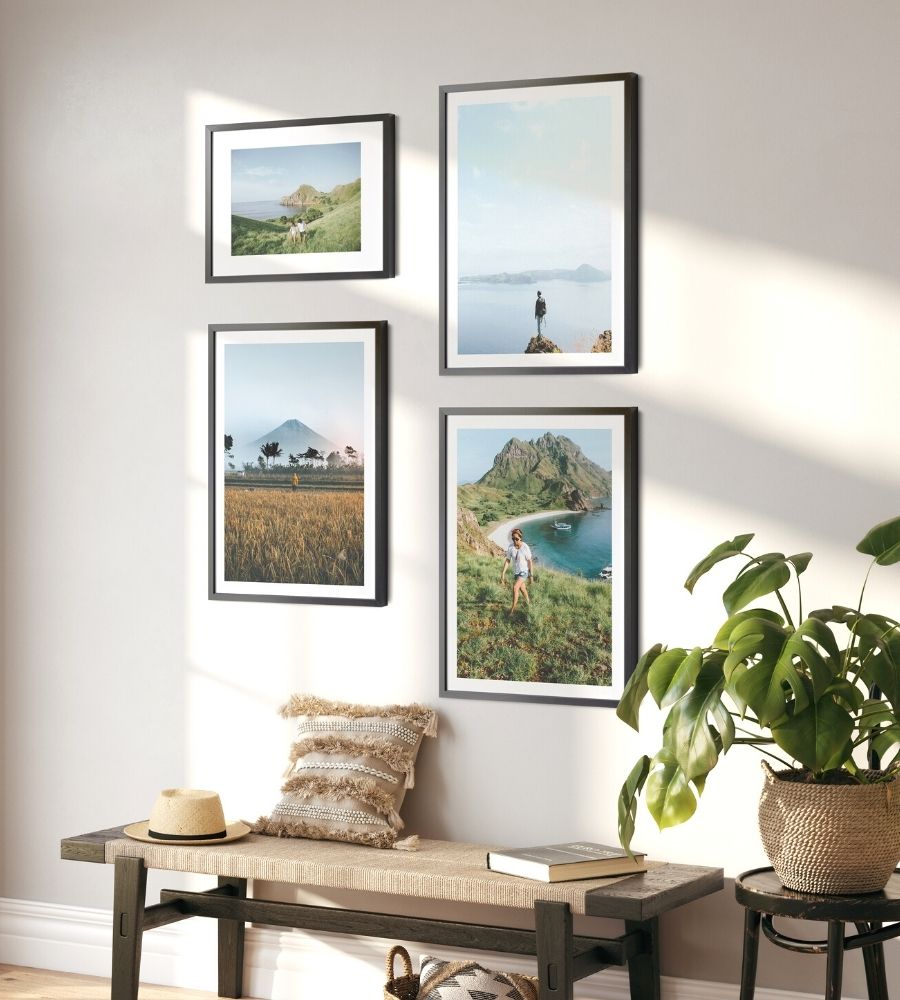 14. Eye-Catching Display Walls
There are no rules when it comes to injecting your own personality into your home – and the same applies to your walls. If you love a gallery wall (see our earlier idea) but you want something even more eye-popping, then mix it up with a variety of different frames. You could use our ready-made Photo Gallery Wall, which is a blend of five different frames of varying sizes. Just choose the frame colour that best co-ordinates with your home décor and hang your portrait images, travel pictures, landscapes and family photographs! Or think outside the box and use our Photo Gallery Wall to frame some inspiring quotes!
Top Tip: For even more impact, you could add in our Acrylic Photo Print frames – remember, there are no rules!
As you can see, there are so many ideas, and you can change it up whenever you want with our collection of handsome photo frames. We've also mentioned that your home is your reflection of your personality – there are no rules! Have fun and don't be afraid to try something different – what we love about personalisation is that it really is a way to create something completely unique! We'd love to see what you've done with our frames, don't forget to tag us on instagram