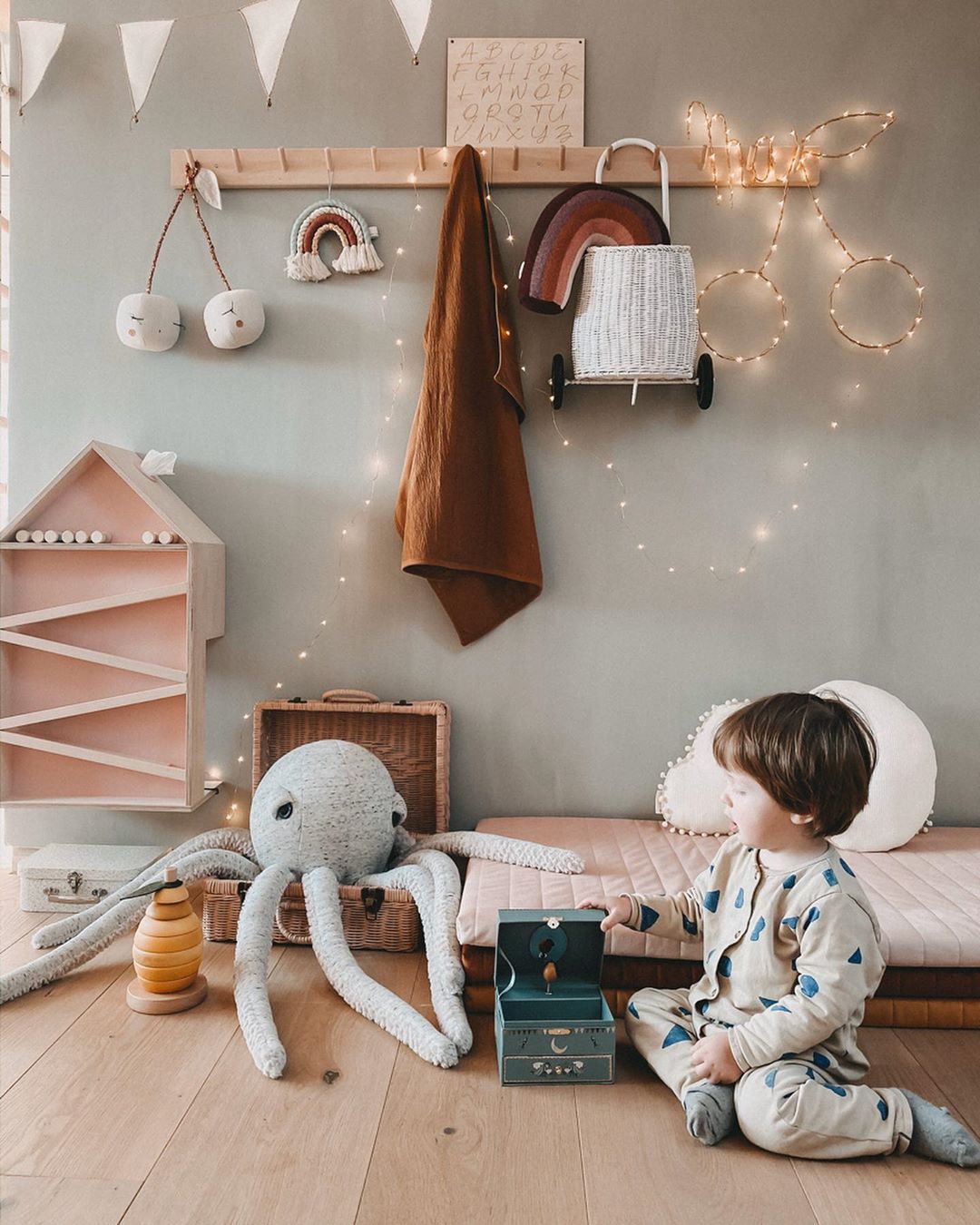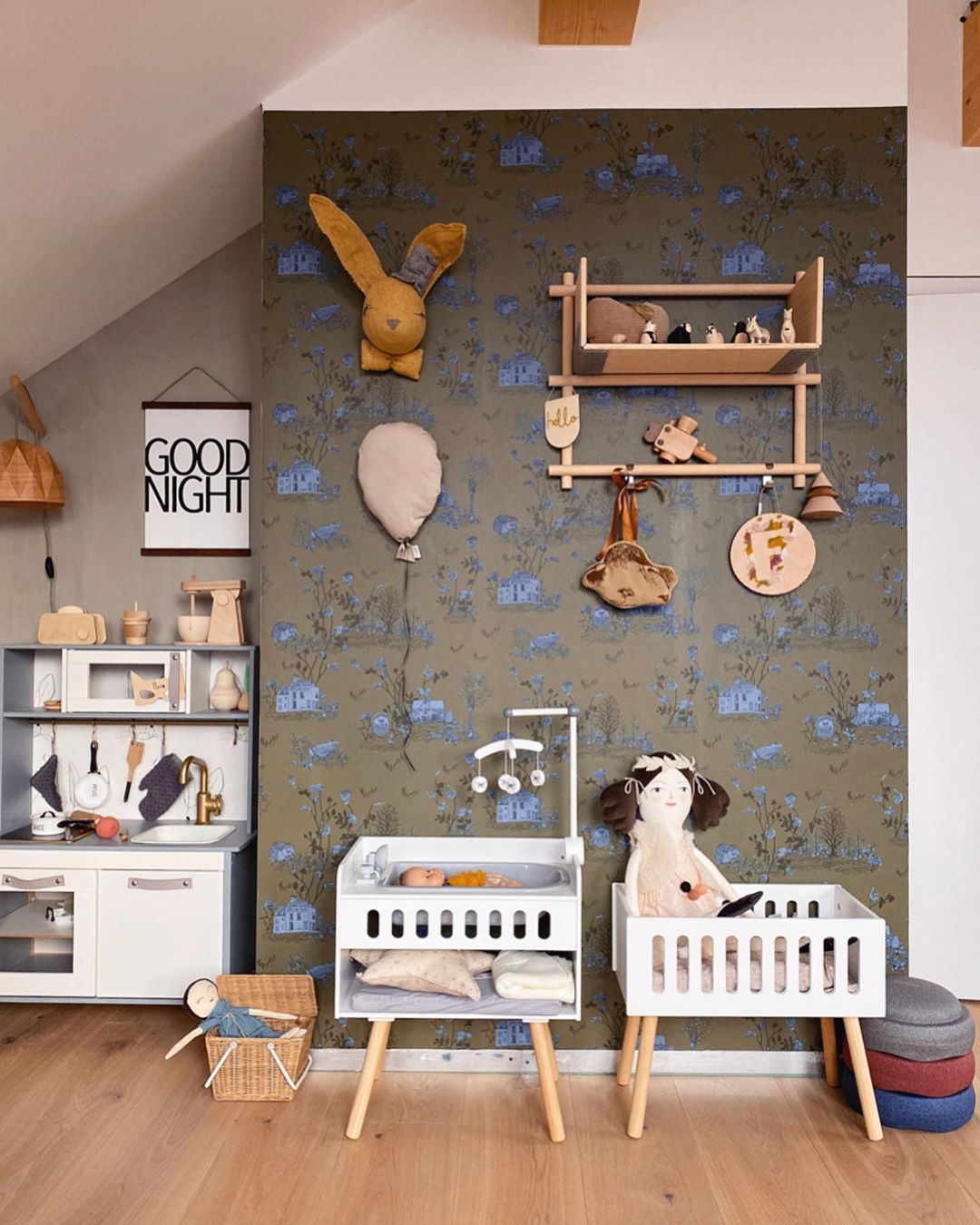 The practical and the magical. Mum of two, Eva Klaus, combines both beautifully in her children's bedroom décor. Here she talks about her interior style and shares her five creative tips for children's bedroom design.
Eva, her husband, their four year old girl and 18 month old boy live in Germany, in a home close to the Alps. The house itself is the handiwork of Eva's engineer husband who (with the help of his friend, an architect) designed and built it from scratch.
The clean lines and natural materials of the house have been the perfect blank canvas for Eva, who has been exclusively responsible for its décor. And out of all of the inspiring spaces in her family home, it's the kids' rooms that Eva loves playing around with most.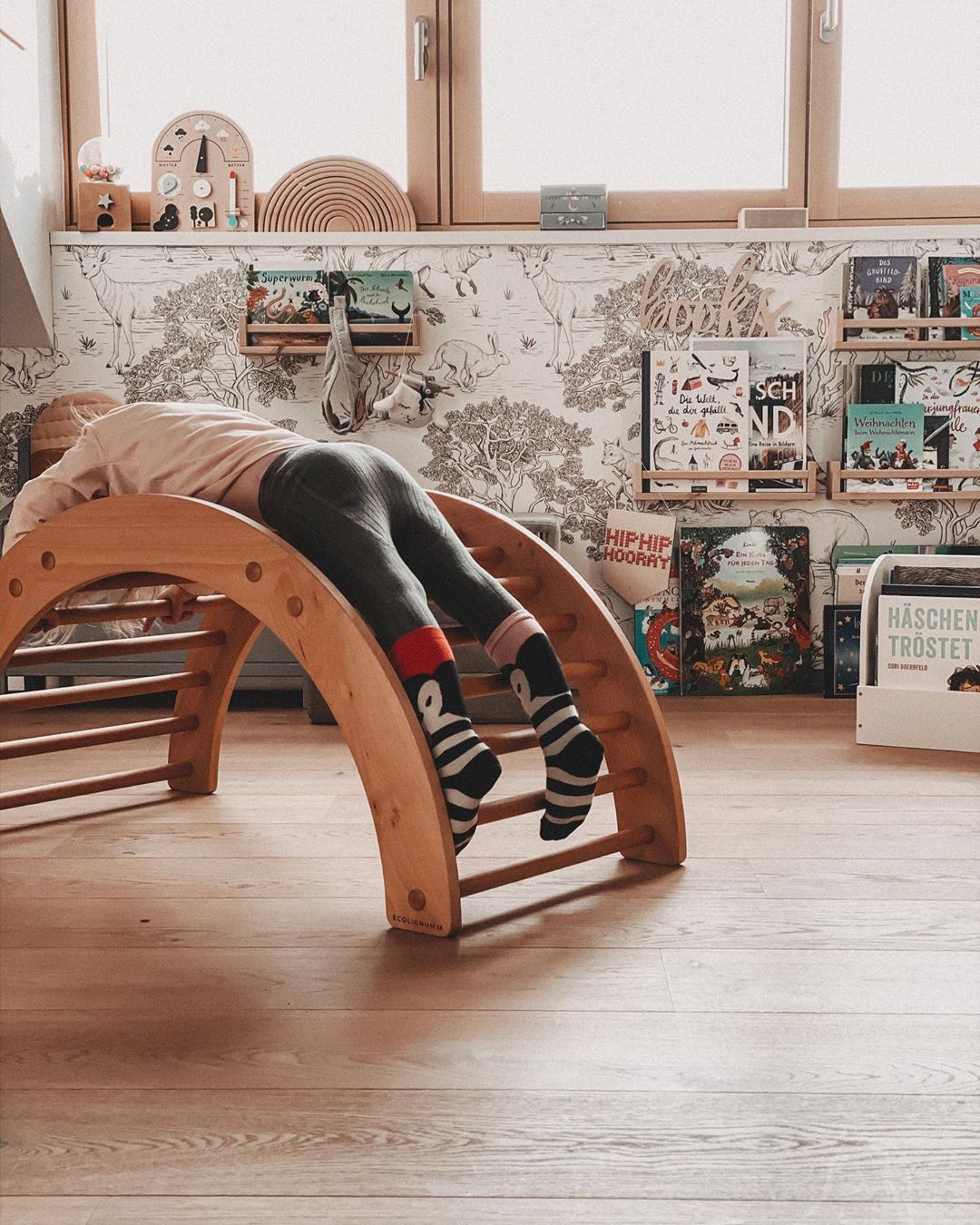 "My passion is the children's rooms," she says, "I could let off steam for hours in these two rooms. Decorating, rearranging and forging ideas."
"The furniture is mostly very modern and Scandi in style," Eva tells us, "But I also like to include some vintage items. I love wallpaper too, so we have about four different patterns in the children's rooms."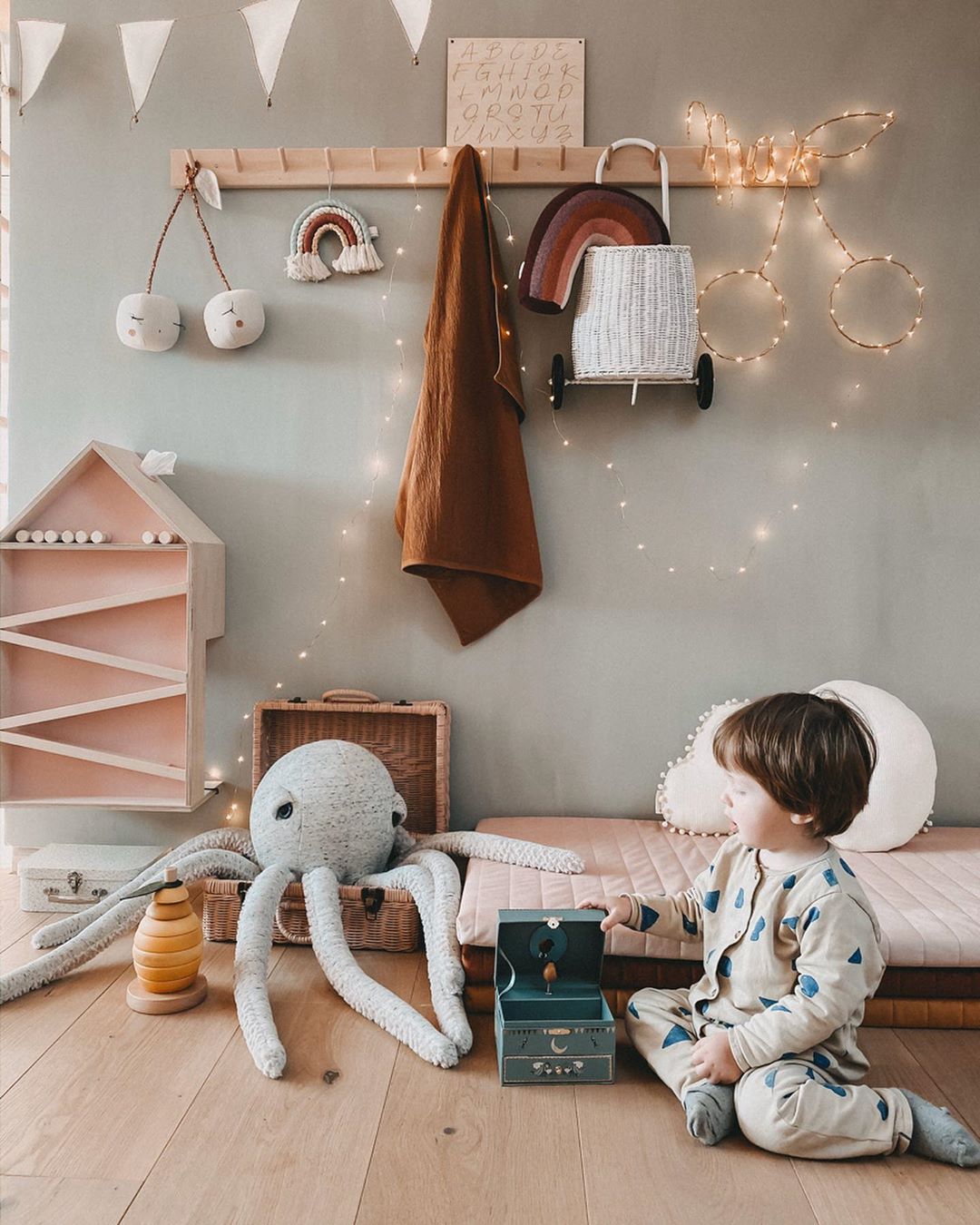 The two rooms are fun and playful. But, with a relatively neutral colour palette and plenty of natural materials, they are calm and restful spaces too.
So how did Eva go about creating such beautiful rooms for her kids? She's condensed it into the following - her five tips for children's bedroom design.
5 Creative Tips for Children's Bedroom Design
#1 Buy Good Quality Furniture
Try to think ahead and buy well-made furniture that adapts to your children as they get older. Eva loves kids' furniture from Oliver, a sustainable brand with Nordic stylings.
"We bought a lot of good quality furniture that can be used for many years," she says, "Pieces are timeless and items like beds can also be converted as children grow."
#2 Include Creative Storage Solutions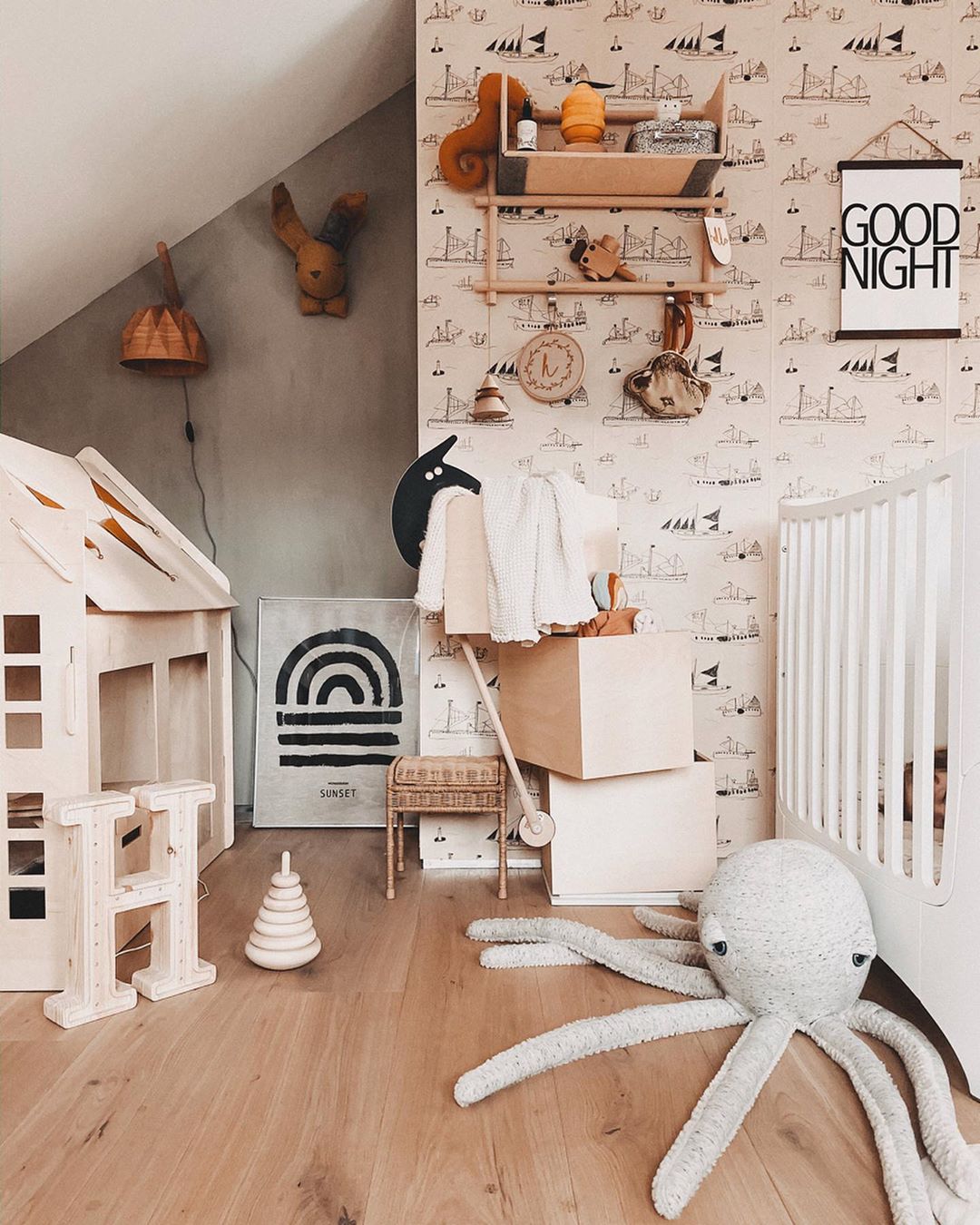 The children's bedrooms double as playrooms. And they have lots of toys. So Eva has invested in good quality, practical furniture for storing toys, teddies and blankets.
"We have a lot of storage baskets and two beautiful carousel shelves from in2wood. That's where we keep all of the smaller toys. And it's the secret of our relatively neat children's rooms!"
#3 Make Everything Accessible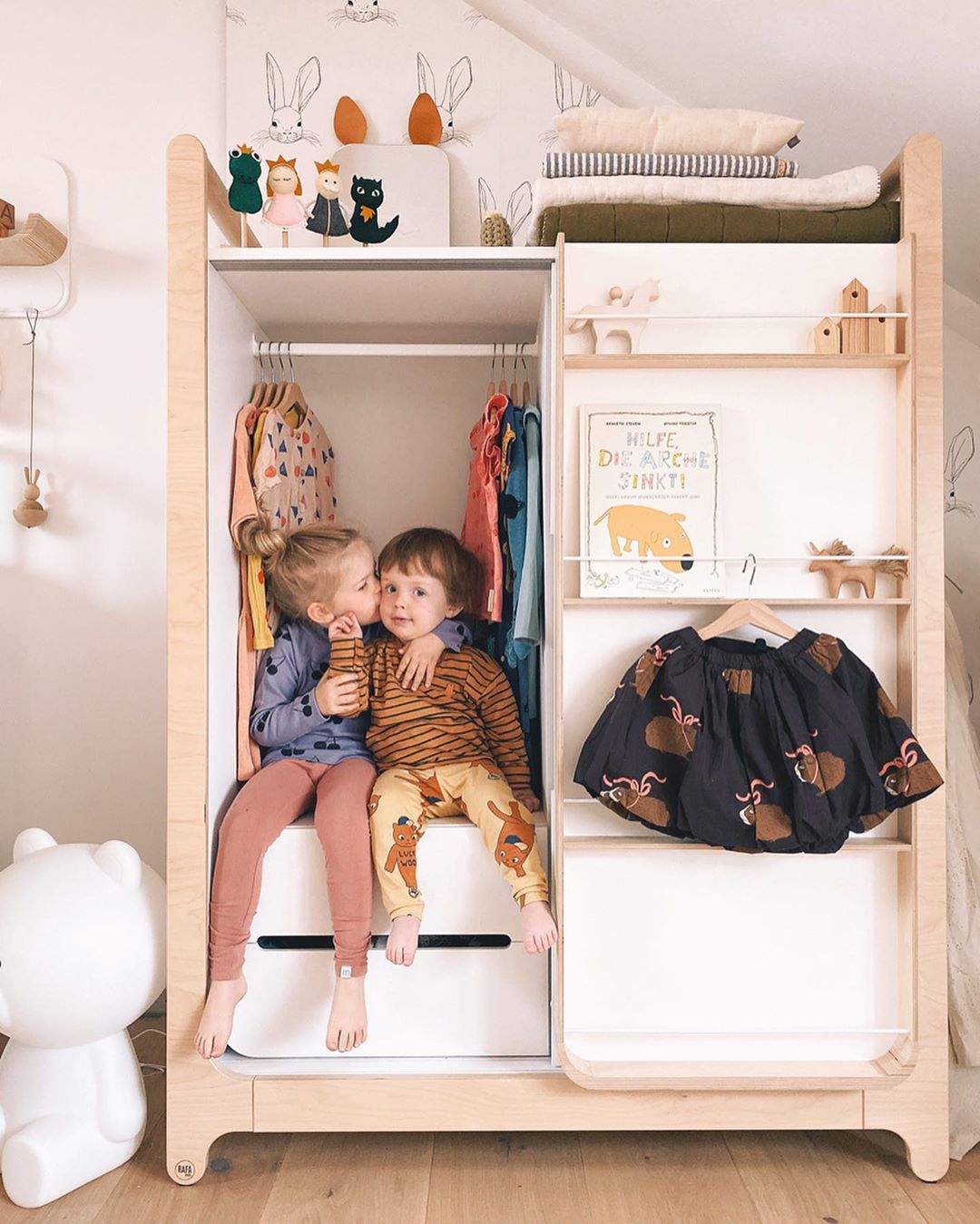 In our two kids' rooms there is a lot to discover," says Eva. And she's made sure that everything is easy for the children to access and explore.
"In the book corner, books sit with their covers visible on low wooden shelves (actually spice shelves from Ikea!).
"Our wardrobe is also very child-friendly and, at a height of just 1.62m, it is easy to open. My daughter loves to be able to choose her own clothes in the morning."
#4 Make it Fun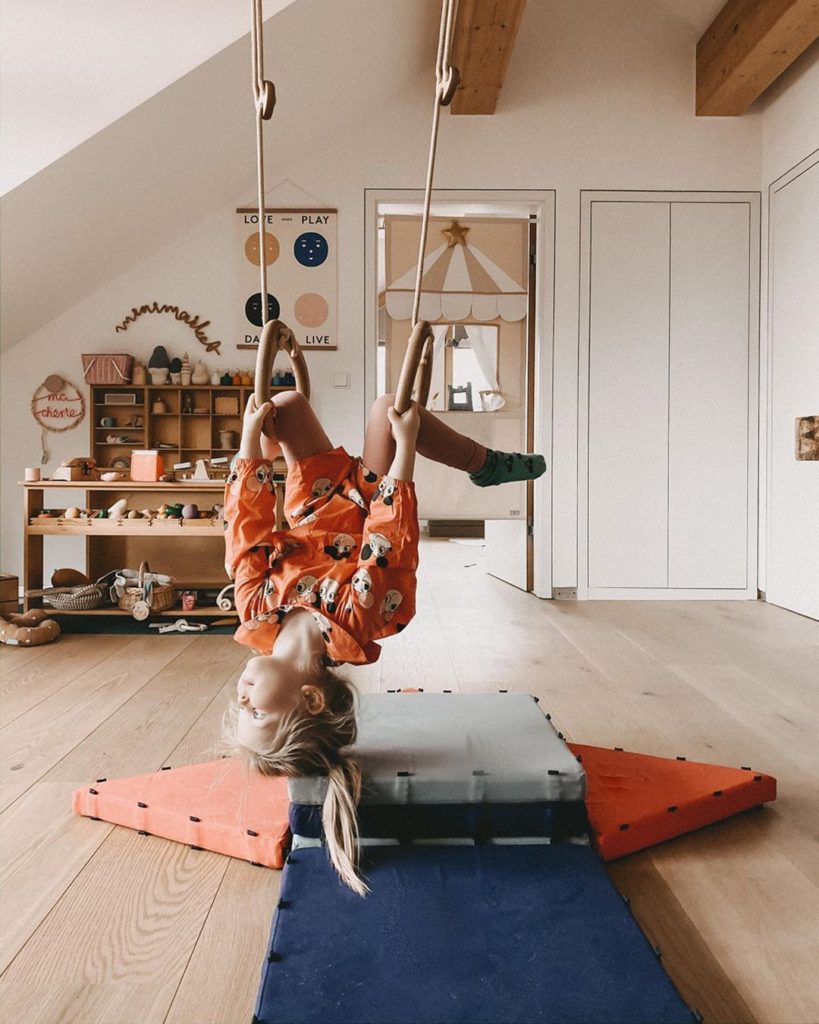 Eva has chosen lots of fun and creative toys for her children. There's a teepee hideaway, a vintage shop with scales and shelves, and a cosy book corner. "My daughter loves her wooden dollhouse," Eva tells us, "Whilst my son loves to play in his kitchen."
But she's also included a number of activity toys that bring a real sense of excitement to the rooms. "We have wall bars for climbing and the indoor swing, which can be turned into gymnastic rings."
A mini wooden climbing frame completes the set and helps to create a truly enchanting space for her children to learn and grow up in.
#5 Be Patient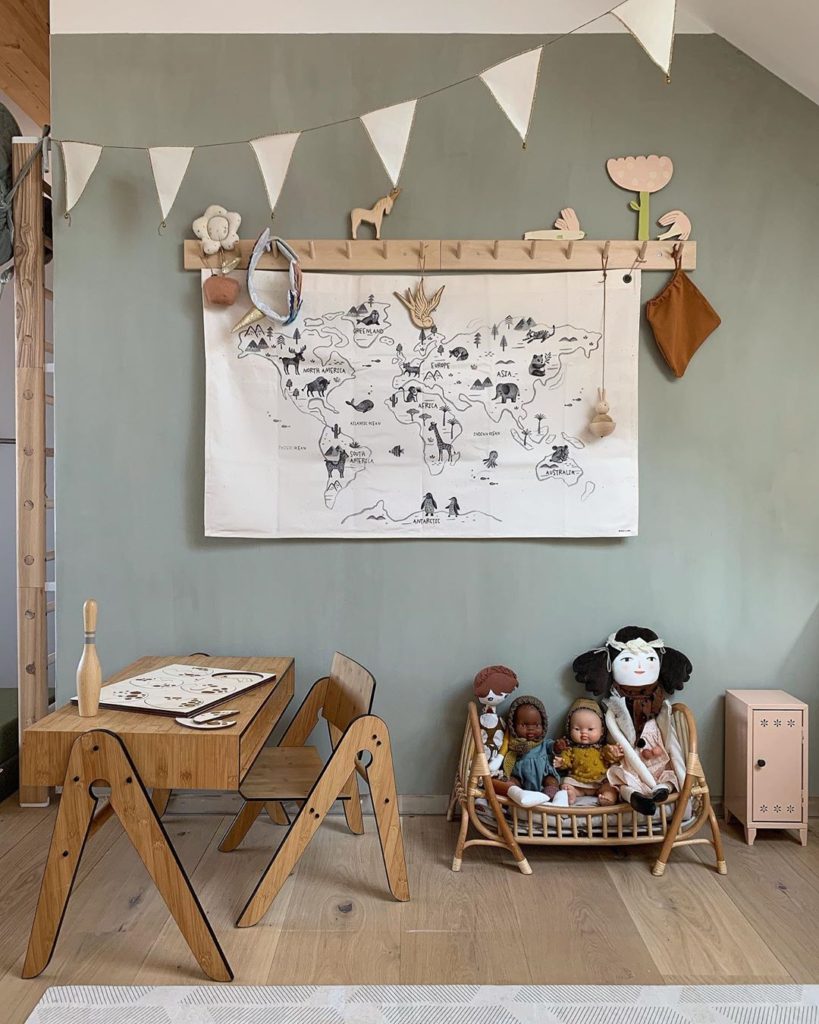 One of the most important things to remember when decorating a child's room, says Eva, is that it takes time.
"For me, patience is very important. I don't like to buy everything for the room at once. Instead, I look to see how the children are using the room, I invest in high quality furniture and Wall Art, and I let a design evolve over the weeks, months and years."
Big thanks to Eva for sharing her creative tips for children's bedroom design. You can see more of her beautiful home over on Instagram and her website.