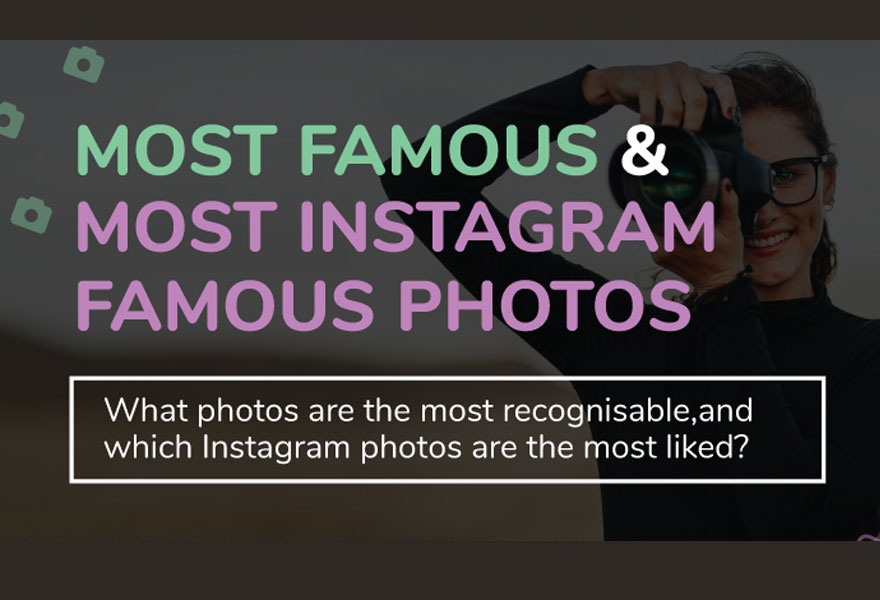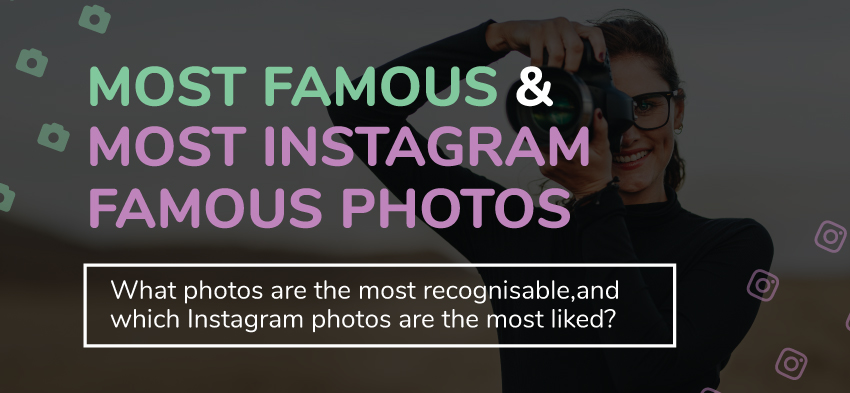 It was Henrik Ibsen who once said: "A picture is worth a thousand words." However, in today's day and age, a picture can be worth thousands of results on search engines, and tens of millions of likes on Instagram.
Taking photos is a great way of storing memories and allowing you to relive key moments throughout your life. They're also a great way of sharing those experiences with those close to you.
Here at Inkifi, we've used our expertise in creating photo books and framed photo prints to compile a list of the most liked photos on Instagram, and the most recognisable photos in history.
The most famous photographs of all time
Historical photos are a piece of history that can give an insight into an iconic moment, as well as how life was before our time. To assess the importance of each photo, we used a reverse image search to show the significance and reach, by looking at how often each photo appeared on the internet.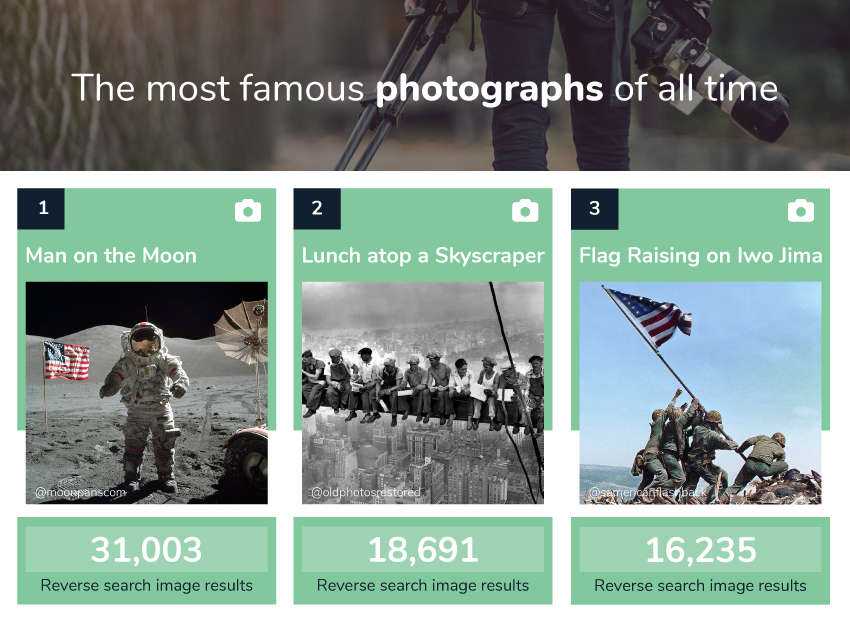 1. Man on the moon - 31,003 reverse search image results
Topping the list is one of the greatest achievements of human history and one of the most historic events. NASA's photograph of Neil Armstrong's first steps on the moon in 1968 documents the first-ever man to walk on the moon. It was a significant milestone in the development of space travel, and Neil Armstrong was the first of 12 people to accomplish this. As Armstrong said: "That's one small step for man, one giant leap for mankind."
2. Lunch atop a skyscraper - 18,691 reverse search image results
This photograph shows one of the more unusual places for someone to have their lunch break. Despite being 850 feet in the air, these 11 men decided to have a bite to eat, some of them decided to light a cigarette whilst they embraced the New York City view. The steelworkers in the image were working on the RCA Building, which is now known as 30 Rockefeller Plaza, and the image was taken to promote the unveiling of the building.
3. Flag raising on Iwo Jima - 16,235 reverse search image results
In third place is a photo of six United States Marines raising the US flag on Mount Suribachi towards the end of the Pacific War. Joe Rosenthal's photo is considered one of the most recognisable images of the second world war.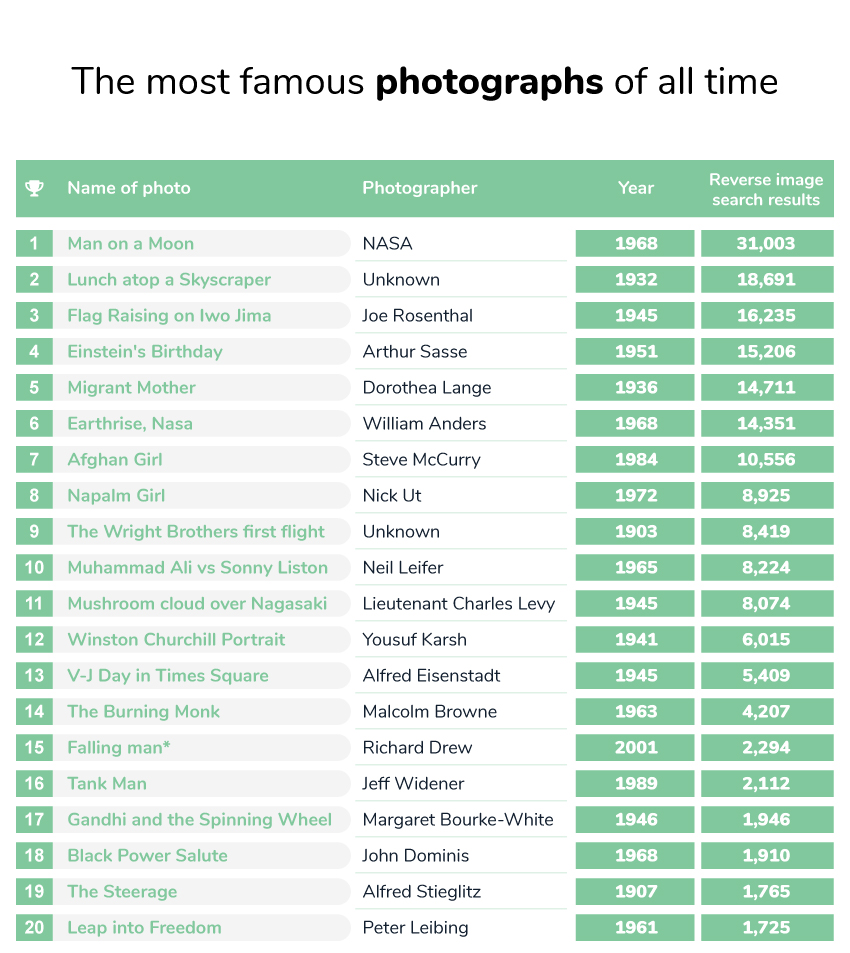 The most-liked Instagram photos
Instagram has given us a platform to share photos with our friends and family. It has also given us the opportunity to gain an insight into the lives of those we follow in the media.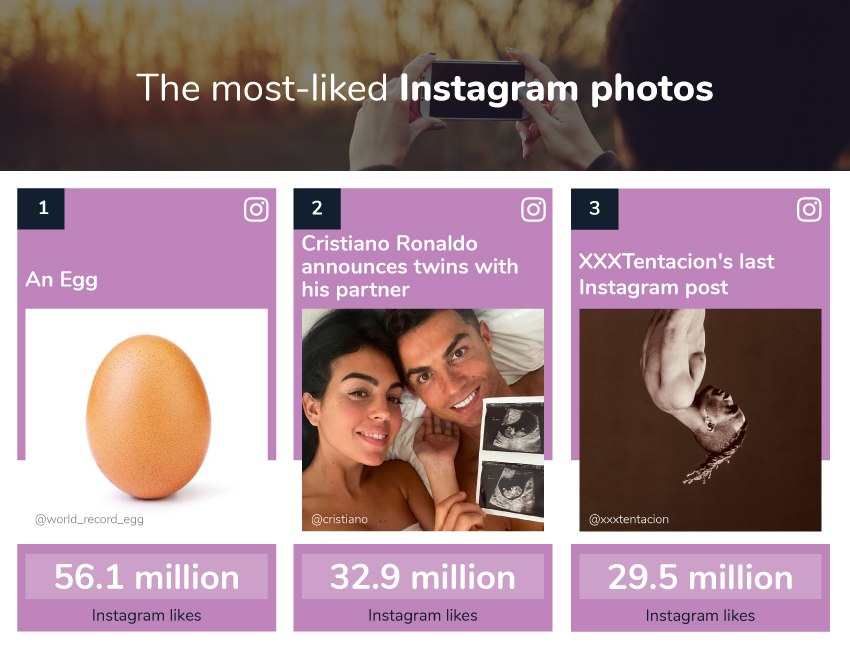 1. An Egg - 56.1 million likes
Yes, an egg. A very simple photo of an egg is the most liked photo on Instagram. The most unusual selection in our list has received almost 24 million likes more than second place in our list. The aim of this post was to become the most-liked photo on Instagram, overtaking Kylie Jenner who held the record at the time with 18 million likes. It did exactly that, and still holds the record to this day.
2. Cristiano Ronaldo announces twins with his partner - 32.9 million likes
Manchester United's superstar forward takes second place in our list but with a post unrelated to football. His announcement of twins with his partner has received almost 33 million likes on Instagram, over 10 million likes more than his second most-liked photo.
3. XXXTentacion's last Instagram post - 29.5 million likes
The oldest photo on our list, and also the only photo on XXXTentacion's Instagram account. His photo was the announcement of his upcoming album, posted just less than a month before his tragic death.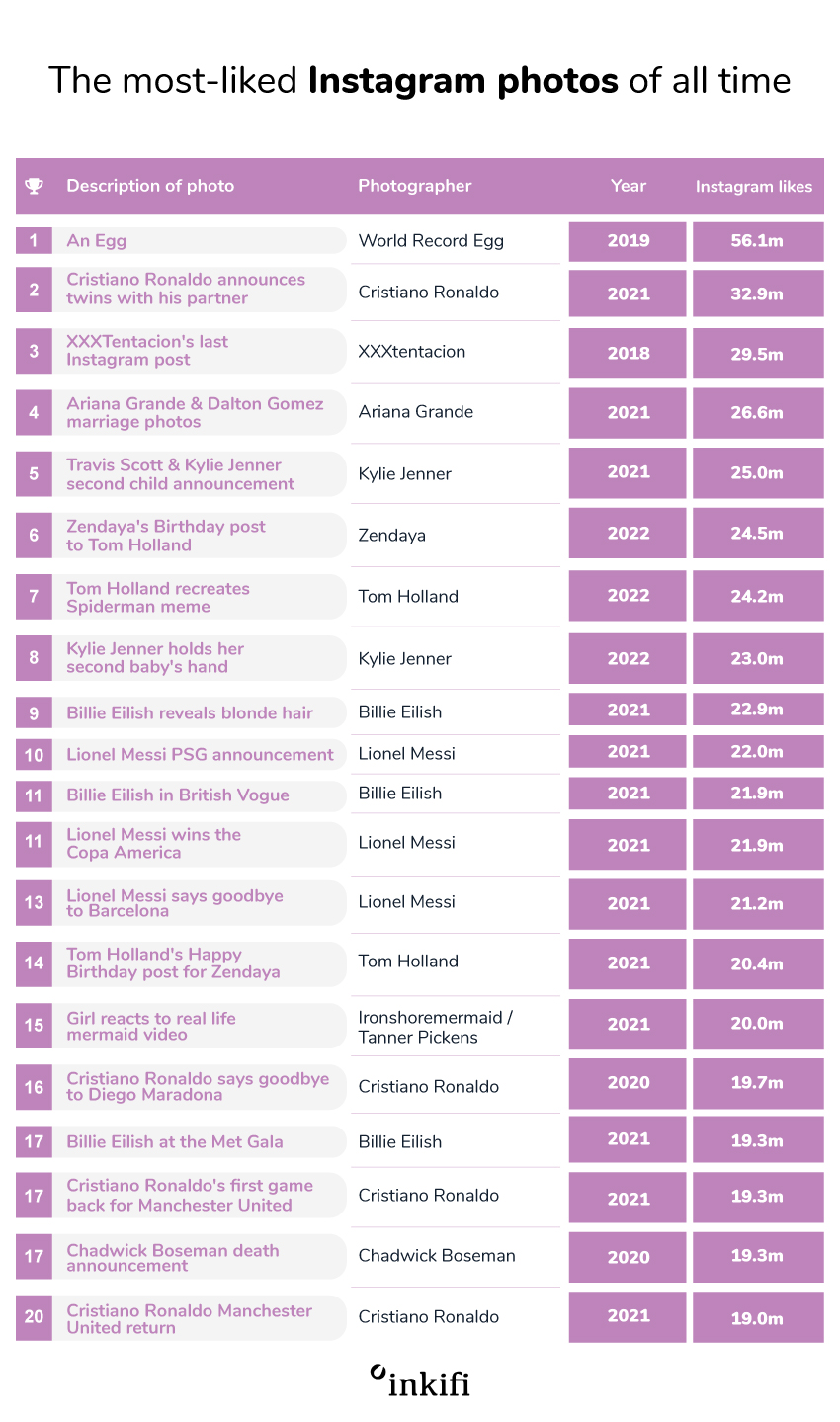 Methodology
We used Bored Panda's original list of 100 famous photos, and Artalistic's list of 10 famous photos to get our original list.
We then used TinEye's reverse image search to find which photos returned the most results, and determine which photos were the most famous.
For the Instagram photos, we used Brandwatch's and Wikipedia's lists and updated the number of likes for each photo to get our list of the most liked photos.