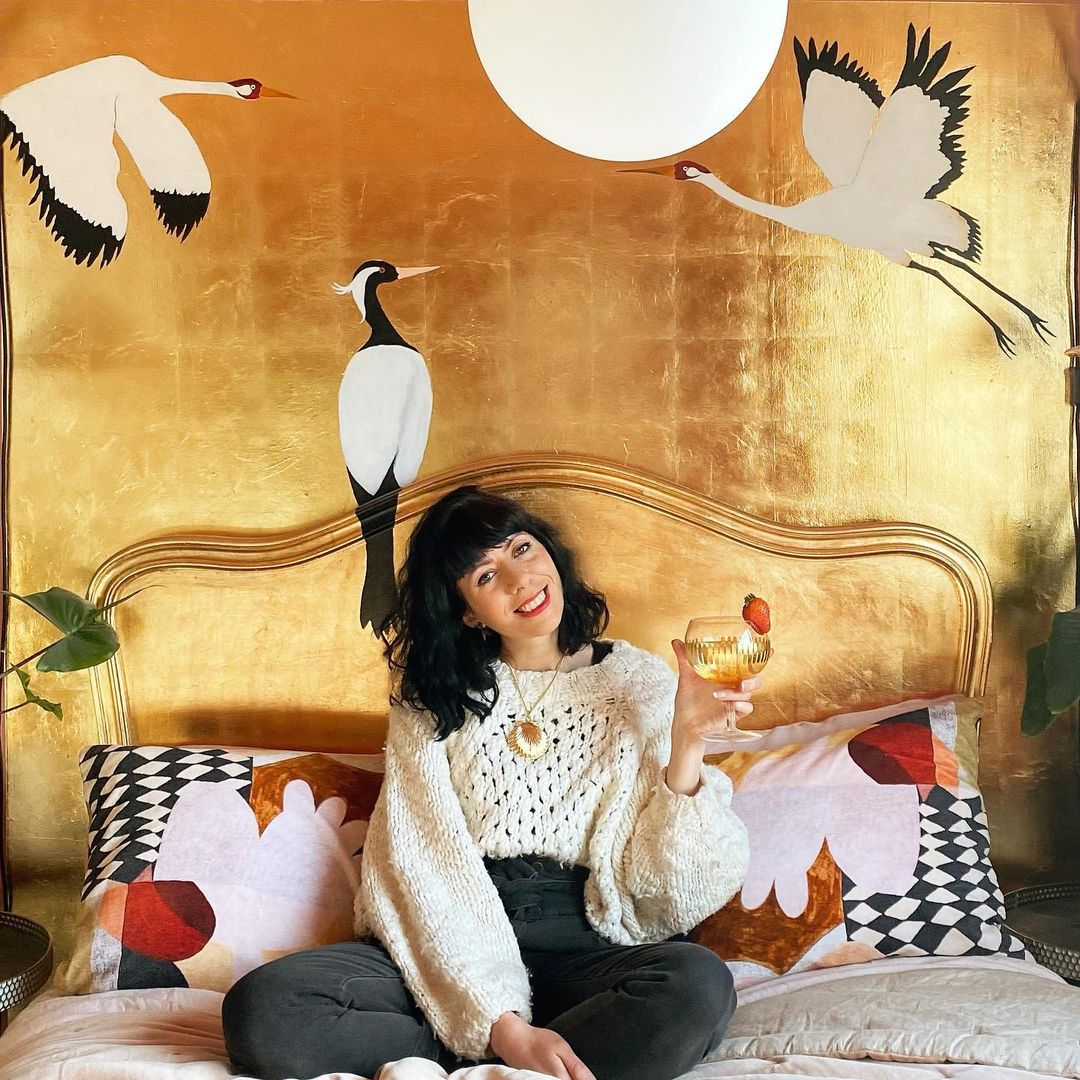 Looking to bring some DIY bling to your interiors? We checked in with gold leaf expert Lara Bezzina to discover her interior design style and get some gold leaf interior inspiration.
Lara is an interiors obsessive. "I spend all of my spare time painting, upcycling, gold leafing, blogging, Instagramming and reading interior design books!" she tells us.
Between her interior design studies, working on interior projects at home and offering her own online gold leaf course, Lara is busy! She's building up to leaving her day job and pursuing the creative interior design career she's craved for so long.
So where did her interior design journey begin? Lara studied art at college but it was only when she and her husband bought their first house 11 years ago that interiors really caught her imagination.
Since then she has worked to create exciting interiors on the tightest of budgets.
Lara's interior style
Lara has a bold and brilliant style that feels all her own. "It's modern, maximalist opulence with creative, unexpected touches and vintage finds."
"I've never had big budgets," Lara tells us, "so I've had to get very creative, upcycling second hand pieces or working out how to DIY in order to create the look I wanted."
Gold leaf has been a big part of her schemes from the start. "I think gold leaf brings luxury, warmth and opulence," she says, "It can make a real statement and can be used really creatively."
"I really think it can work in most interior styles. You can be bold with it – or subtle. And it can turn quite an unexciting, ordinary object into something really beautiful."
Lara admits she's run out of things to gild in her own home and thinks she may have to move house if she doesn't find something soon. She's currently working on some gold leaf murals for clients and is planning to produce some gold leaf prints in the near future.
A few tips for using gold leaf in your interiors
Lara insists that when it comes to interior DIY all you need is good research skills and patience.
"You need to be willing to give things a go and improve as you go," Lara tells us. "And remember that there's always someone on YouTube showing you how to do anything!"
Even gold leaf, which can look pretty fiddly, is easy to use once you've had a little practice. "Not dropping it and not having sticky fingers were my first big lessons!" says Lara.
She says she got used to applying gold leaf after just a few projects. But it took her years to discover the best ways to varnish and protect her designs. And how to achieve a variety of different gold leaf effects.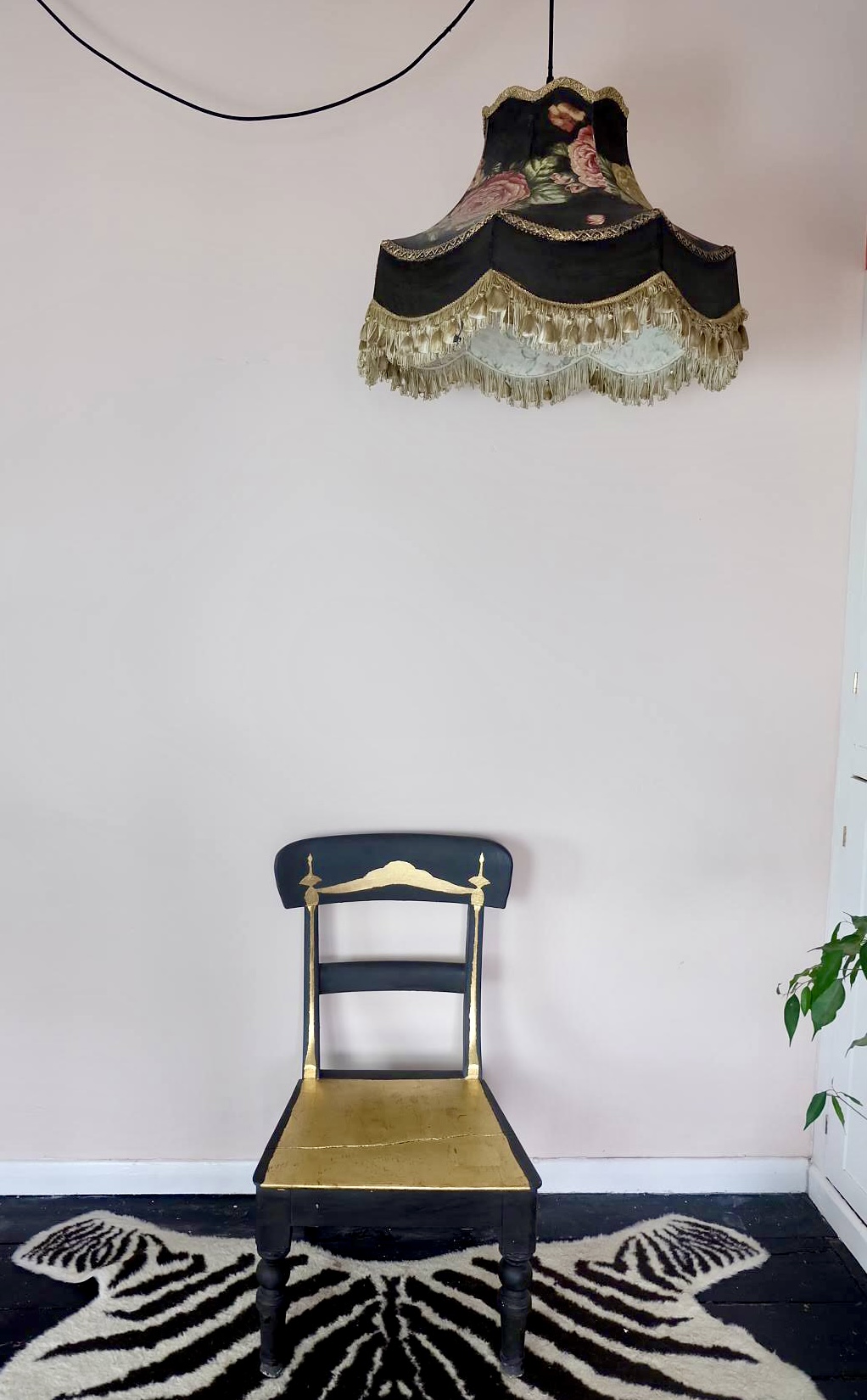 People can be put off, thinking it's very messy. ("The process does leave gold dust all over the place, but I guess that's the prettiest mess you could possibly have.")
And people also worry that it's very expensive. But Lara uses imitation gold leaf in the majority of her designs, which is much more affordable.
"It's made in the same way as gold leaf, but using brass," says Lara. "Imitation leaf, also called Dutch Gold or Schlag is much less expensive than real gold leaf, costing around £40 to cover 12sqm."
All of which means, with a little practice and a minimal budget, you could soon be creating gold leaf interiors as beautiful as Lara's. Here Lara shares five creative ways to use gold leaf for your own personalised wall art.
Gold leaf interior inspiration: 5 creative ideas
Copper leaf bath
"I really wanted a copper bath but was spending all my money on the boring renovation stuff, like damp proofing and a new roof.
"I found a second hand bath on eBay for £80 and covered it with copper leaf, then protected it with a waterproof outdoor varnish.
"I'll admit - there was some frustration and a lot of trial and error involved. But as I was covering a big area, I gradually figured out what worked and revisited the bits that hadn't gone to plan.
"This bath was the first thing I gilded and I just fell in love with it – both the process and the result. I love the warm glow it gives to the room."
Gold leaf drip effect
"For this plantpot, I essentially used the adhesive to create real drips. I then left it to dry for a few days until it was tacky but not wet. Next, I covered the adhesive with gold leaf to give the appearance of gold paint dripping down the plant pot.
"This one really isn't too difficult – as long as you have some patience! Even though it's a simple project it gives an ordinary room accessory a totally new lease of life."
Upcycled furniture
"This chest of drawers was given to us by a neighbour. I painted it and sketched out this random abstract pattern. It was really therapeutic!
"I wanted the gold to look painted on, so when I applied the adhesive I was quite free with the brush, leaving brushstrokes rather than perfectly neat edges.
"I love making plain pieces of furniture look more detailed and beautiful. For another gold leaf project, I picked up a plain chair for £5 and drew on an elegant outline. I then filled in the outline with gold leaf creating the appearance of an antique chair."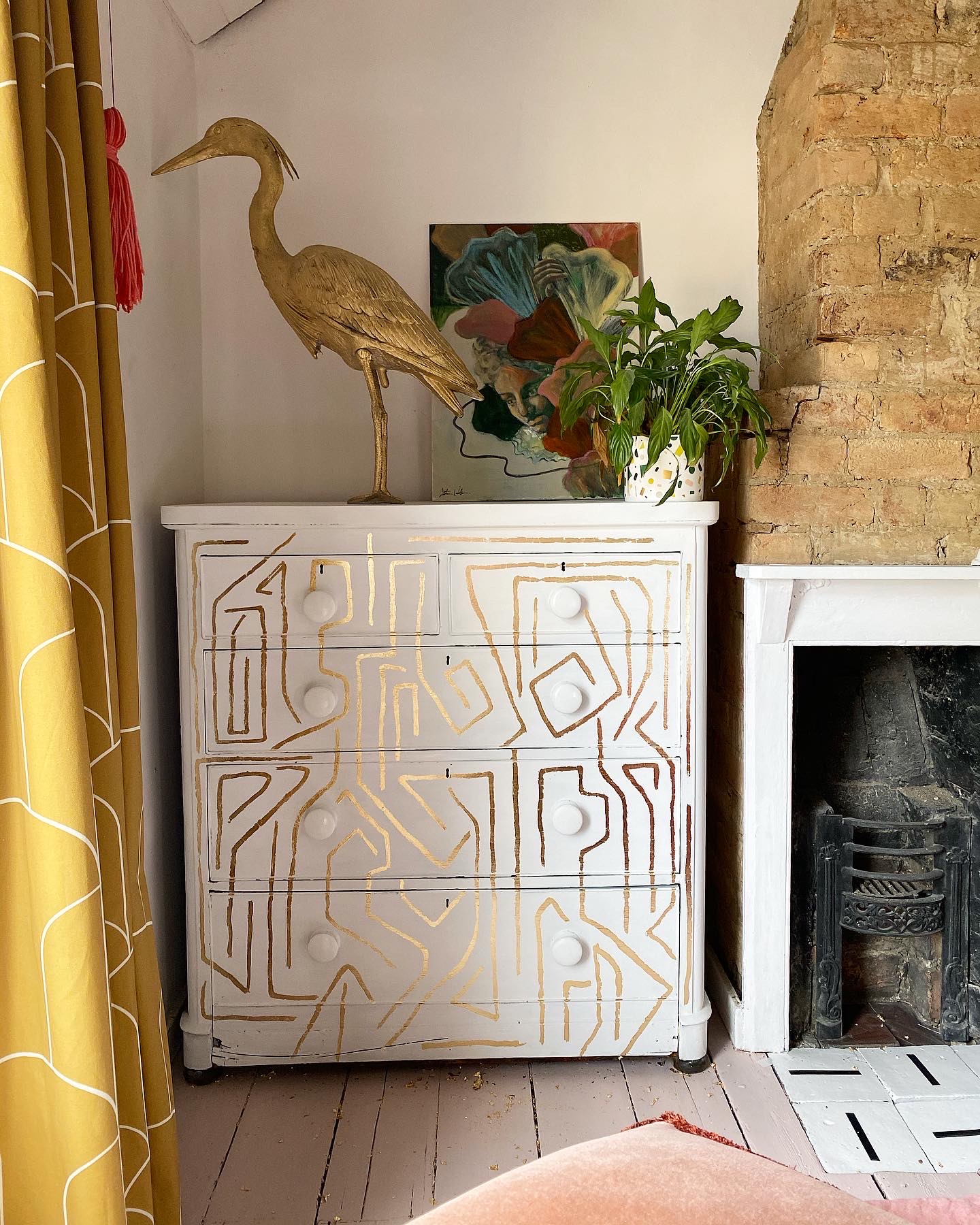 Wall murals
"I've now created a number of murals using gold leaf – some geometric and abstract, some detailed and intricate.
"One of the things I love about gold leaf is its versatility. If I'm covering a large area I use transfer leaf. It comes stuck to backing paper so you can line it up with your wall without worrying about dropping and tearing it.
"For our master bedroom I extended the mural down onto the headboard and I really love the effect.
"Gold leaf murals make a big, bold feature in a room without the need for expensive furniture and wallpaper. But the more intricate a pattern, the harder they are to get right, as you need a steady hand to apply your glue accurately."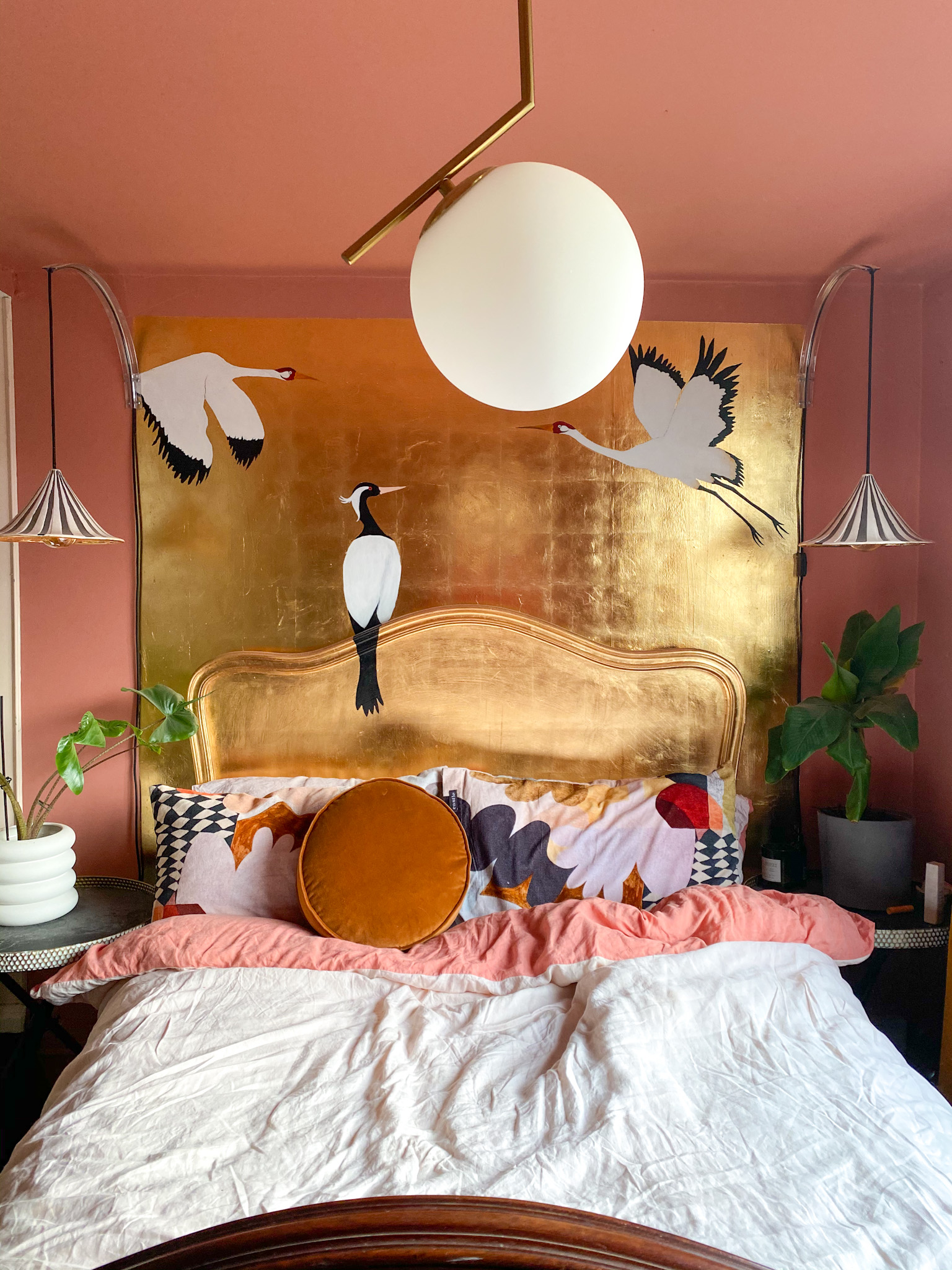 Feature ceiling rose
"I love the detail of a ceiling rose and thought a large gold star instead of a traditional rose would look great.
"I drew up and cut out a large star from cardboard to make a template. I then drew around the template and used gold leaf to cover it. The hardest part was working overhead. It was a proper workout!
"My ceiling star creates an interesting feature in the room and gets lots of attention. This project also sparked the idea to create statement door and drawer handles (without having to buy new ones)."
Big thanks to Lara for sharing her gold leaf interiors and beautiful photography.
Take a look at more of her gold leaf and interior projects over on Instagram. Or – if you fancy incorporating some gold leaf into your own home – visit Lara's website to book a place on her online gold leaf course.