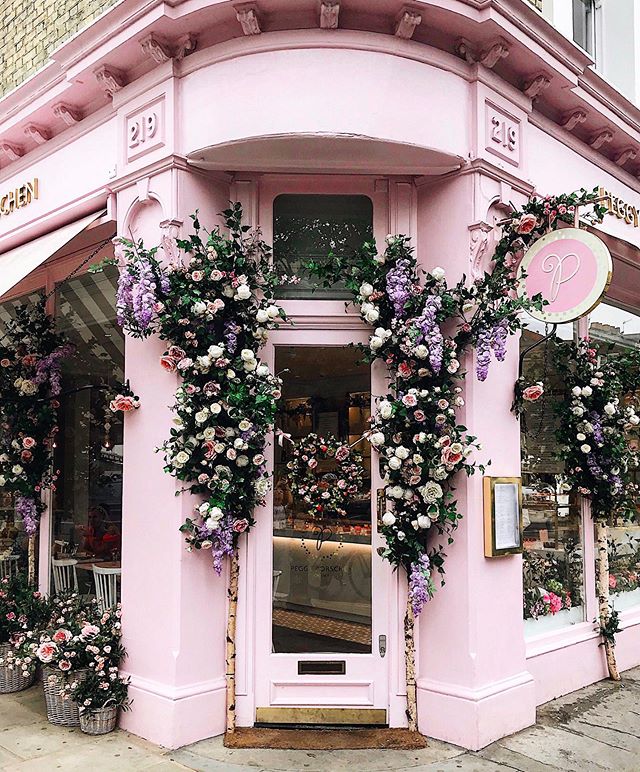 London has never looked better. The city is now home to some of the prettiest shop fronts around. And it's partly thanks to Instagram.
No longer the reserve of big department stores, smaller London businesses are looking to attract customers and a little Instagram attention by making their exteriors just as exciting as what lies within. Doorway decoration is the new norm for independent establishments across the city.
Fleur Anderson is a London resident with a soft spot for a good floral display. "I'm a West London girl at heart," she says, "As you can probably tell by my feed."
"I love the sleek, white buildings and the elegant coffee culture of Kensington & Chelsea. The neighbourhood looks gorgeous during every season, particularly right now in all of its warm, autumnal tones."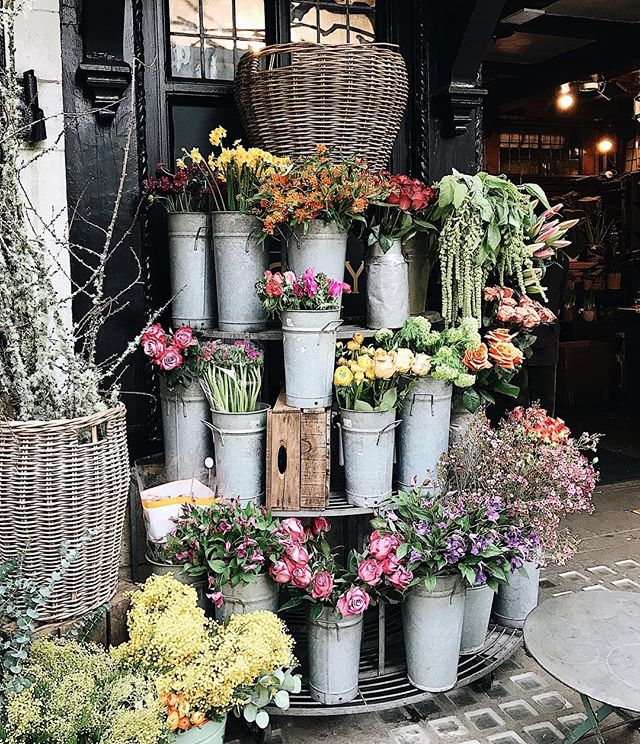 The way independent businesses throughout London are choosing to decorate their facades for the seasons is really inspiring, says Fleur. "There's so much creativity and individuality." And with Christmas just around the corner, shop fronts are about to be taken up a notch with elaborate festive displays.
If you fancy shooting some amazing facades and popping into some of the best indie establishments the city has to offer, check out Fleur's list of the prettiest London shop fronts:
7 of the Prettiest London Shop Fronts
The Churchill Arms
119 Kensington Church St, Kensington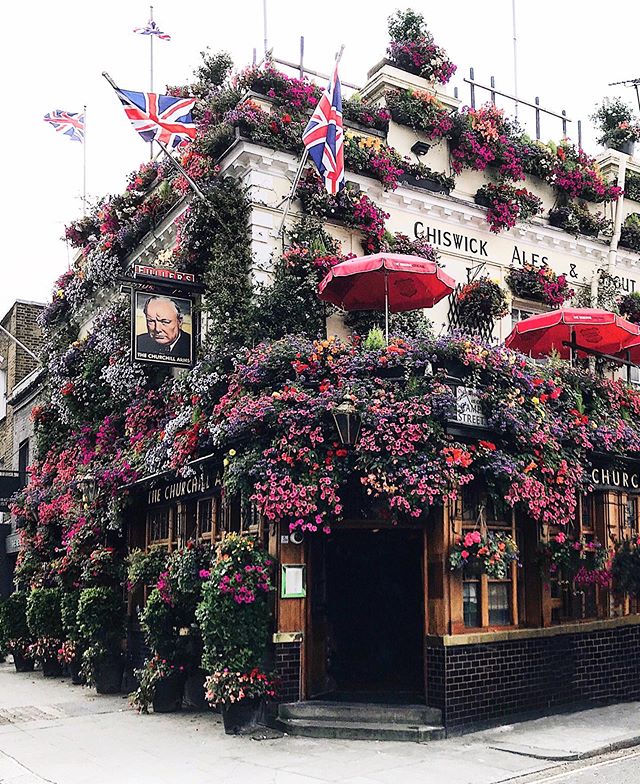 The Churchill Arms is a pub like no other. Its over-the-top floral details and warm colours make it a must-see if you're in the Notting Hill area. It's definitely a favourite among London Instagrammers.
"I find a close up shot works well for this facade to highlight all the details. You might want to head there at Christmas too as the whole building is covered in mini Christmas trees!"
Moyses Stevens
53 Elizabeth St, Belgravia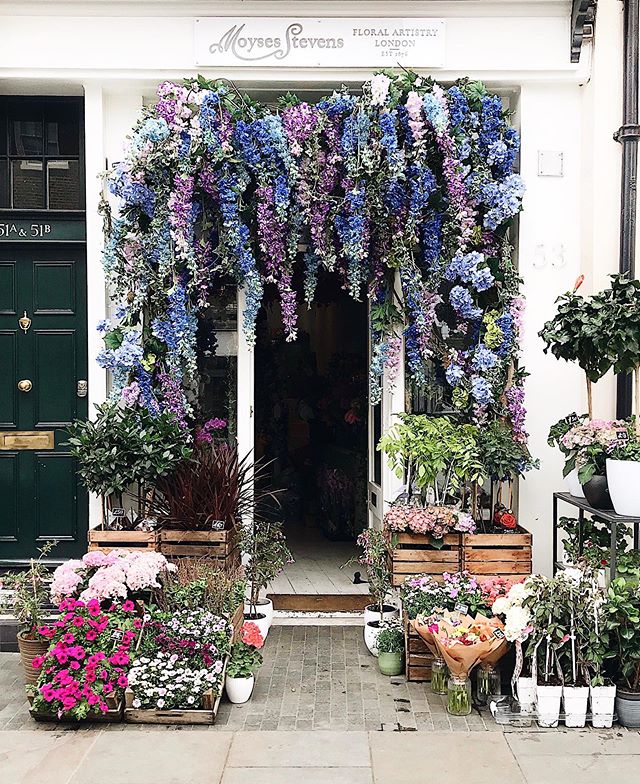 "Moyses Stevens is one of my favourite florists in London. And it will always be one of my favourite shop fronts to shoot.
"Their displays change with the seasons and there's clearly so much thought and care put into each and every one of them. They had a beautiful blue and purple wisteria concept in spring this year, which I absolutely loved.
"There's another Moyses Stevens location in Sloane Square (also worth a visit) but this location on Elizabeth Street is very popular. I'd really recommend having a wander along the whole of Elizabeth Street while you're there. This road is widely regarded as having some of the prettiest shop fronts in the whole of London."
Peggy Porschen
116 Ebury St, Belgravia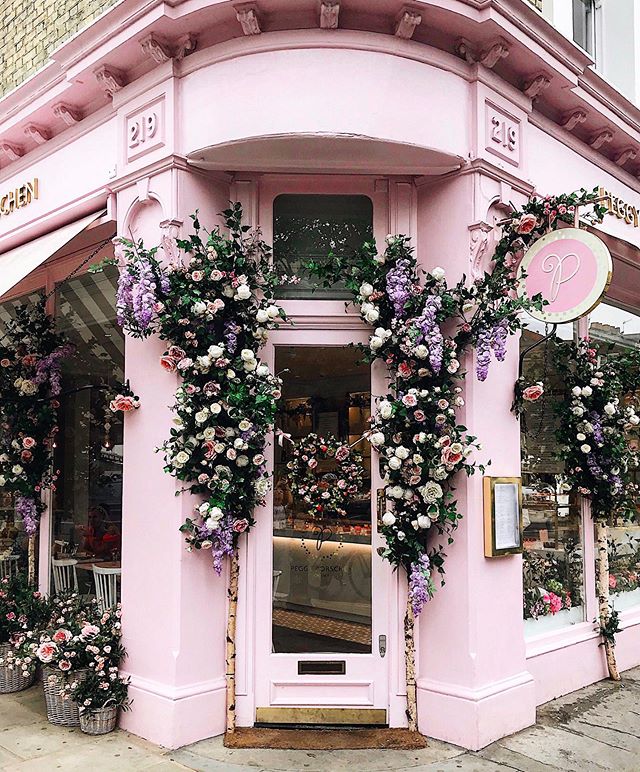 An amazing cake and coffee shop. And a London Instagram classic. If you want a pink facade, look no further than Peggy Porschen.
"Both their Belgravia and Chelsea locations go all out for each season. Sitting at one of the outside tables in Belgravia, sipping a coffee and marvelling at the flowers weaved around the doorway was a lovely way to spend an afternoon.
"If you want a clear shot of this place, I would recommend getting there for opening time at 8am. On a weekday you could try 9am. But after that, crowds start appearing."
Alice's
86 Portobello Rd, Notting Hill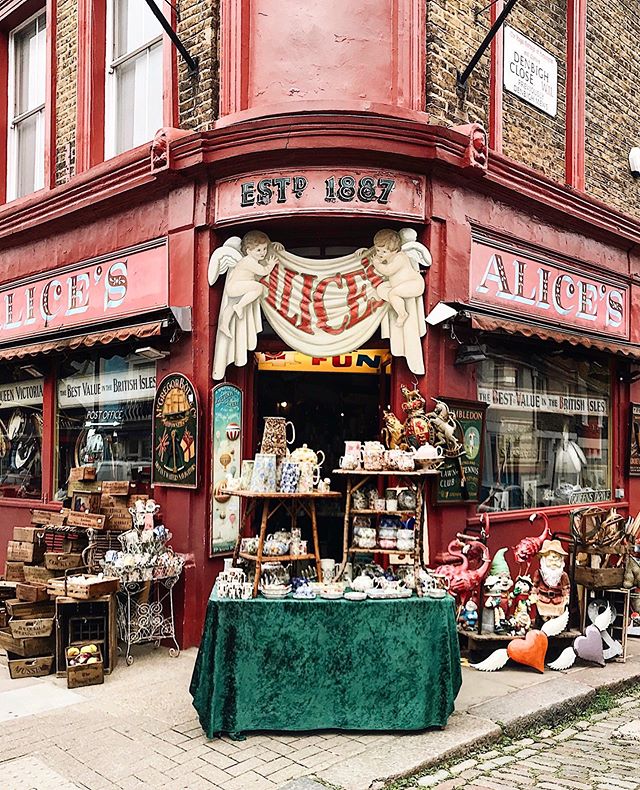 Alice's is a little treasure on Portobello Road and it's unlike any shop front I've ever seen. It has a distinct vintage look, in keeping with the antiques and knickknacks inside. And there's an almost fairy-tale feel to the place.
"There's so much to see with this shop front. It changes every time you visit. However, it can get quite busy so I tend to visit during the week to avoid the crowds. You might have to be patient to get the perfect shot, but it's worth it!"
The Ivy Chelsea Garden
195 -197 King's Rd, Chelsea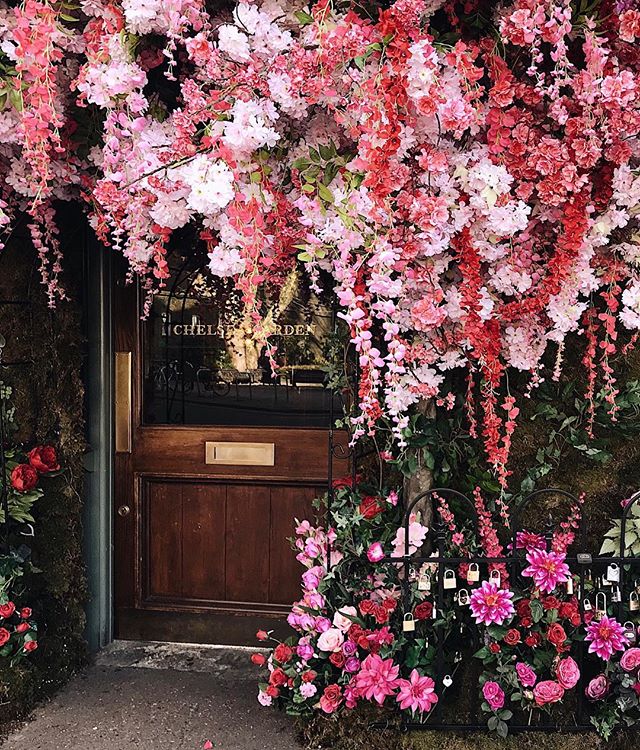 Part of London's luxurious Ivy chain, The Ivy Chelsea Garden is home to impressive seasonal facades. Their pink wisteria for Valentine's Day was a particular favourite.
"I love how perfectly each display matches the season. And how attention seeking they are. This is definitely one of the prettiest London shop fronts.
"I've seen cars driving down King's Road slow down or come to a standstill because a driver wants to get a shot of that facade! I'd recommend the safer option of walking down King's Road and seeing the details up close.
"Early Hours, a London-based florist, are the team behind these displays. And it's clear that they're a truly talented bunch."
Maddox Gallery
9 Maddox Street, Mayfair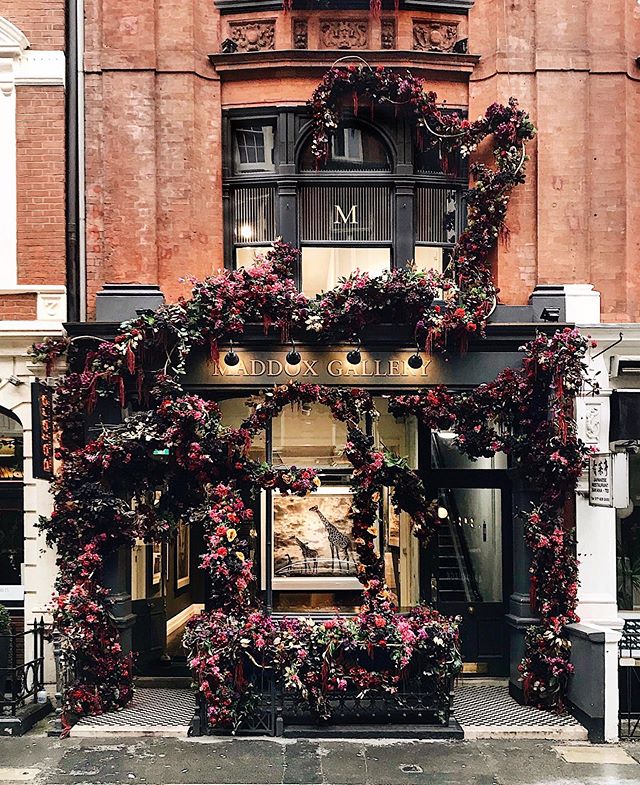 This is a facade that has featured on my feed many times. Located just off Regent Street, this contemporary art gallery loves to mix it up with their displays.
"They're always so different, from their current autumnal facade to their gorgeous pride rainbow during the summer.
"I find this place incredibly difficult to shoot at times (I'm sure many fellow Instagrammers would agree with me!) as there is usually a car or van parked outside.
"It might take a couple of visits before you get a clear shot of the whole building. But if not, I like to get up close for a more detailed shot, focusing on the flowers and vines wrapped around the shop front."
Lina Stores
18 Brewer St, Soho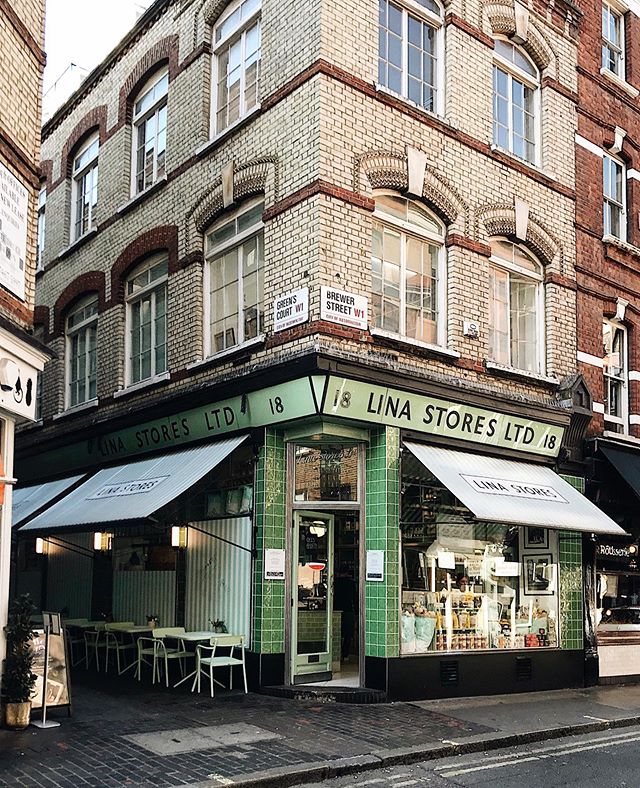 "I walk past this shop front almost every day. I find the green tiles so eye catching and inviting. It's an Italian deli and pasta restaurant, which is perhaps why my followers think it gives off major NY vibes. And it's been around for an amazing 75 years.
"Lina Stores is located in busy Soho so shooting it can sometimes be a challenge. I'd recommend playing around with angles if you want to capture this pretty shop front. Its corner plot allows for so many different perspectives of that beautiful colour palette."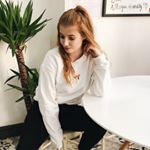 Huge thanks to Fleur for sharing her favourite haunts and beautiful photography with us. You can see more of her pretty London shop fronts over on Instagram.