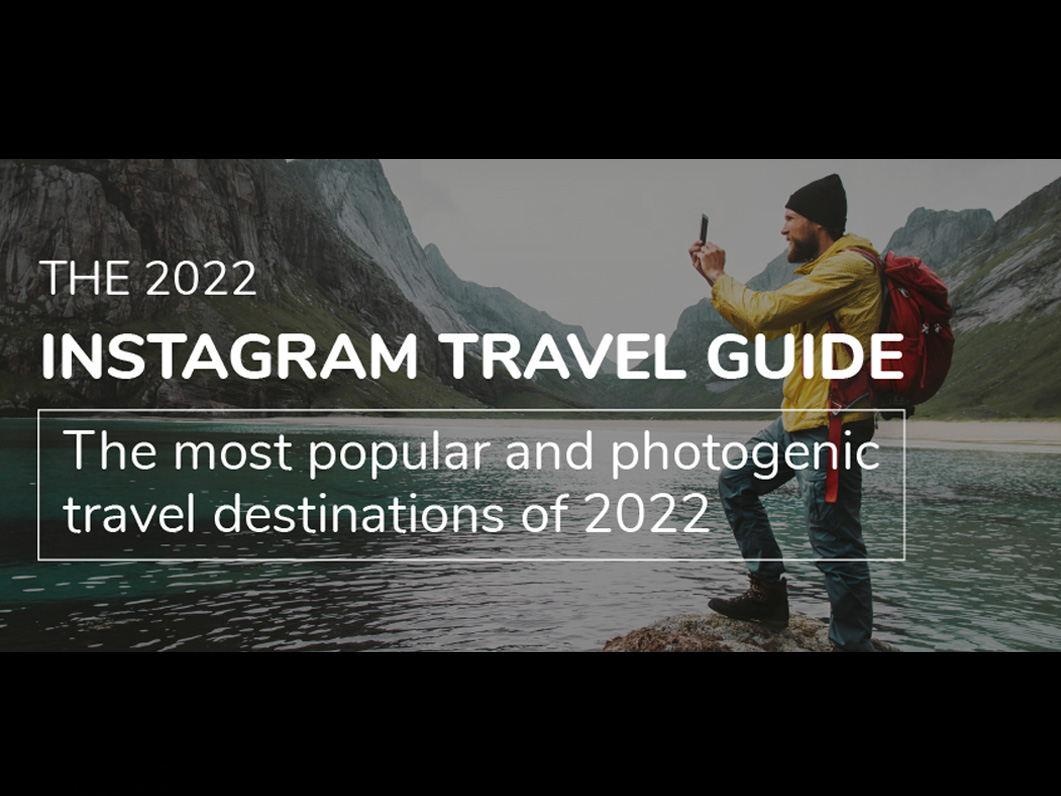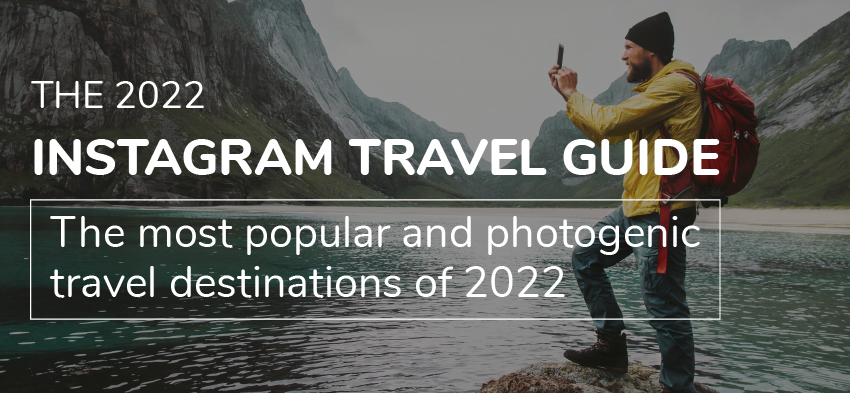 With the world of travel now largely back to normal, many of us are once again planning holidays and trips away for some much-needed rest, relaxation and escapism. To help provide some inspiration for those of us with a strong sense of wanderlust, we've created the 2022 Instagram Travel Guide.
Taking photos on holiday is a great way of recording your adventures and the special moments spent travelling with loved ones. Whether you get your pictures printed to make photo books & albums or frames, or simply post them on Instagram to keep your followers updated, we've been in love with travel photography for generations.
Having looked at hundreds of places across multiple categories, we've found the most Instagrammable locations for every type of traveller. From the most luxurious hotels to the epic scenery of the world's best national parks, these are the top travel destinations of 2022.
Hotels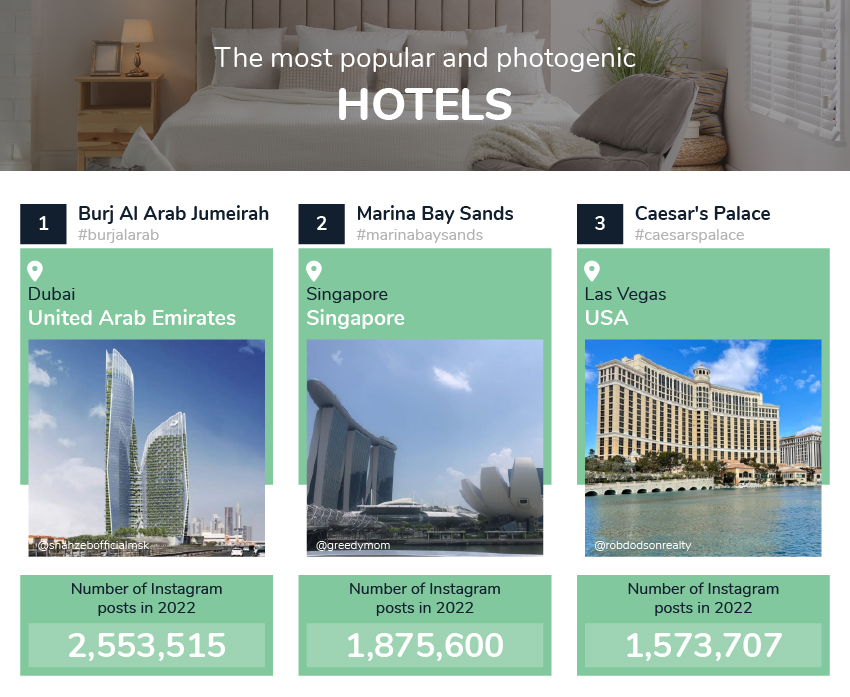 We've looked at some of the most luxurious hotels in the world to find out which are the most snapped on Instagram. While many of us won't be staying anywhere as grand as these opulent digs, there's no arguing with their stunning appearances. We can all dream, can't we?
The Burj Al Arab is the most featured hotel on Instagram with 2.55 million posts! This sail-shaped tower strikes an impressive figure as it sits on it's very own island, providing guests with fantastic views of Dubai and the Persian Gulf.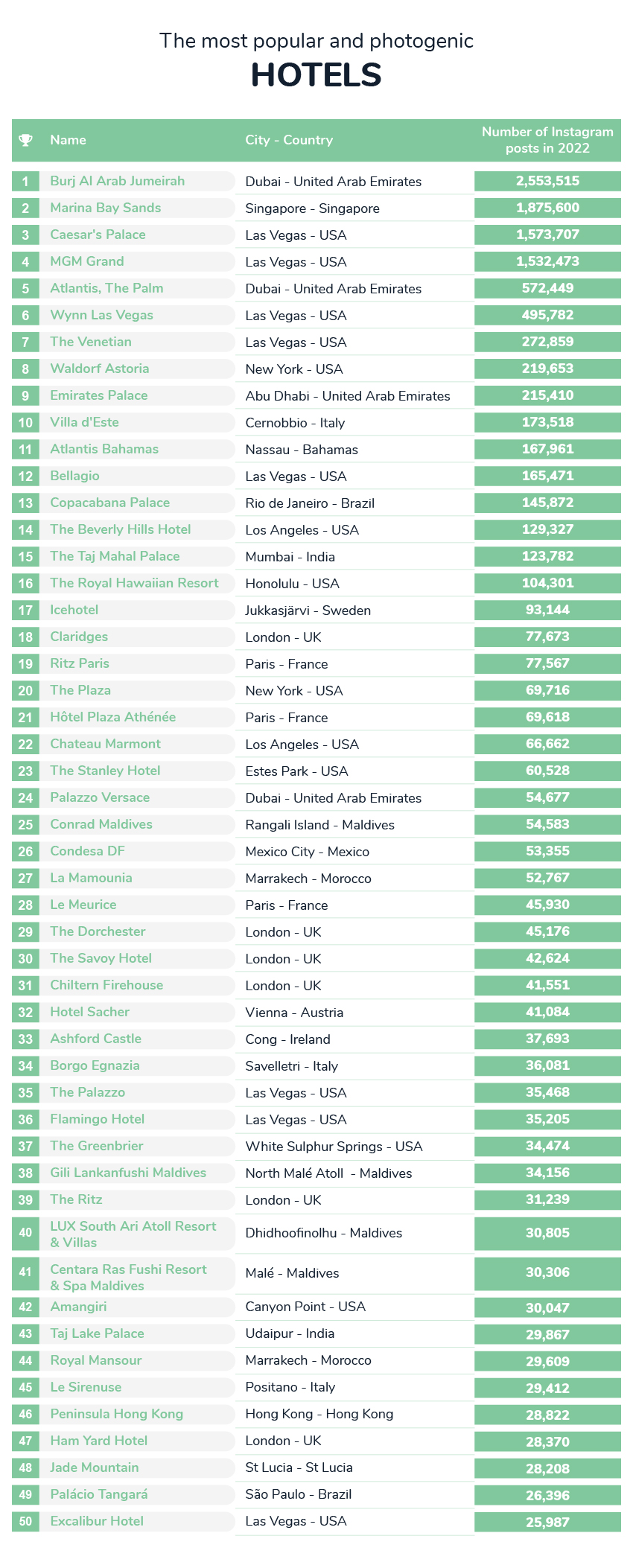 Restaurants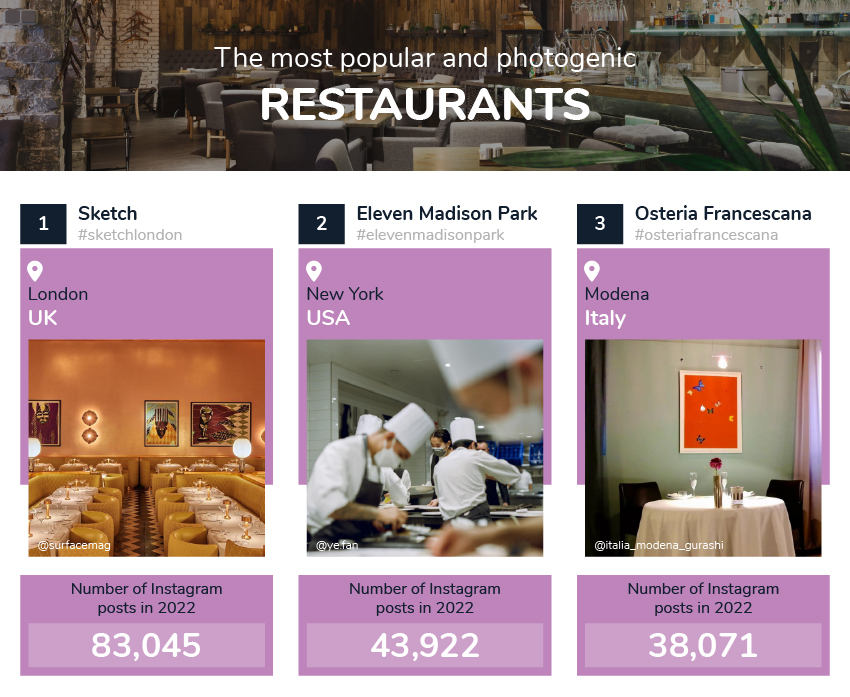 One of the best parts of any holiday is treating yourself to the best food your destination has to offer. Be it a fancy restaurant or some tempting street food, our taste buds are just another way we can explore when travelling.
As food can be a feast for the eyes with careful thought and presentation, we've looked at some of the very best Michelin starred restaurants to find out which are the most popular on the Gram. London's Sketch restaurant is the clear winner with over 83,000 posts, making it by far the most featured Michelin restaurant on Instagram, and is followed by Eleven Madison Park in New York, and Osteria Francescana in Modena, Italy.

Landmarks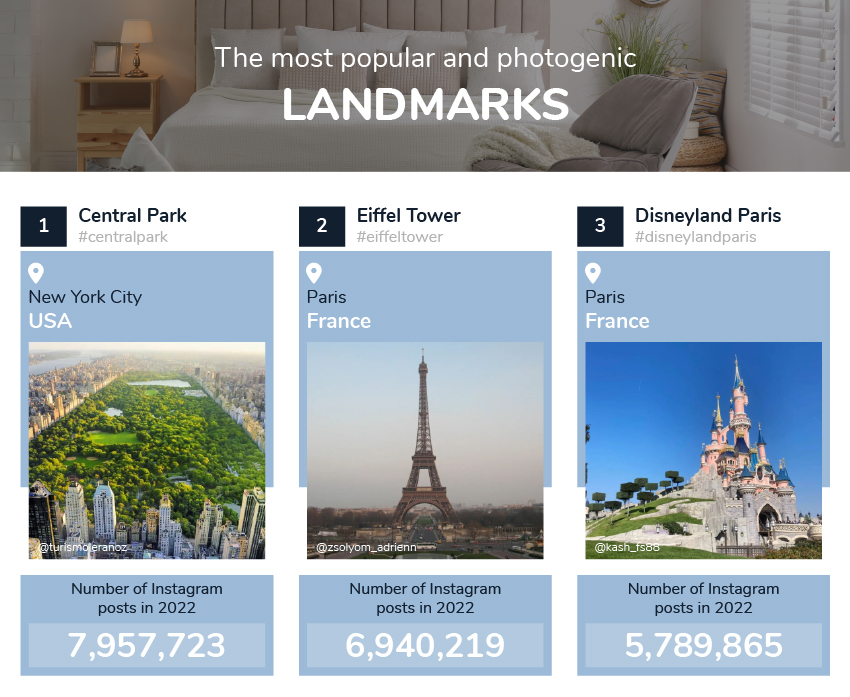 For the sightseeing tourists among us, knowing which landmarks to include on your journey is an important decision. You can only cram in so many sights in one trip, so doing a little research before going can ensure you make the most of your days away and see as many strange and wonderful things as possible.
Here we can see the top 50 most Instagrammed landmarks out there, making them some of the most impressive natural wonders and feats of architecture in the world. The landmarks that the most of us get a few snaps of is Central Park in New York, though the Eiffel Tower isn't far behind. Which of these landmarks are on your must-see list?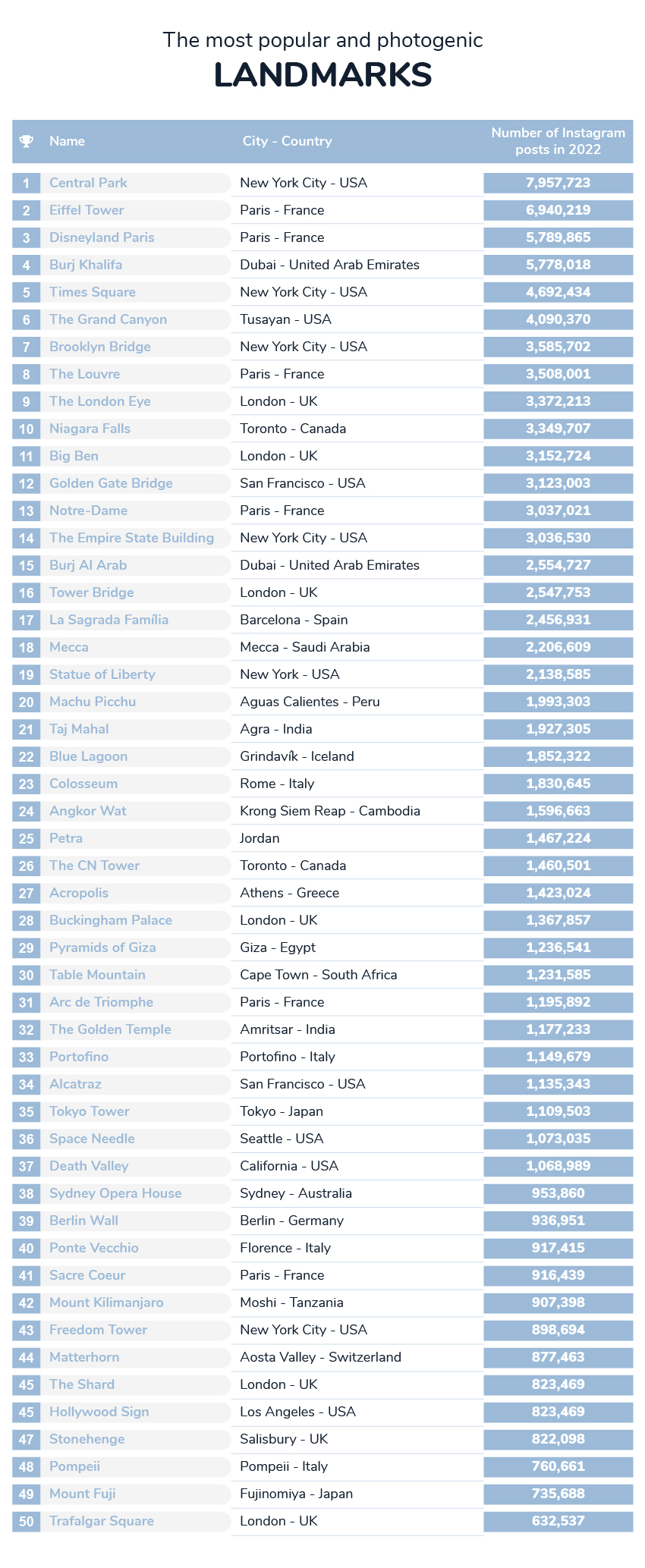 Skylines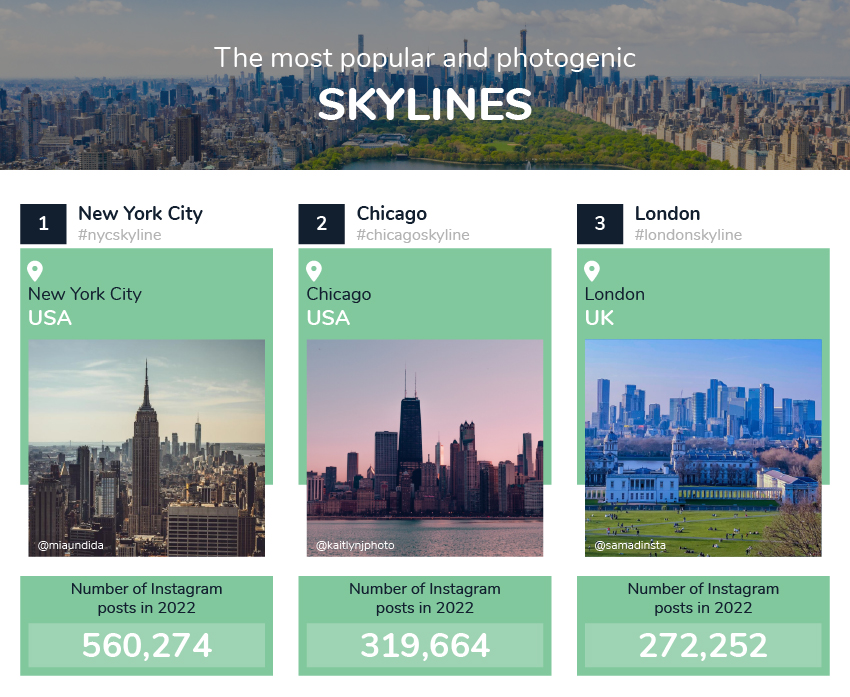 An often overlooked sight is a city's skyline. Each skyline is unique in its location, formed of the various landmarks, offices and tower blocks that make up the city as a whole. In a way, a city's skyline is a sort of signature, a human landscape that is instantly recognisable to its inhabitants and the travellers that have stopped to look.
New York City takes the top spot as the most Instagrammed skyline, with well over half a million posts. Home to some of the world's most iconic structures, such as the Statue of Liberty and the Empire State Building, it's no wonder that this city's skyline makes such a popular picture.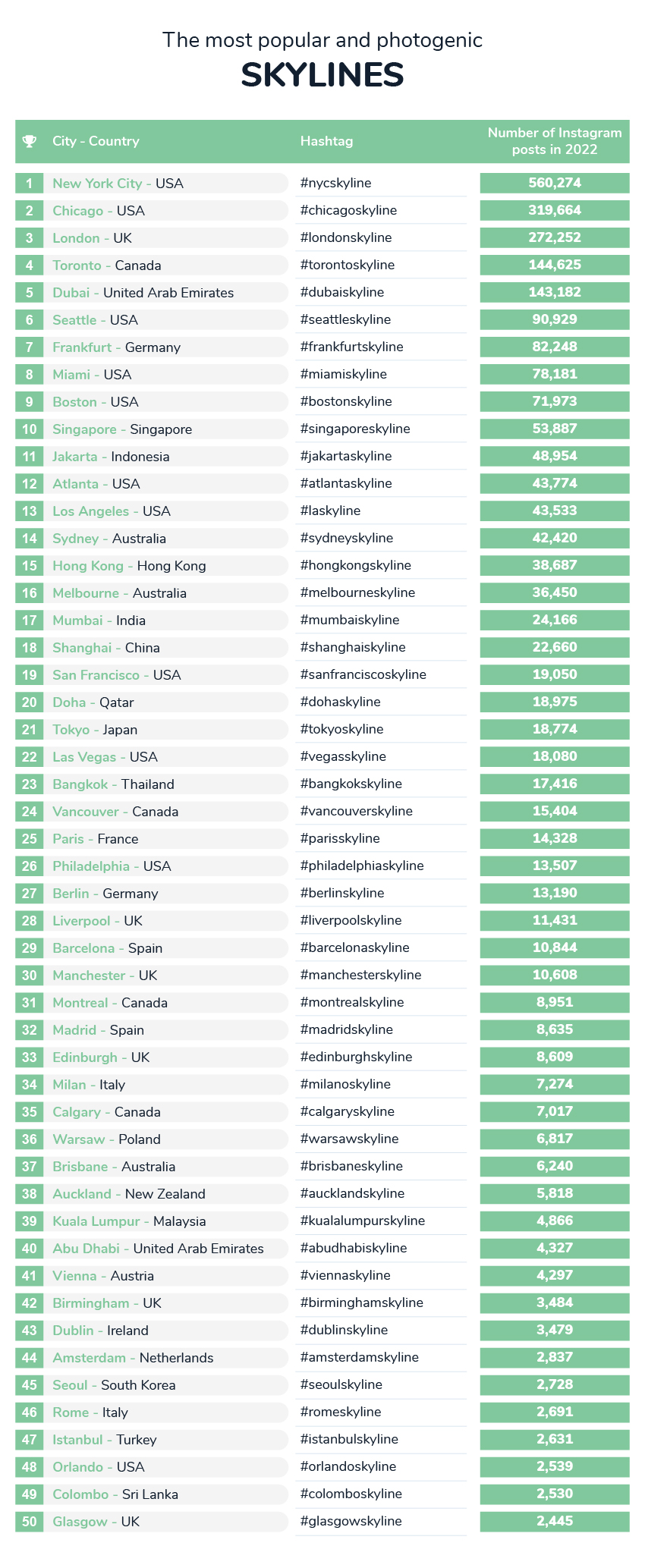 Theatres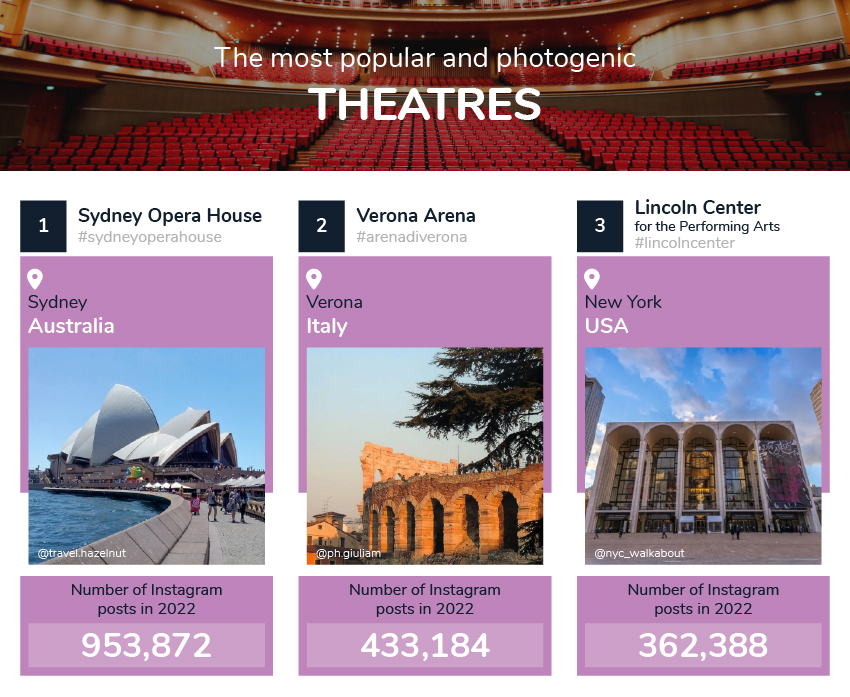 Theatres are, by their nature, places of spectacle and occasion designed to provide the audience with a truly memorable experience. This is often reflected in their architecture and interior design, making them some of the most beautiful buildings to look at.
Instagram's most featured theatre is the world-famous Sydney Opera House, whose striking design makes it one of the most recognisable buildings in the world. Regardless of whether you're a theatre-goer or a fan of the opera, taking in the view of the opera house should be on the agenda of any visiting tourist.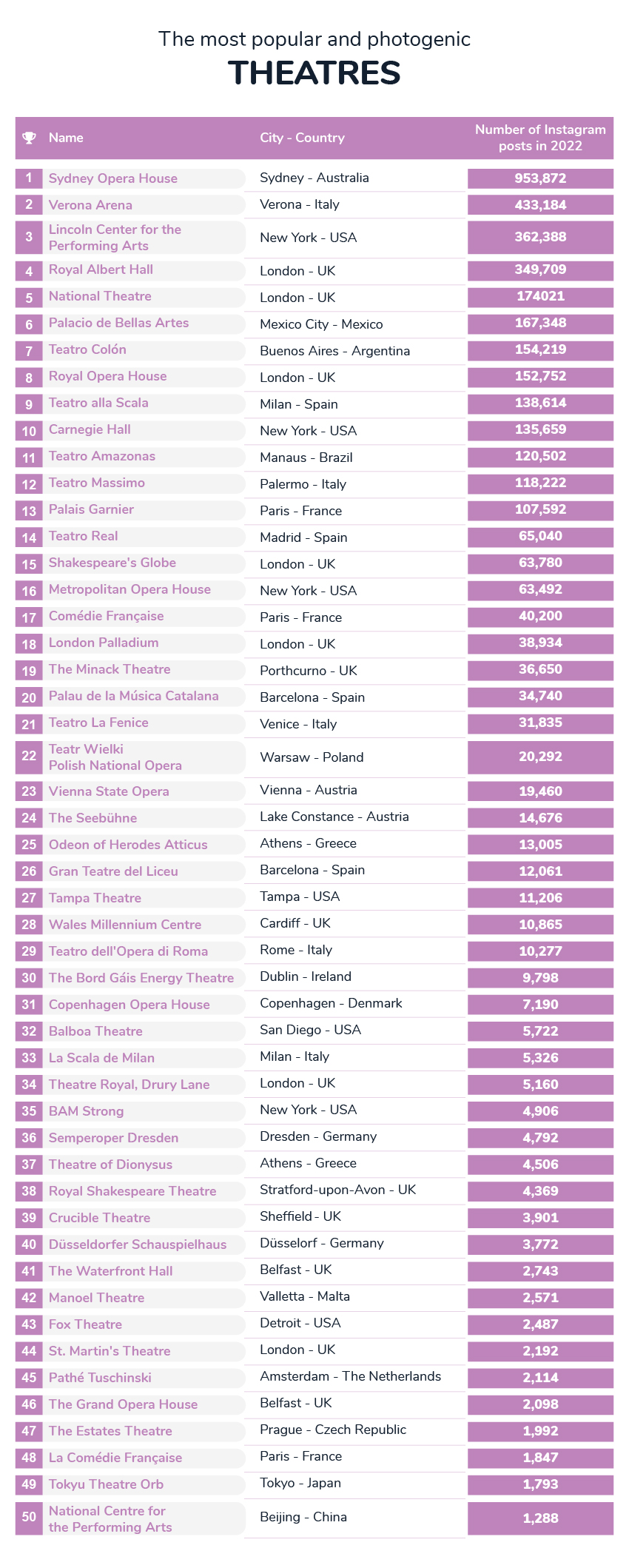 Beaches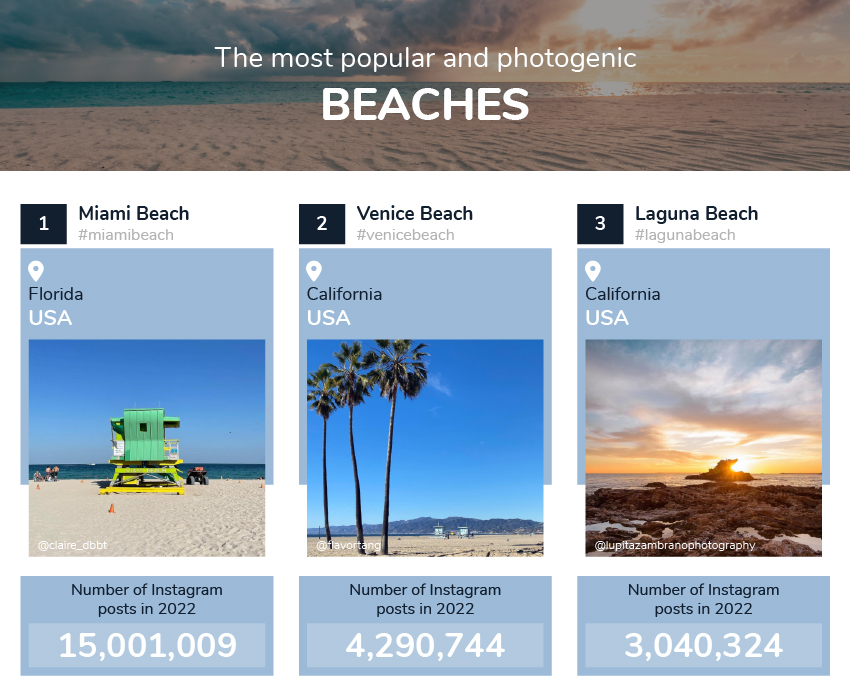 Cities and sightseeing are all well and good, but many of us want nothing more from our holidays than sun, sea and sand. Whether you intend to spend your time lounging on a recliner, sipping cocktails and catching some rays, or riding the waves on a surfboard for that adrenaline kick, beaches are a staple holiday destination for good reason.
Beaches can also be some of the most beautiful locations in the world, making them incredibly popular location for some Instagram holiday snaps. The beach with the most posts on the platform is Miami Beach in Florida, famous for its white sand and incredible weather, not to mention the array of nearby restaurants and coffee shops for when you eventually tear yourself away from the sea.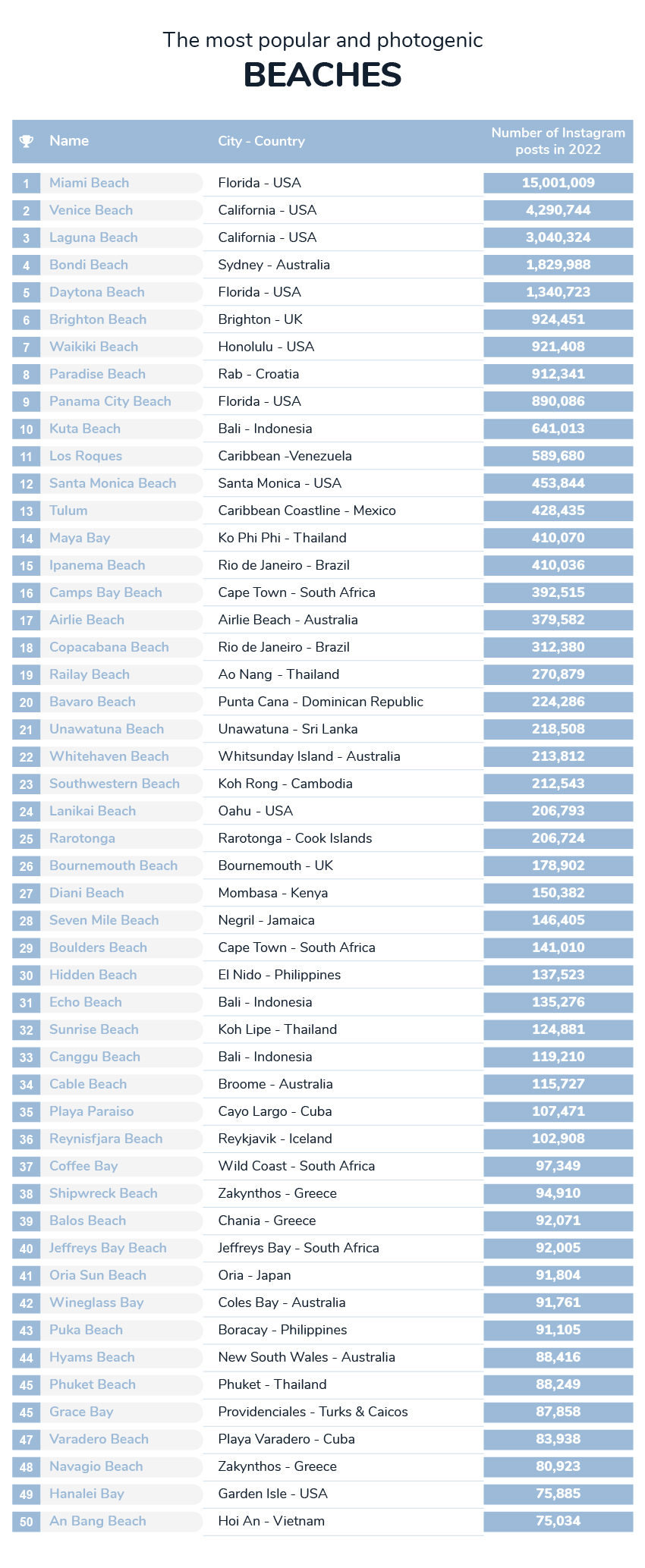 National Parks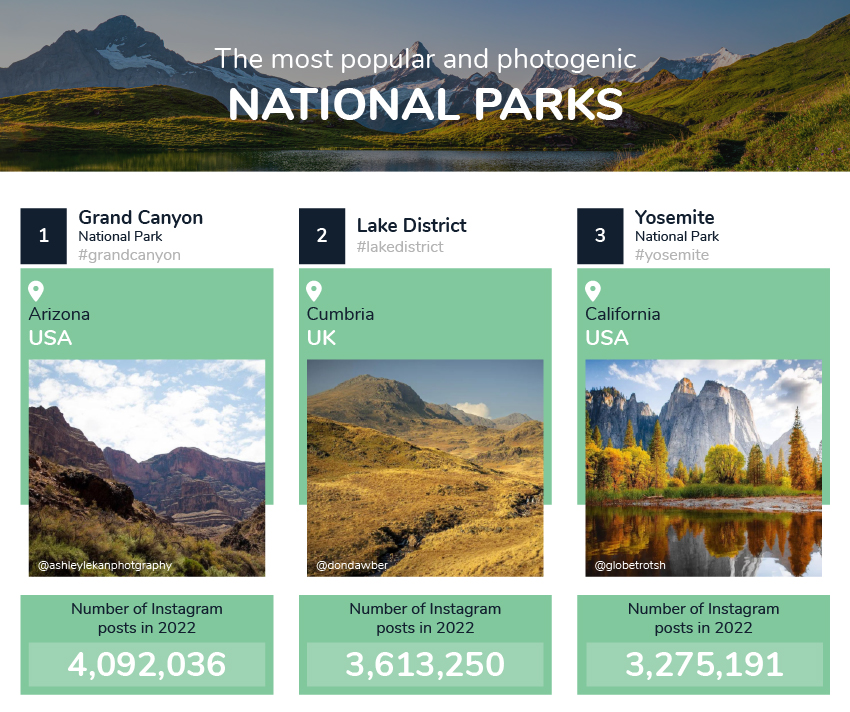 For the nature enthusiasts and outdoorsy types, national parks make a fantastic travel destination rich with incredible landscapes, native wildlife and activities for all the family. From breathtaking waterfalls to towering mountains and unspoilt wilderness, national parks are ideal for anyone who wants a complete change from their busy day-to-day life.
The most popular national park on Instagram is Grand Canyon National Park in Arizona, home to the immense and eponymous Grand Canyon that stretches for 277 miles. This huge scar on the landscape is awe-inspring to behold and contains many interesting geological features, making it a great place to snap some memorable holiday photos

Methodology
We wanted to refresh the 2020 Instagram Travel Guide, updating the rankings and providing fresh inspiration to prospective travellers. To do this, we created hashtags for each location that were then searched on Instagram, with the total number of posts for each being recorded. This allowed us to rank the different locations based on the number of posts, revealing th most popular destinations on Instagram across a range of categories.