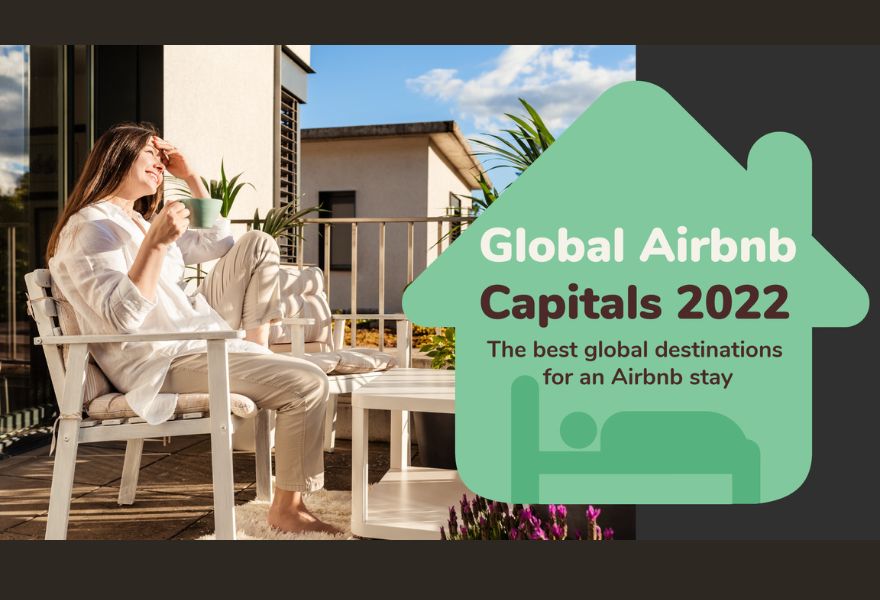 The best global destinations for an Airbnb stay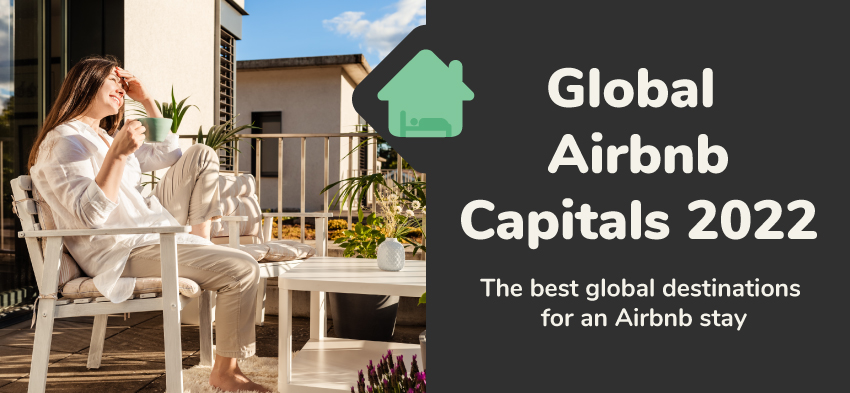 Back in 2019, we conducted a study to find out which global destinations had the largest offering of Airbnbs, making them great options for the traveller on a budget.
Since then, the world has experienced all the effects of the pandemic, closing borders and preventing people from travelling. This has had an enormous impact on the travel industry, which is only just starting to recover.
With that in mind, we thought it would be interesting to refresh our study with new, up-to-date data to reveal the travel destinations that are ready for tourists with the largest offerings of potential Airbnb stays. Additionally, we've further improved our study by revealing which locations offer the most expensive and most affordable Airbnb rates on average.
Now you can build that new holiday photo album while staying in some of the world's most attractive and photogenic travel destinations. With all this information and inspiration, you'll be jetting off to take some holiday snaps in no time!
The cities with the most Airbnbs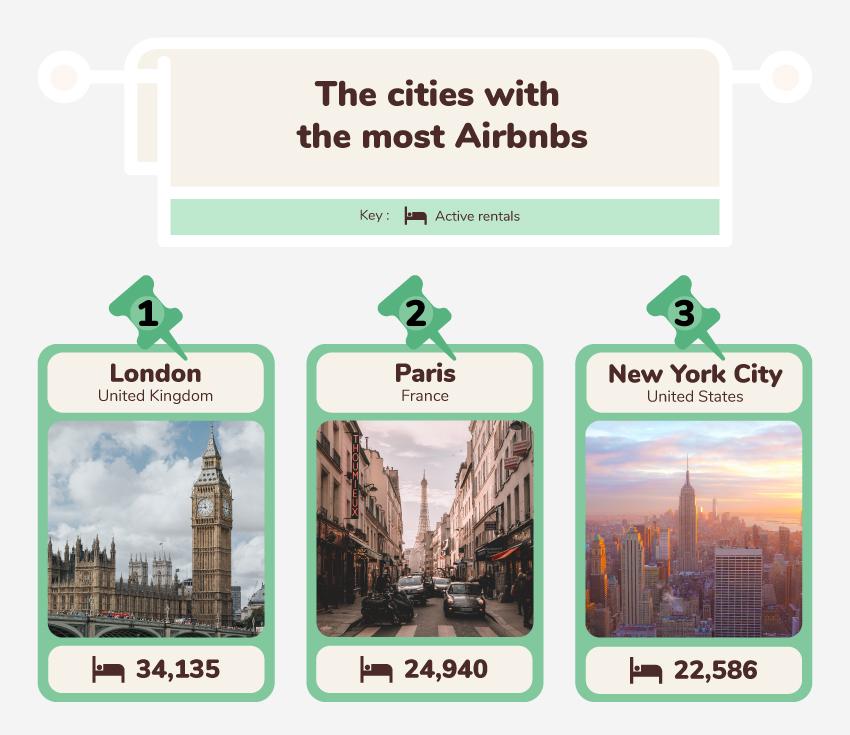 London - Active Rentals: 34,135
The city with the most Airbnbs is London, where there are as many as 34,135 active rentals on the market. With almost 10,000 more Airbnbs than any other city, London has by far the most choice for travellers and the endless list of things to do, from world-class museums to epic nightlife, makes it the perfect city break destination.
Paris - Active Rentals: 24,940
Paris takes second place with 24,940 active rentals available, making the city of love a great destination for travellers who don't want to shoulder the expense of costly hotel rooms. With so many sights to see, from the top of the Eiffel Tower to the art-filled halls of the Louvre, a trip to Paris is an incredibly photogenic experience.
New York City - Active Rentals: 22,586
Taking third place is New York City, with 22,586 active rentals. The Big Apple is one of the most iconic cities and is a visual spectacle you'll find difficult to replicate anywhere else in the world. Now, with so many holiday rentals to choose from, you're sure to find the ideal place to act as your base the next time you visit NYC.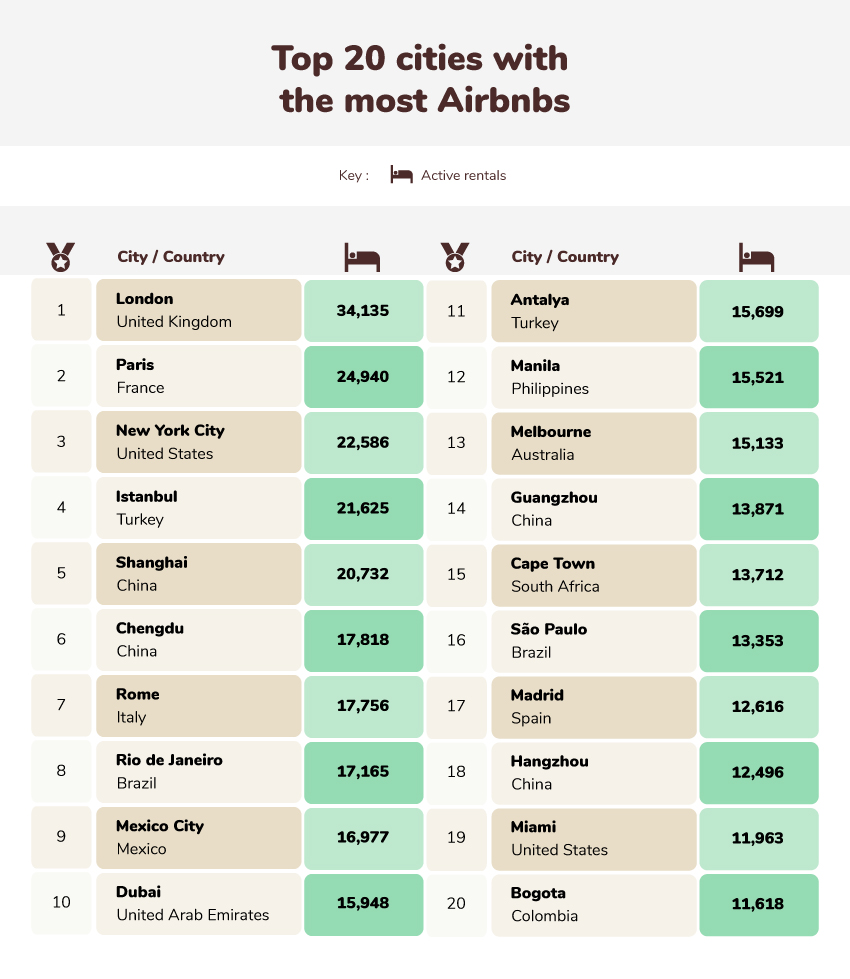 Have the top Airbnb destinations changed since 2019?
Since 2019, the number of active Airbnb rentals has fallen across the board, with the total number of listings for the top 10 destinations falling from 303,535 to 209,682, which is equal to a 30.92% drop. This clearly shows that the holiday rental market is still very much feeling the effects of the pandemic, and may take some time yet to fully recover.
In terms of which cities made the top 10, both years saw the same locations take first, second and third place, solidifying their status as some of the best cities for finding an Airbnb.
Newcomers to the top 10 include Istanbul, which placed 4th with 21,625 active rentals, as well as Mexico City in 9th place and Dubai in 10th. The cities to have fallen out of the top 10 are Beijing, Sydney and Melbourne, all of which are from countries which have had more severe lockdowns and travel restrictions as a result of the pandemic.
The cities with the highest density of Airbnbs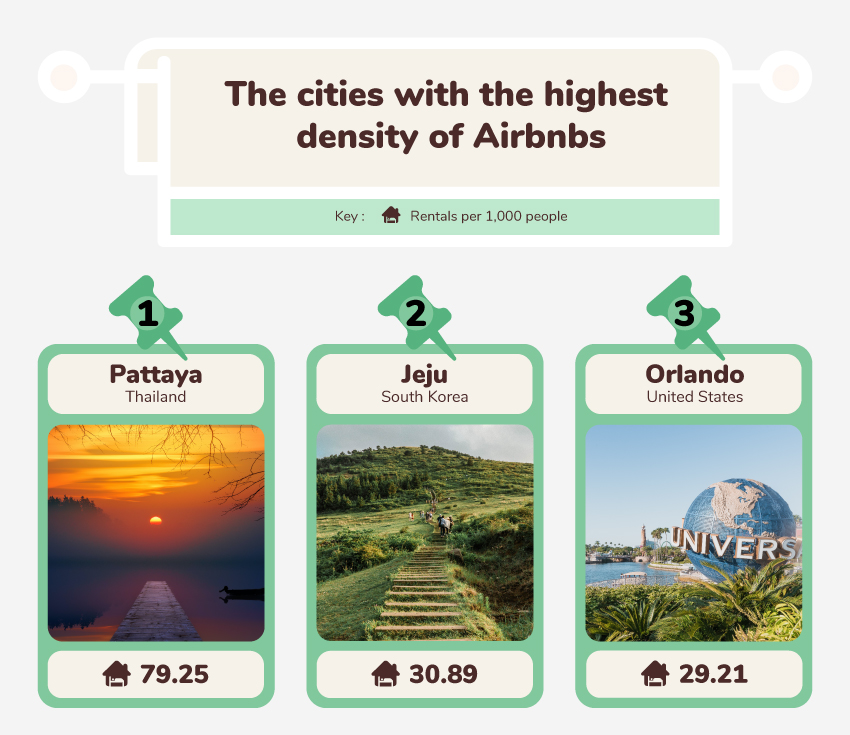 While the number of Airbnbs in a city is very useful for would-be travellers who are planning their next trip, it doesn't take into account the size of the city. Larger cities will usually have more Airbnbs available than smaller destinations. However, they are also more likely to experience higher demand, so travellers may still find it challenging to find their ideal holiday stay.
By calculating the density of Airbnbs compared to population, we can paint a rough picture of which destinations have the most rentals available for their size.
Pattaya - Rentals per 1,000 people: 79.25
The city with the highest density of Airbnbs is Pattaya, where there are 79.25 active rentals on the market for every 1,000 people living there. This represents a huge number of properties to choose from, considering the size of the city. Pattaya is a small coastal city in Thailand, a short distance south of Bangkok, and has quickly evolved from a fishing village into one of the county's top tourist destinations.
Jeju - Rentals per 1,000 people: 30.89
The city of Jeju, which shares the name of the island it sits on, has the second-highest density of active Airbnb rentals with 30.89 per 1,000 people. The stunning volcanic landscape of Jeju island makes it a popular destination for South Korean tourists, as well as those from farther afield, with the city of Jeju being the most popular place to stay.
Orlando - Rentals per 1,000 people: 29.21
Orlando, Florida, has the third-highest density of active Airbnb rentals with 29.21 per 1,000 people. Orlando has become famous for its numerous theme parks and holiday resorts, including world-famous Walt Disney World and Universal Orlando Resort, which offer up rides from some of the most well-known and loved franchises to come out of Hollywood.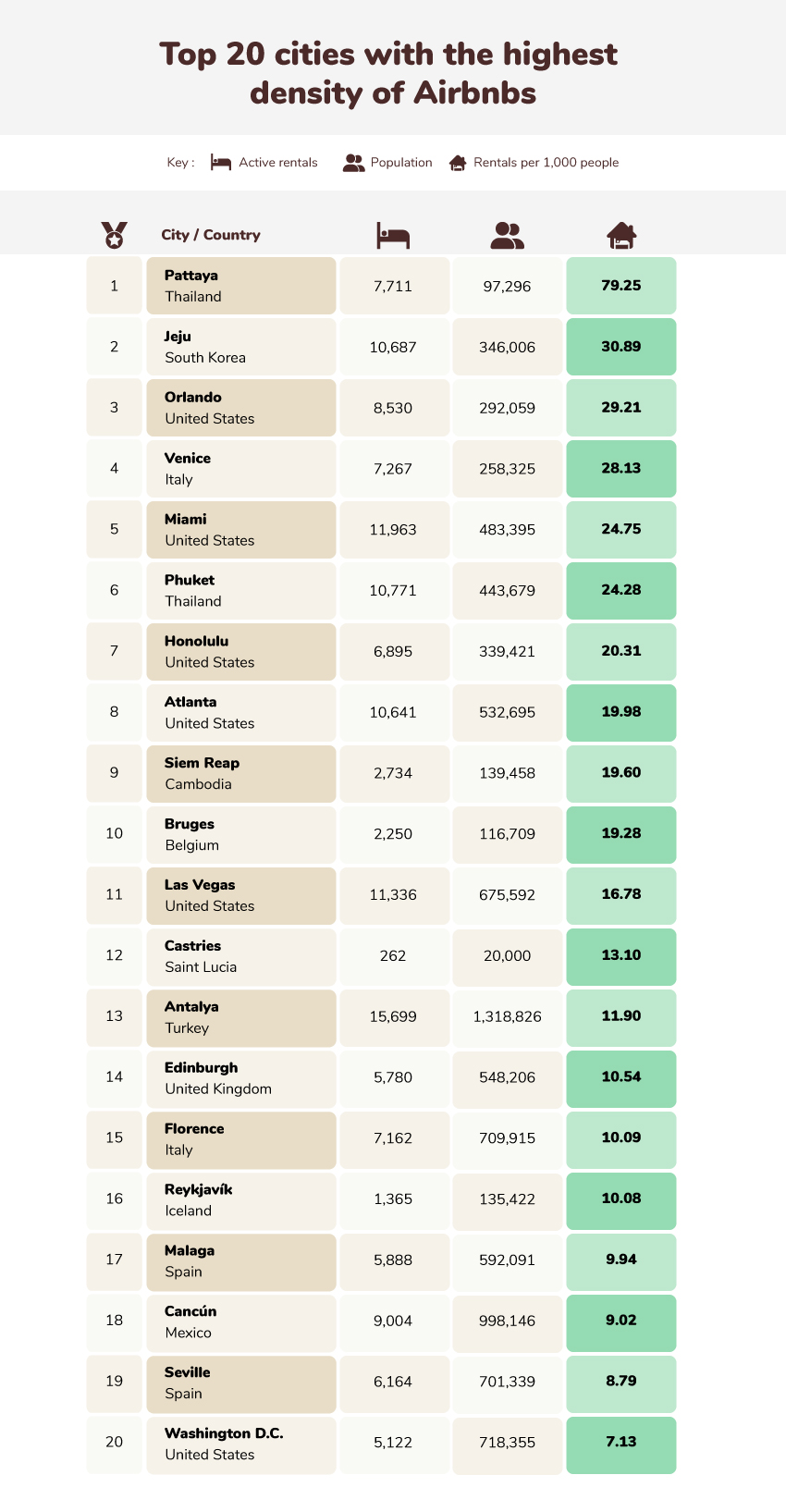 The cheapest cities to stay in an Airbnb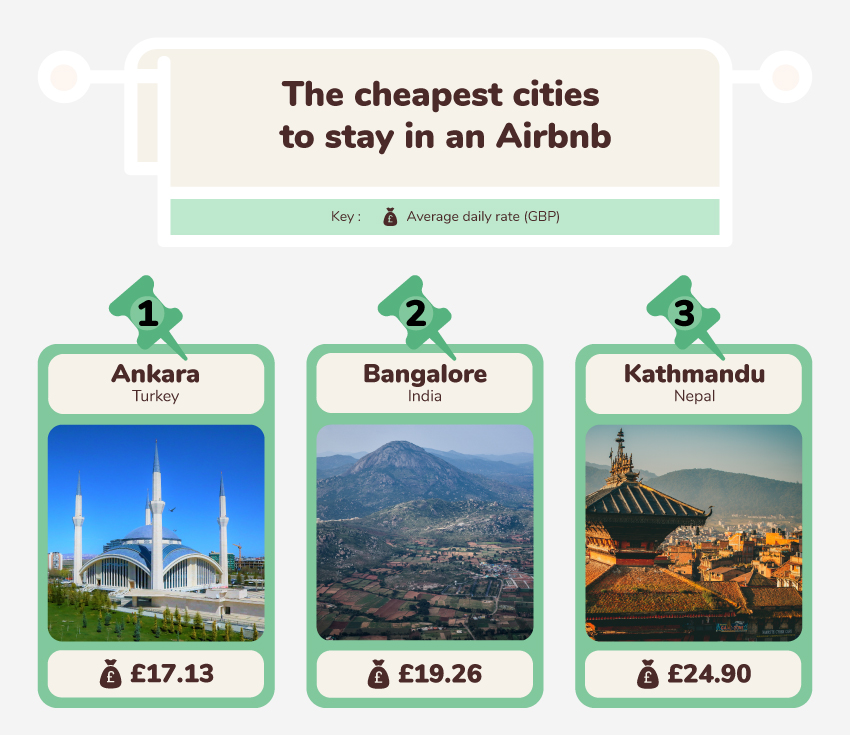 Ankara - Average Daily Rate (GBP): £17.13
Ankara has the cheapest average daily rate for Airbnbs, with travellers paying as little as £17.13 per night. The bustling capital of Turkey, Ankara has many sites to see including ancient ruins, excellent museums and important cultural sights such as the impressive architecture of the huge Atatürk Mausoleum complex.
Bangalore - Average Daily Rate (GBP): £19.26
The second cheapest destination for an Airbnb stay is Bangalore, the capital of India's Karnataka state in the south of the country. Here, the average daily rate for an Airbnb rental is just £19.26, making it a very attractive city for travellers on a budget. While famous for being India's answer to Silicon Valley, Bangalore is also famous for its expansive parks, exciting nightlife, and impressive palaces.
Kathmandu - Average Daily Rate (GBP): £24.90
Kathmandu is the third cheapest destination in our study, with an average daily rate of £24.90 for an Airbnb stay. The capital city of the mountainous country of Nepal, Kathmandu sits on the southern edge of the Himalayas and offers a cultural bonanza to visiting tourists with as many as seven UNESCO World Heritage Sites within just a few miles!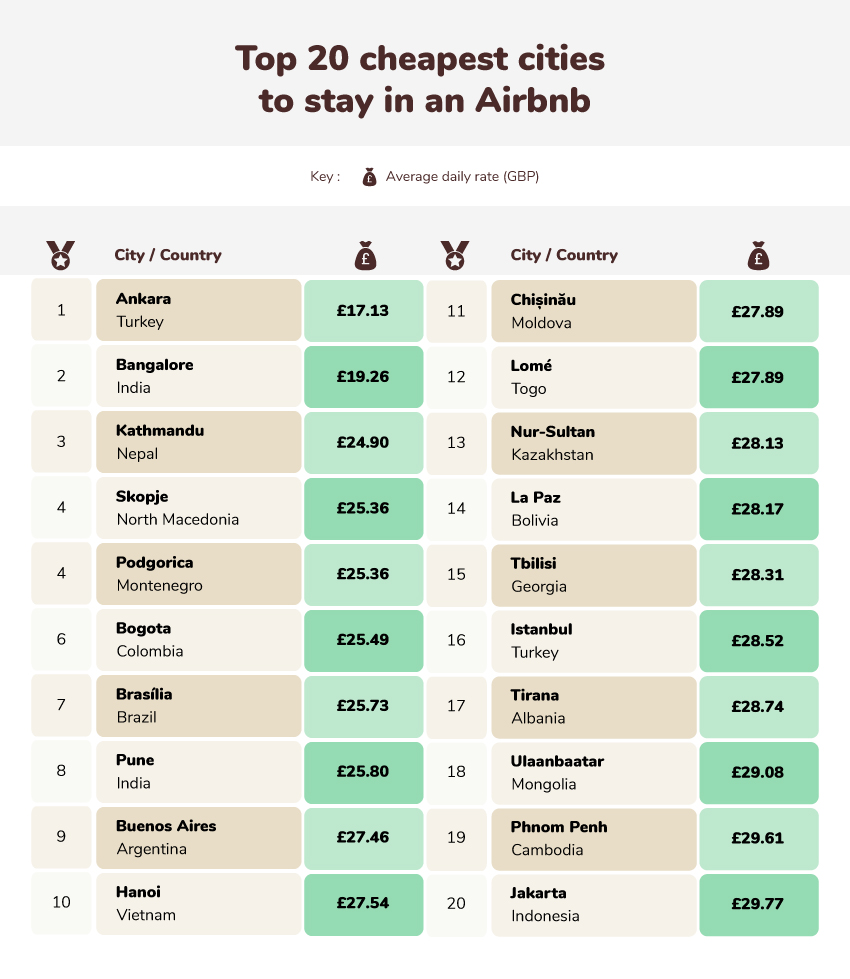 The most expensive locations for an Airbnb stay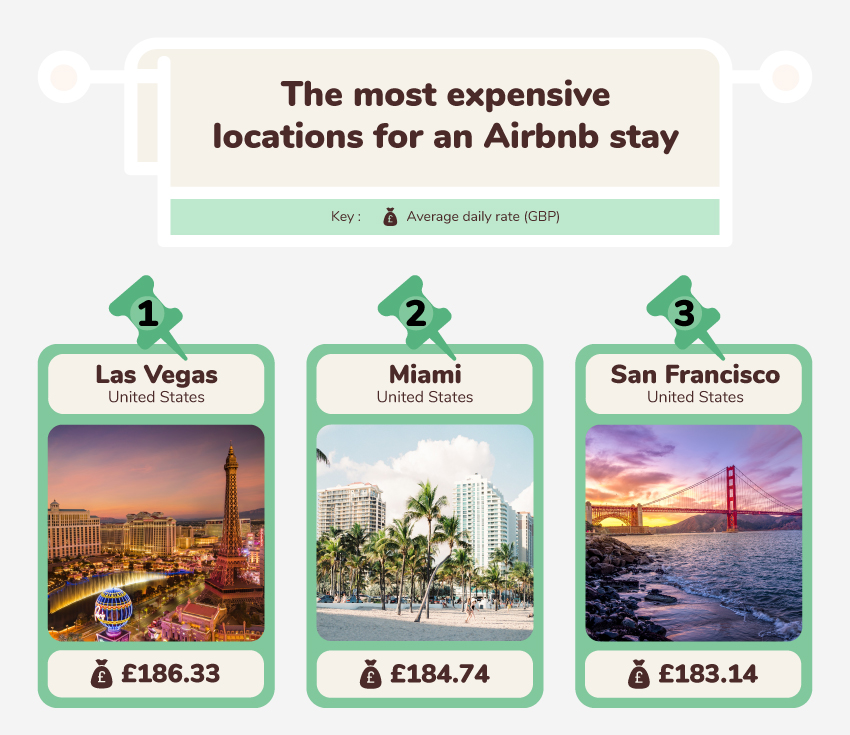 Las Vegas - Average Daily Rate (GBP): £186.33
Las Vegas is the most expensive place in our study to stay in an Airbnb, with average daily rates of £186.33. Famous for its world-class casinos and entertainment, Vegas has a lot to offer tourists who are looking to blow off some steam and enjoy the nightlife of the Strip. However, if you need a break from the revelry, the city is also surrounded by quieter attractions including wildlife ranges and conservation areas, as well as Lake Mead and the impressive Hoover Dam.
Miami - Average Daily Rate (GBP): £184.74
The second most expensive Airbnb location is Miami, where the average daily rate is £184.74. This Floridian city is famous for its fantastic pristine beaches and iconic art-deco architecture which results in a truly stunning skyline. The brilliant weather is complemented by the city's excellent culinary options, ranging from some of the best seafood available to a wide range of Cuban and South American cuisines.
San Francisco - Average Daily Rate (GBP): £183.14
The third most expensive city for an Airbnb stay is San Francisco, with an average daily rate of £183.14. San Francisco has long been a popular holiday destination in the United States, and its unique architecture and design make it a highly photogenic location for any budding travel photographer. Make sure not to miss the imposing Alcatraz island prison and get a few obligatory snaps of the beautiful Golden Gate Bridge.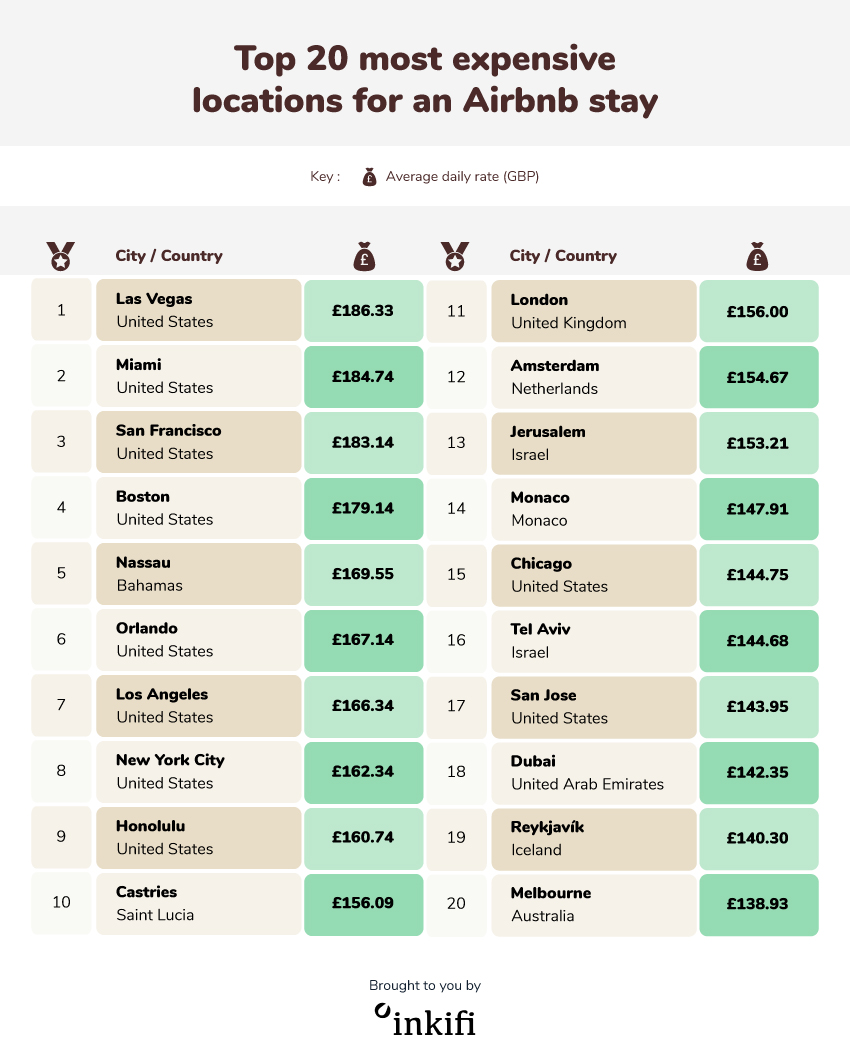 Methodology
We wanted to update our 2019 study into global Airbnb capitals with new data representing the current state of the Airbnb rental market. To do this, we used AirDNA to find the total number of active Airbnb listings in each city, this time also recording the average daily rates so we could reveal the cheapest and most expensive locations.
We also calculated the density of Airbnbs in each city using population data from World Population Review, revealing the number of Airbnbs per 1,000 population.
The study differs slightly from our 2019 version as some cities were removed due to insufficient data being available, or due to ongoing conflicts. These cities were replaced by well-known and popular travel destinations.
Prices for daily rates were converted to GBP from their original currencies on 19/05/22 using xe.com. All other data was also collected on the same day.