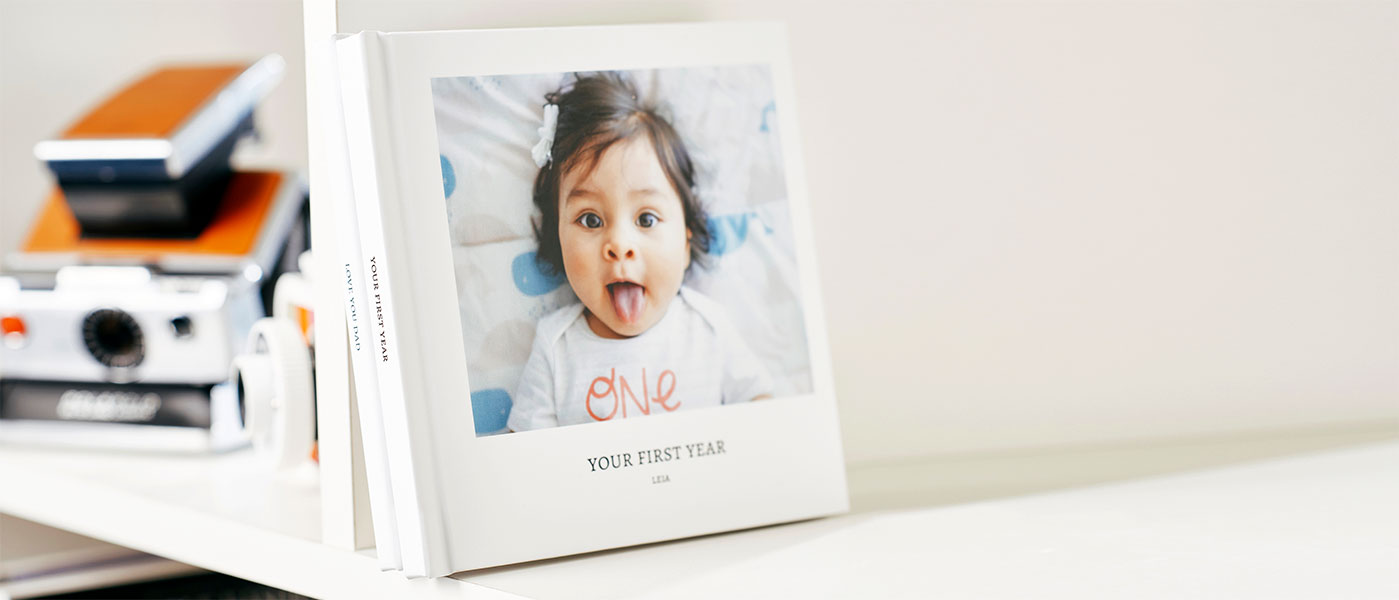 Baby Photo Albums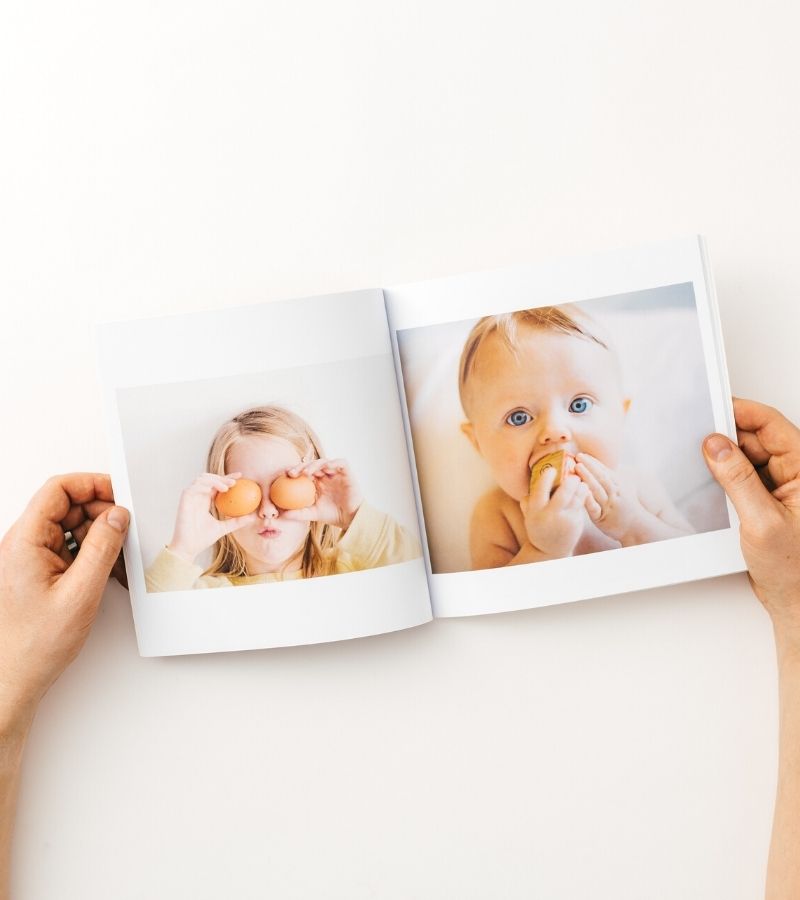 Personalised baby photo album
Our classic baby photo albums are designed with you in mind. Create a personalised memory book by adding text to the cover and interior pages so you never forget those special early moments. Available as a square or landscape album, you can annotate your baby photos with stories and milestones to make a remarkable gift or treasured keepsake.
Choose from our selection of small or large baby photo albums, each printed on premium Mohawk Superfine paper.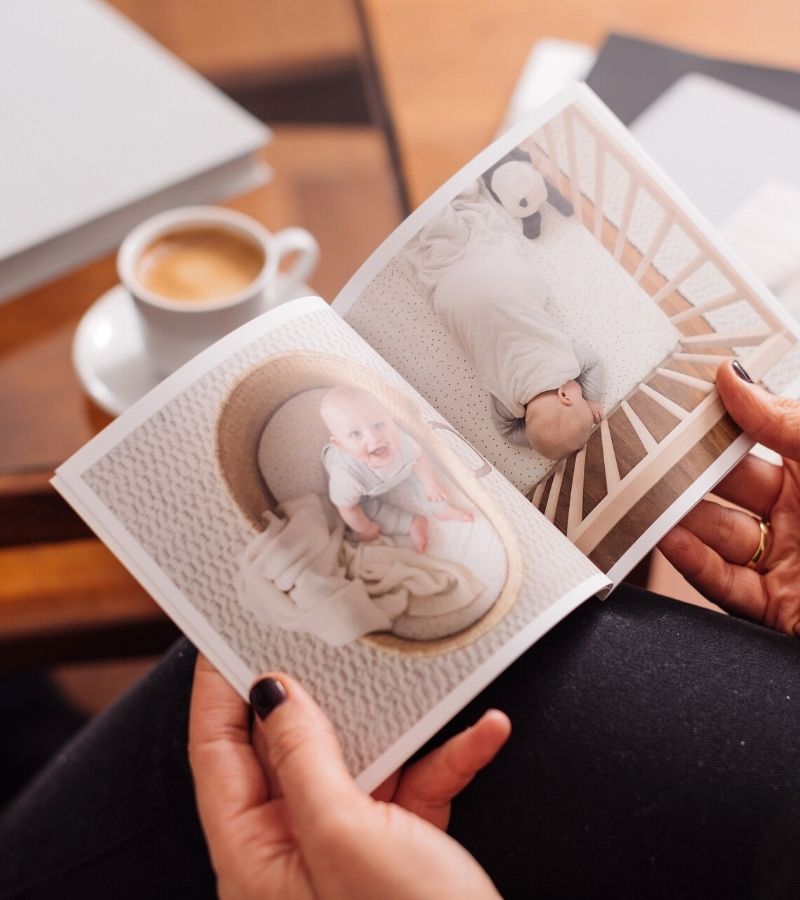 Soft cover baby photo book
Too many photos to choose from? Our soft baby photo album holds more pages than any other book in our range - so you can turn even more memories into print. The slim design is perfect for those looking to start a collection to look back on. Celebrate special occasions from your baby shower to your christening. Or create your baby's first year photo book and continue the tradition after each birthday.
Design your new baby photo album with a softcover that holds up to 200 pages of beloved photographs.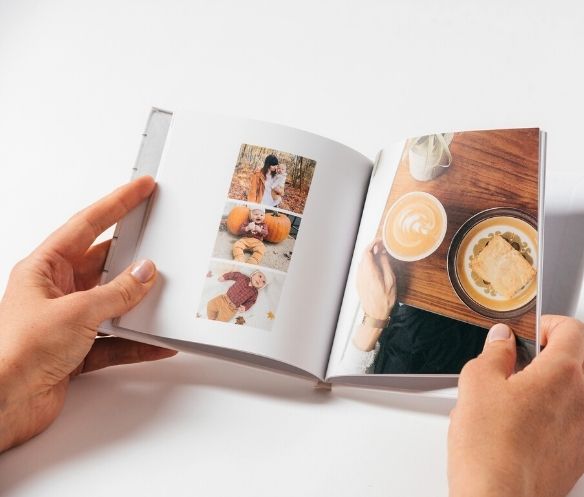 Hardcover baby books
Our best-selling hardcover baby photo book is perfect for creating unique photo albums that last a lifetime. Recycled matte interior pages bring your cherished memories to life in print, whilst a durable gloss cover can withstand years of use. For an extra special album, choose our brand new lay-flat photo book, with super-thick pages that stay open as you browse.
Feature your favourite photograph on the front and add a bespoke title to make a personalised baby photo album.
Celebrate Life, In Print

Premium quality

All our products are printed to the highest professional standards.

Sustainable Materials

Beautiful photo albums with minimal environmental impact using recycled materials.

100% personalised

Get creative with our user-friendly online Designer tool.

Exceptional service

Our team are always here to help with any design or order queries.
Design your baby book online
Create your personalised baby book in minutes with our easy to use digital design tool. Drag and drop photos from your computer or straight off your Instagram that you can crop, enhance, brighten and filter before customising with elegant dividers and annotations. We even have a selection of baby girl and boy photo album backgrounds to choose from.
See our full range of Personalised Photo Books
Frequently asked questions
How do I make my baby photo album?
Create your own baby photo album with Inkifi using our digital Designer, available both online and via our app (selected products only).
To get started, select your preferred style of photo book from our range and click 'Customise' to choose from any of our beautiful templates. You'll then be able to upload, edit and drop images into your album - or autofill your project for a speedy checkout.
Once in Designer, you'll also find plenty of options for customising your book including borders, backgrounds, fonts, and more. Add pages, change the layout and get creative!
Once you're happy with your finished design, make sure to preview your photo book to check for any spelling mistakes or cropping errors. We'll also warn you about any empty photo placeholders before you add your album to your cart.
What should I include in my baby book?
There's something so wonderful about having a tangible printed book of photographs to look back on. From pregnancy and newborn moments to infancy and first milestones, there's plenty of memories you'll want to capture forever.
The important thing is that it tells your story, your way. With that said, we've designed hundreds of baby photo books over the years and know exactly what makes an album extra special. Check out our top tips, inspiration, and ideas on how to create the perfect photo book.
Can I create extra copies?
Absolutely! Your children's photo album is the perfect gift for grandparents and close friends. Once you've finalised your design, you can add extra copies in your shopping cart and even check out with multiple addresses to send your baby book straight to your giftees.
Or to repurchase a previously created album, simply log into your account using the 'Sign In' link and click on the 'My Saved Projects' option. Here you can view and edit any photo books you have created and saved. This is the best option if you'd like to personalise your album for each family member by adding unique titles or front covers.