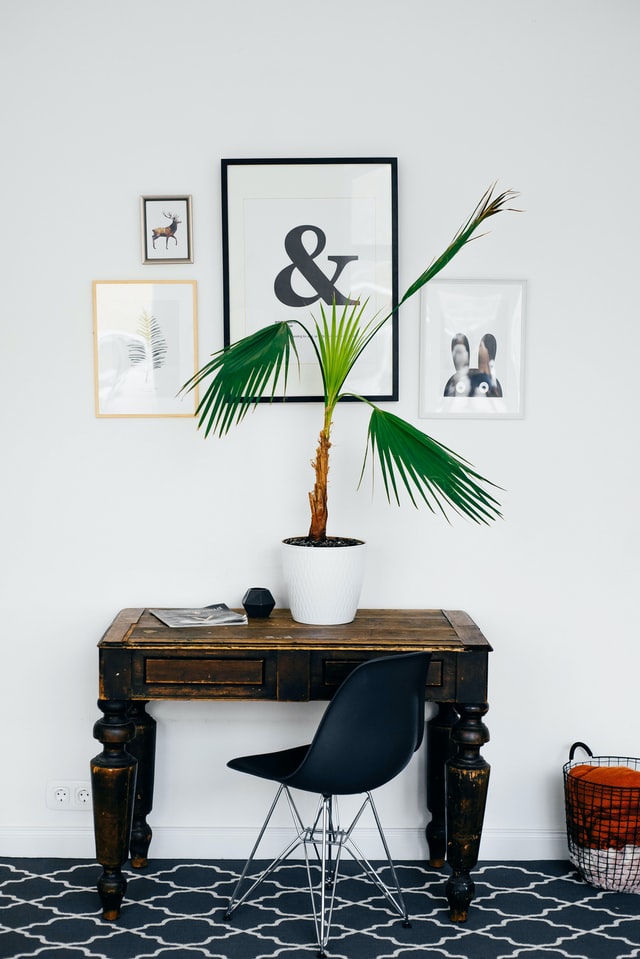 No house is a home without beautiful wall art. Great wall art makes you smile. It reminds you of happy times. And it helps to tell your story.
But how do you find the right wall art for your home? And once you've found a print or photograph you love, how do you frame and display it in the best possible way?
We've put together this guide to answer all of your questions on the topic. From frames to mounts to gallery walls, our ultimate guide to framing and hanging wall art covers:
1. Where to find beautiful wall art for your home
2. How to match wall art to your interior
3. How to choose frames and mounts for wall art
4. Where to hang wall art
5. How to create a gallery wall
6. DIY 101: How to hang wall art
Let's get started!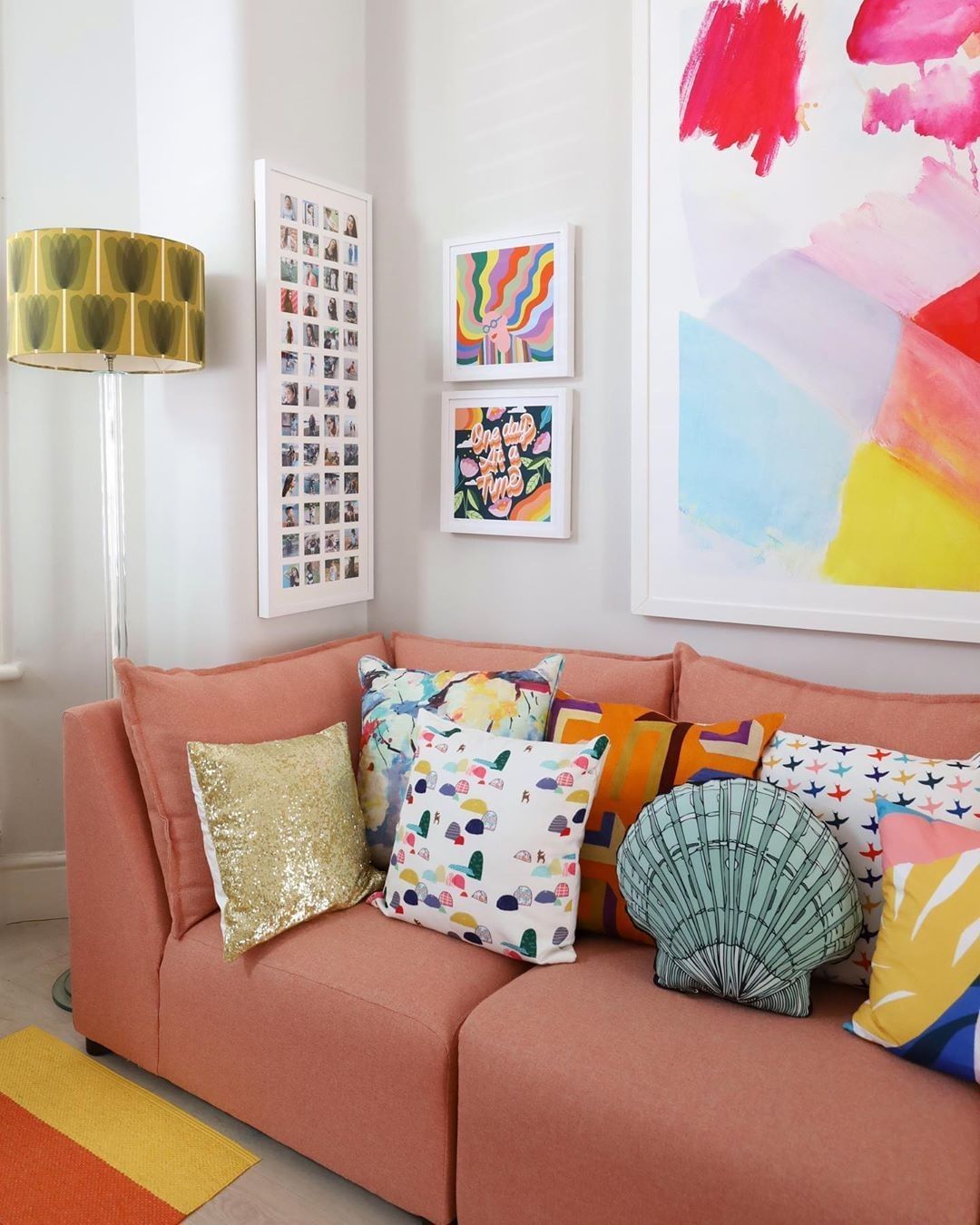 @littlebigbell
Finding wall art for your home
Your wall art should make you feel happy.
Wall art trends on Insta may catch your eye. But the wall art you choose for your home should say something about who you are and what you love.
It should have colours that always catch your eye or a style you adore. It should connect you to your favourite people, places and experiences.
Where can you find wall art that fits this brief? There are lots of great places to look.
Where to find great wall art
From online art retailers to local print fairs to your neighbourhood charity shop, you can find wall art to suit any budget and any style.
Look for original artwork on Etsy. Or find free and often very creative photographic prints on stock websites like Unsplash and Pixabay.
How to create your own wall art
Want to make your wall art more personal? You really don't have to have a degree in fine art to put together your own spectacular wall art displays.
Get crafty
Create your own simple but striking abstract paintings. Frame pieces of patterned wallpaper or old greetings cards. Give pride of place to your own typographic print, created with the help of a graphic design program like Canva.
Or why not let Inkifi do the hard work for you by using our website to create your own personalised map print? Just pick your favourite place in the world and we'll do the rest!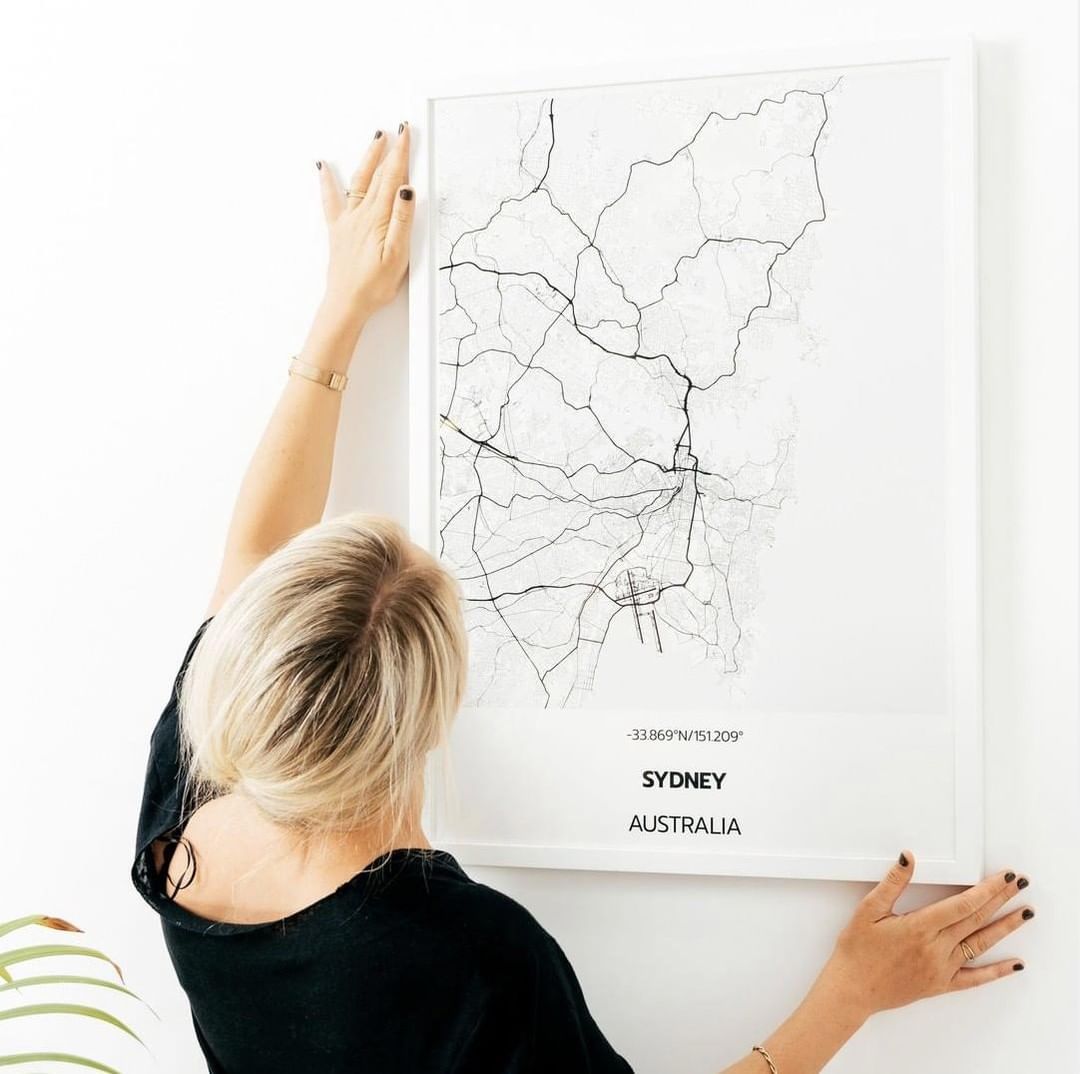 Use your own photographs
The simplest and most effective route to creating your own personal wall art, has to be photography.
As long as you have an up-to-date smartphone camera - with at least a 10 megapixel lens – you can shoot and enlarge print-worthy pics.
Shoot traditional landscapes, cityscapes and portraits. Or opt for something altogether more original, with close up details, textures and colours.
Just be sure to prepare your images for print by cropping and editing where necessary.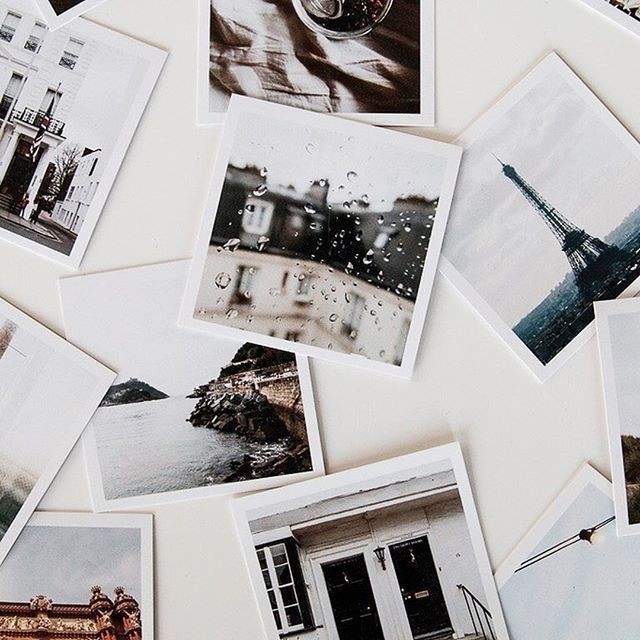 PHOTO BY @m.jcontreras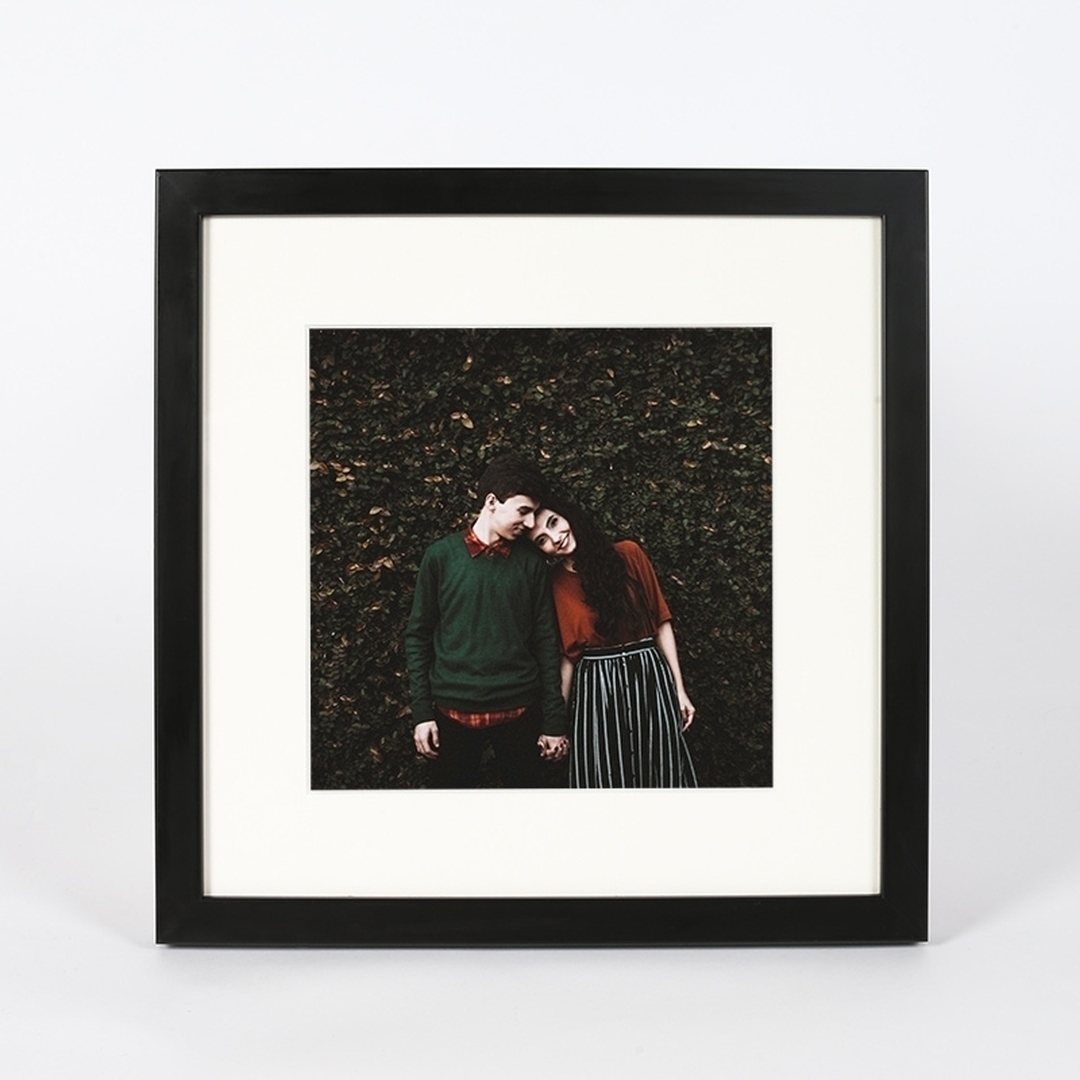 How to match wall art to your interior
We believe you should always pick wall art you love.
Choose wall art purely to match your interior design and chances are you'll grow bored of it sooner rather than later.
Nevertheless, sometimes the stars align and we find a print we love that also complements the décor of the room it's destined for.
If you've drawn up a shortlist of prints and are wondering which would look best in a particular room, consider the following factors.
Interior design
You can use prints and photography to help express your interior design scheme. Think about how you want a space to feel.
Abstract prints in muted colours work are calming and well with a Scandi scheme. Vintage posters and photography work well for retro design. Black and white photography looks exceptional in a contemporary, minimalistic space.
But don't be afraid to create artful contrast. Wall art that matches too perfectly with an interior can end up fading into the background.
Colour
You can use wall art to enhance the colour scheme of a room. Opt for complementary tones or pick a striking contrast. Just try to avoid any major colour clashes.
Size
When picking out wall art for a particular space, it's important to consider its size. For example, a single, small frame would look completely out of place on the wall above your sofa.
You'd have to pick something bigger or create a gallery wall of small frames to create a balanced and cohesive display.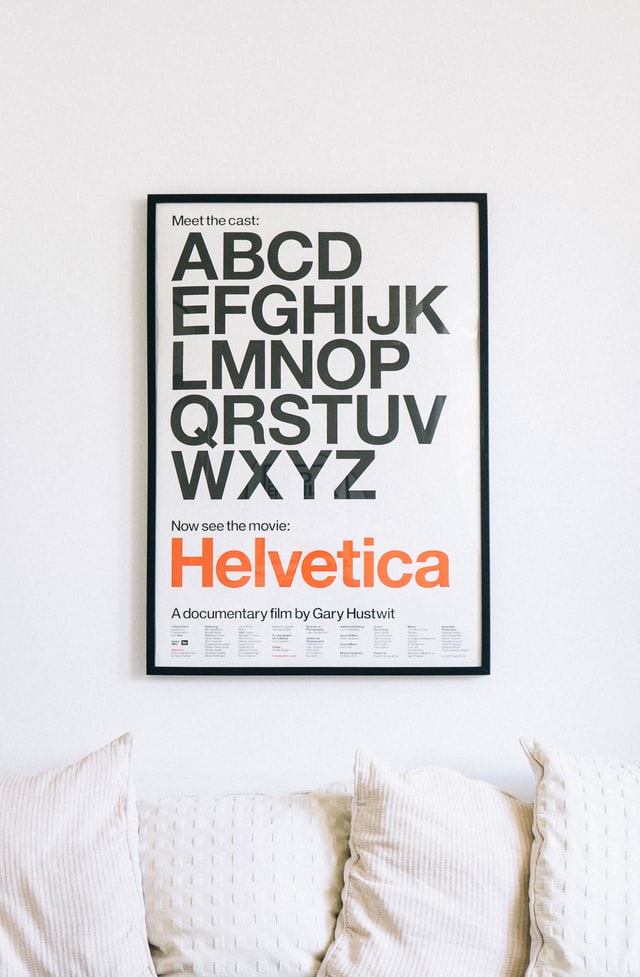 How to choose frames and mounts for wall art
The right frame and mount will make your print or photograph look super special – and offer some protection from time and wear too.
But where do you start when deciding from the many options available?
Wall art frames
Wall art frames come in a huge range of styles and colours. The ideal frame will bring out the best in your print and fit with your interior design.
So let's take a quick look at three popular frame choices and the situations they're most suited to.
Black frames
Black frames have a crisp, contemporary feel. If you're framing abstract art or a black and white photo, a black frame will enhance its modern minimalism.
White frames
White frames allow colours within the image to pop so they're a great choice for bright prints and photography. They also work well with neutral wall art as they don't draw attention away from the print itself.
Wooden frames
If you want to add a feeling of warmth to your room or your print, a wooden frame is the way to go. Wooden frames have a timeless look and work particularly well in classic and retro spaces.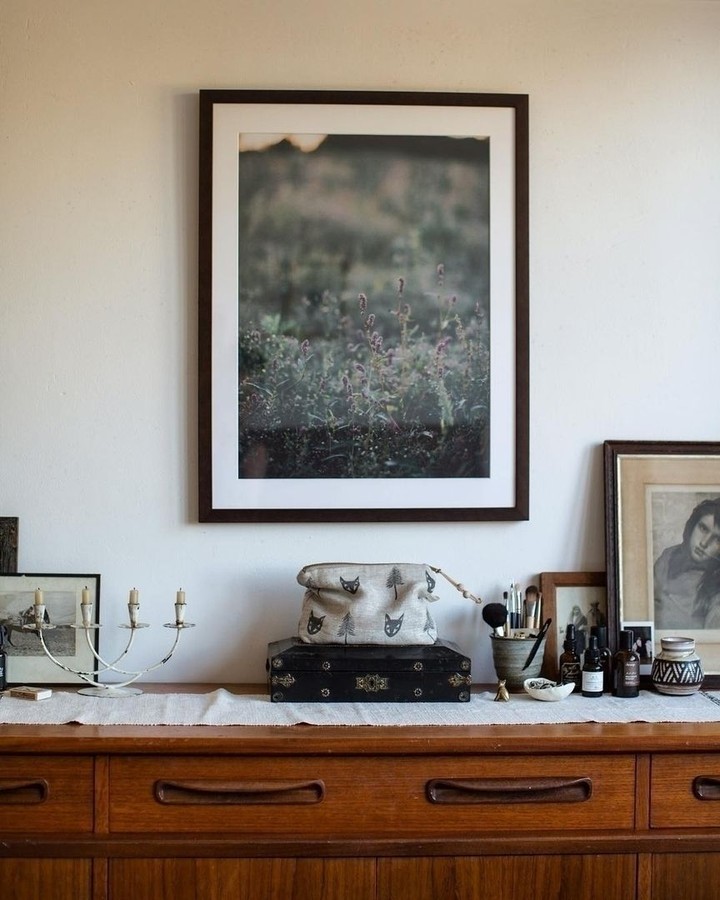 Mounts
The mount is the card that sits on top of your wall art, creating a blank space between the image and the frame.
It effectively gives the image a bit of breathing space. It also helps to draw the eye in, making your print the focus of attention.
So why and when should you use a mount? And when can you do without?
When to use a mount for wall art
When you want to create a more formal look
When you're framing a particularly busy or detailed image
When you're framing a particularly small image
Pro tip: Don't be afraid to play around with mount shape and size. You can create wonderful retro wall art or gallery interest, simply by altering a mount's size and dimensions.
When not to use a mount for wall art
When you're framing an extra-large poster or print
When you're framing a print with lots of empty space in the background
---
Inkifi makes framing your photographic wall art easy.
Choose from different mount styles. Pick from white, black or natural wood frames. Then upload your photograph, make edits if you want to, and preview the final framed product before checking out. It really couldn't be simpler.
---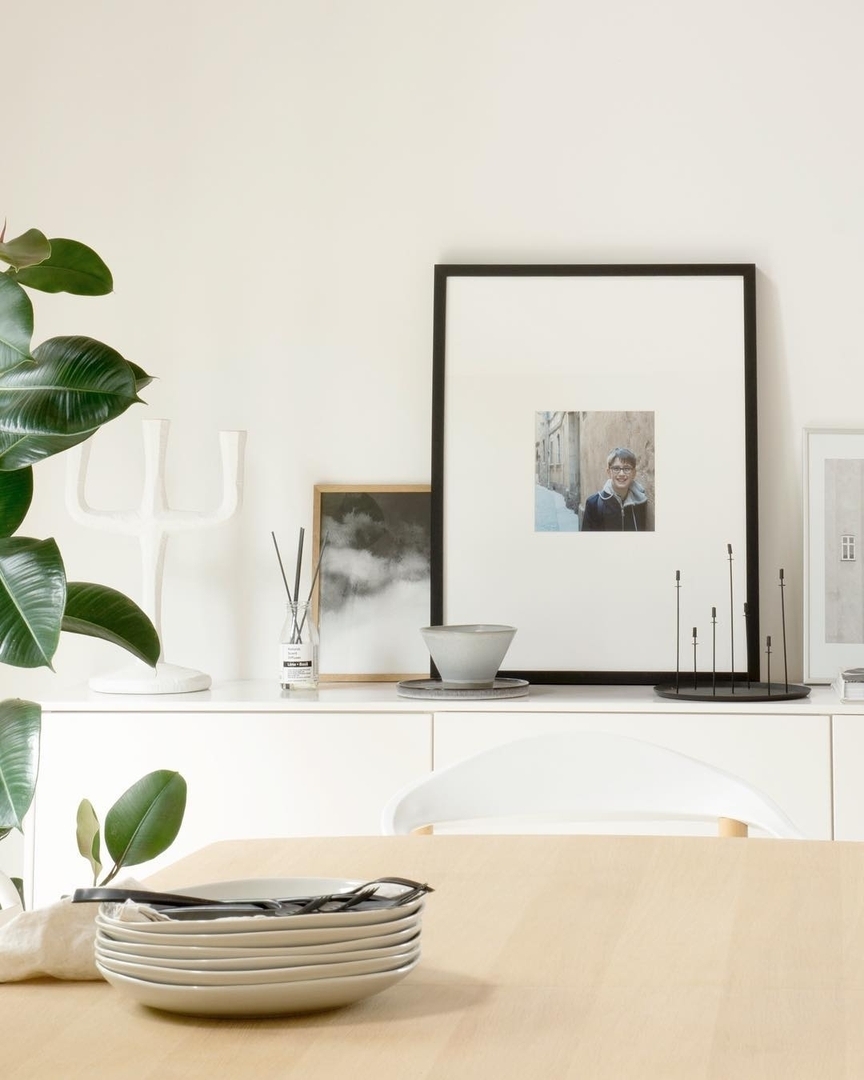 Where to hang wall art
You want your art to sit beautifully on the wall. It shouldn't look too big or too small, too high or too low. Read the following tips to find the perfect place for your new frame.
Height
Framed pictures are traditionally hung at eye height.
You can usually tell what looks right without using a tape measure. But for those who prefer precision, this means placing the middle of your wall art roughly 145cm from the floor.
Whilst this makes a good rule of thumb, don't be afraid to break the rules from time to time. It's perfectly acceptable to hang framed wall art lower than the 145cm recommendation.
Put a small print right above a bedside table or a dresser. Create a photo wall at toddler height. If it looks right to you, go with it.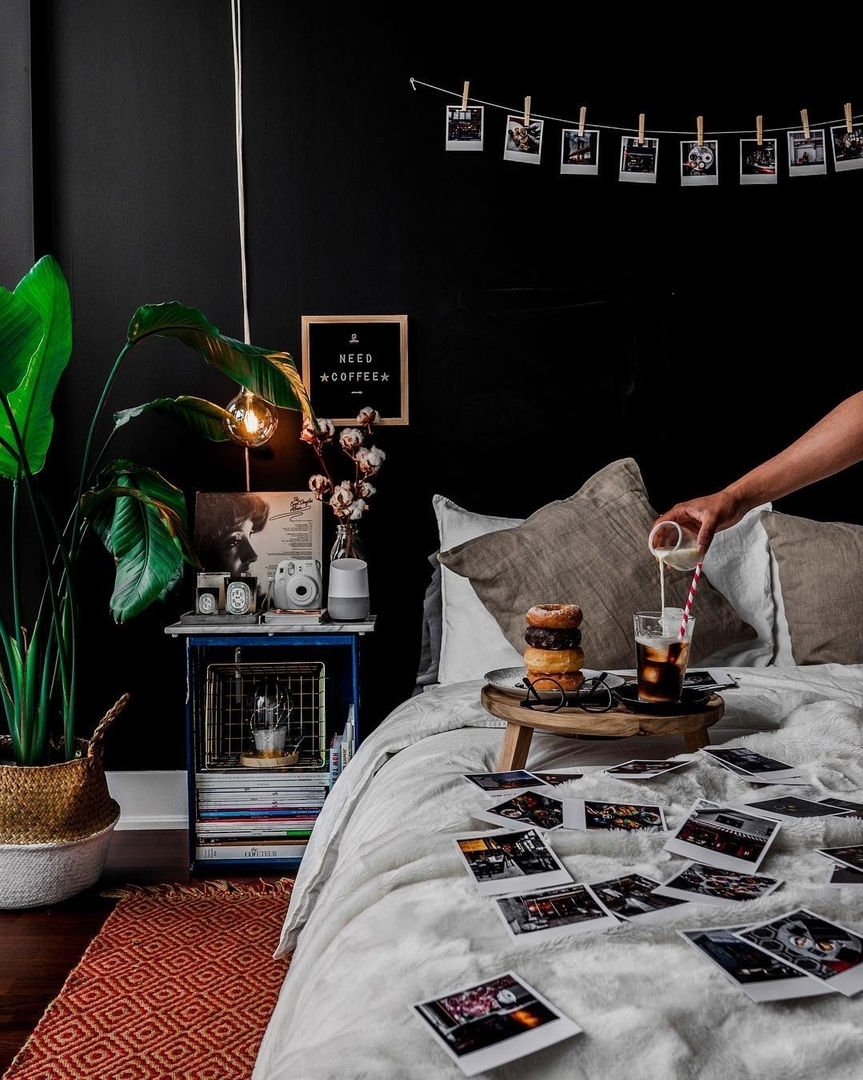 Position
When placing a single frame above a large item of furniture, such as a sofa or a fireplace, ensure your frame is at least two thirds the width of your furniture.
This prevents your wall art from looking lost on a huge expanse of wall.
Alternatively, you can group smaller prints together to create a gallery wall. Which leads us onto our next point…
How to create a gallery wall
Looking to group a set of framed prints together in a gallery wall? Follow these steps and you can't go wrong.
Choose your prints
For the perfect gallery wall, you need wall art in a variety of different sizes. You should also choose prints that sit well together.
That might mean choosing wall art that follows a particular colour palette. Or a collection of photographs that helps to tell a story.
Choose frames
Use matching frames for your gallery wall and you'll create a sleek and contemporary look.
Mismatched frames, on the other hand, can look beautifully boho. If your interiors have an eclectic feel, then this is probably the way to go.
Choose your layout
There are two main designs to choose from when designing a gallery wall.
Grid
The first is a simple grid, where frames of the same size are placed in a symmetrical pattern. Place the central frame at eye height and then hang the other frames at a 5cm distance.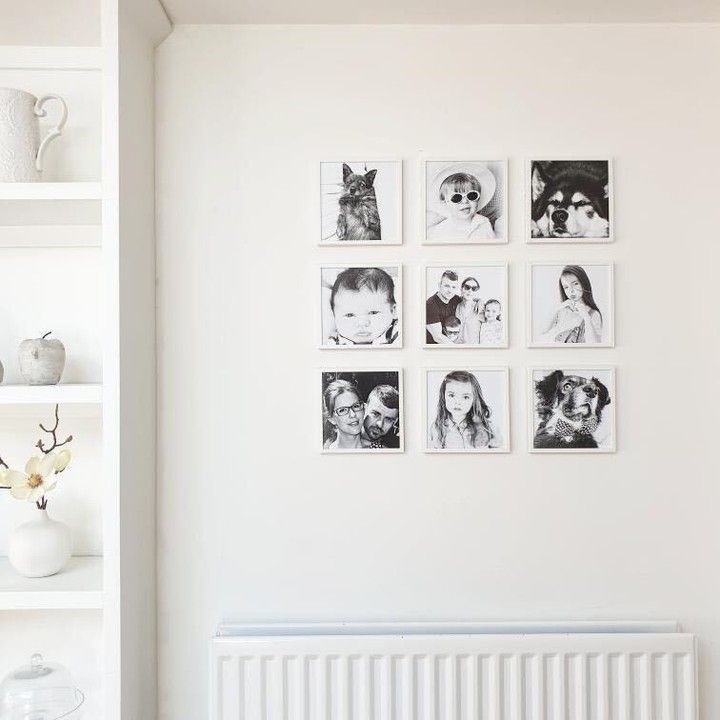 PHOTO BY @theonebespoke
Cluster
A cluster gallery wall is trickier to hang but – in our opinion – looks much more striking.
Again, the central frame should sit at around 145cm from the floor. Other frames should be placed at around 5cm from each other.
If you're hanging a cluster gallery wall up a staircase, judge eye height by standing on every other step.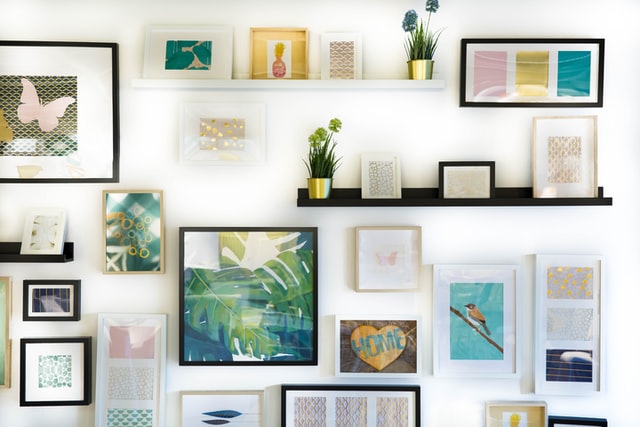 How to hang wall art
In order to hang your wall art, you'll need the following:
A hammer
A nail or picture hook
A tape measure
Gather your tools and then follow the simple steps below.
Step 1 – Check your attachments
Chances are your framed wall art will arrive with one of two types of hanging attachment.
The frame may have a centrally placed sawtooth attachment on the reverse of your frame. Alternatively, it might have two D-rings on the edge of the frame.
Step 2 – Add string or wire to D-ring attachments
If you have D-ring attachments on your frame, you'll need to run a length of heavy-duty string or wire between the two rings.
Fasten the string or wire so it is almost taut, allowing a few centimetres of movement up and down. The string or wire shouldn't be visible when you hang your wall art.
Step 3 – Position your wall art
Get someone to hold up your frame so you can decide where you want it to go. When it's in a position you like, make a mark at the top of the frame with a pencil.
If you're hanging your wall art centrally (above a fireplace or sofa for example) measure the width of the space. Then make your pencil mark in the centre of the space and at the top of the frame.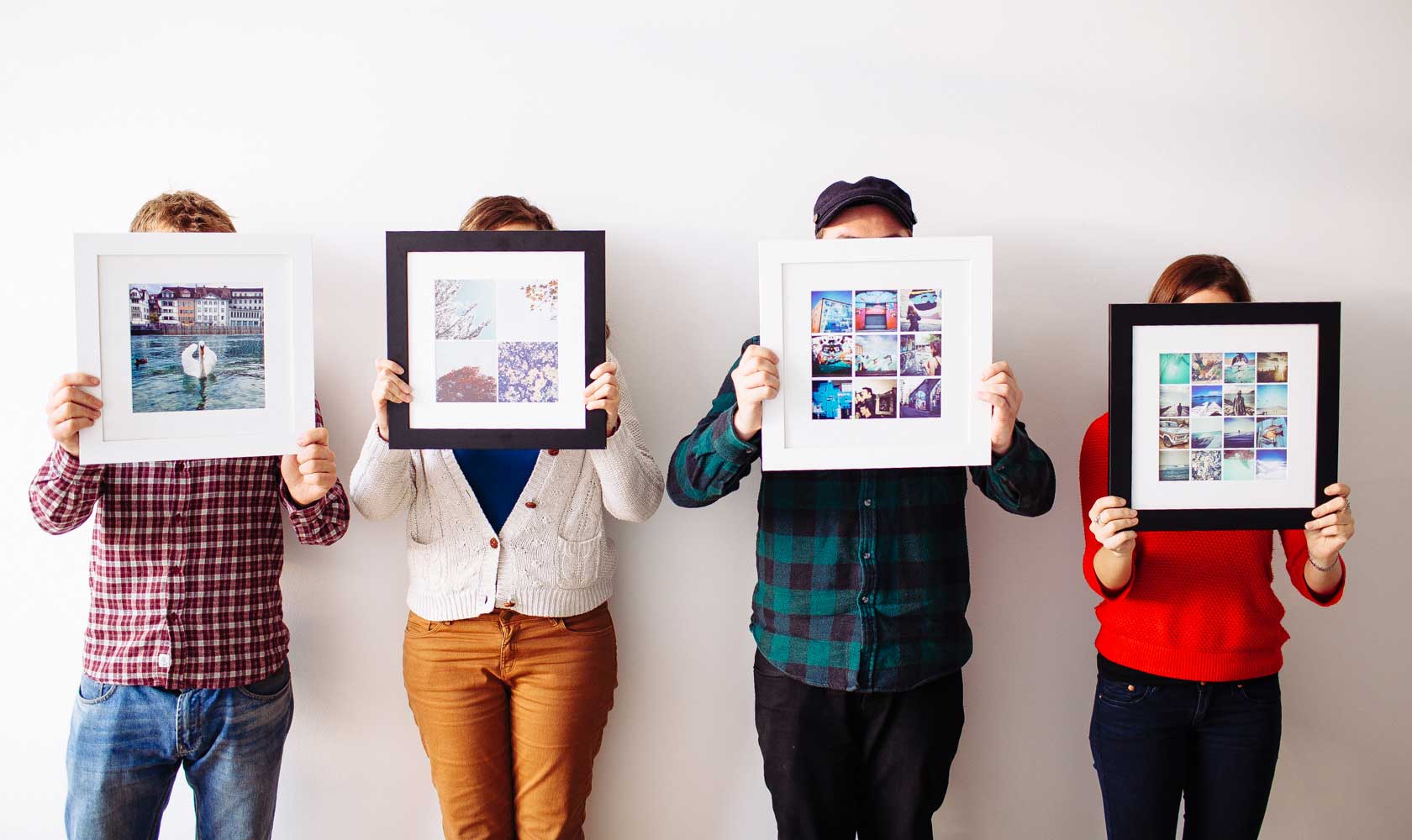 When you're hanging a number of frames to create a gallery wall, design your ideal layout by putting frames on the floor first.
Take a photo and use this as a reference. Then place the central frame at eye height, before hanging other frames around it.
Step 4 – Measure up
Your frame attachment won't sit at the very top of your frame. So use a tape measure to find out the distance from the top of your frame to the centre of your hanging fixtures.
You can then make another mark on the wall, indicating exactly where your nail should go.
Step 5 – Hammer in your picture hook
When you're confident about your pencil marks, simply hammer your nail or picture hook into place and hang your frame upon it.
This method of hanging is suited to most frame weights and sizes. A three nail picture hook will take a weight of up to 45kg.
If, however, you're hanging a heavier, vintage style frame you may need to use a drill, wall plugs and screws to ensure it stays safely secured to the wall.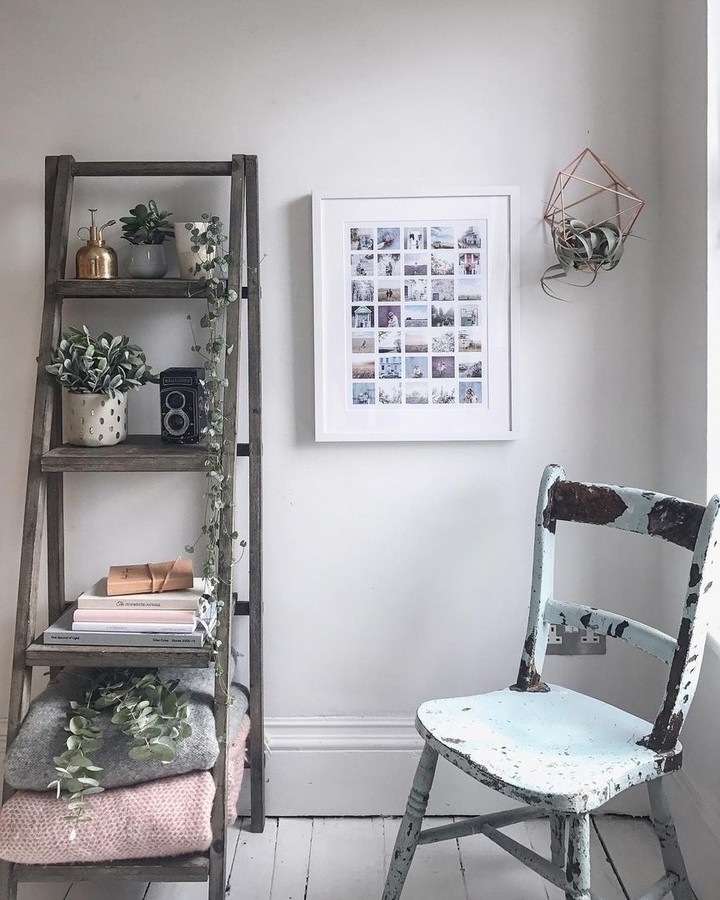 PHOTO BY @hannahargyle
Alternative ways to display wall art (when you don't want to make holes in your wall)
Maybe you're living in a rental property and can't make holes in the wall. Or perhaps you're just eternally indecisive and don't want to commit to having your beautiful wall art in just the one place.
Whatever your reasons for not wanting to hang wall art, there are other ways to display your prints.
Prop it
Do away with the DIY and prop your framed wall art on a dresser top or shelf.
Stick it
Use Inkifi's stick on photo tiles to stick, move and restick your wall art – without any damage to your walls.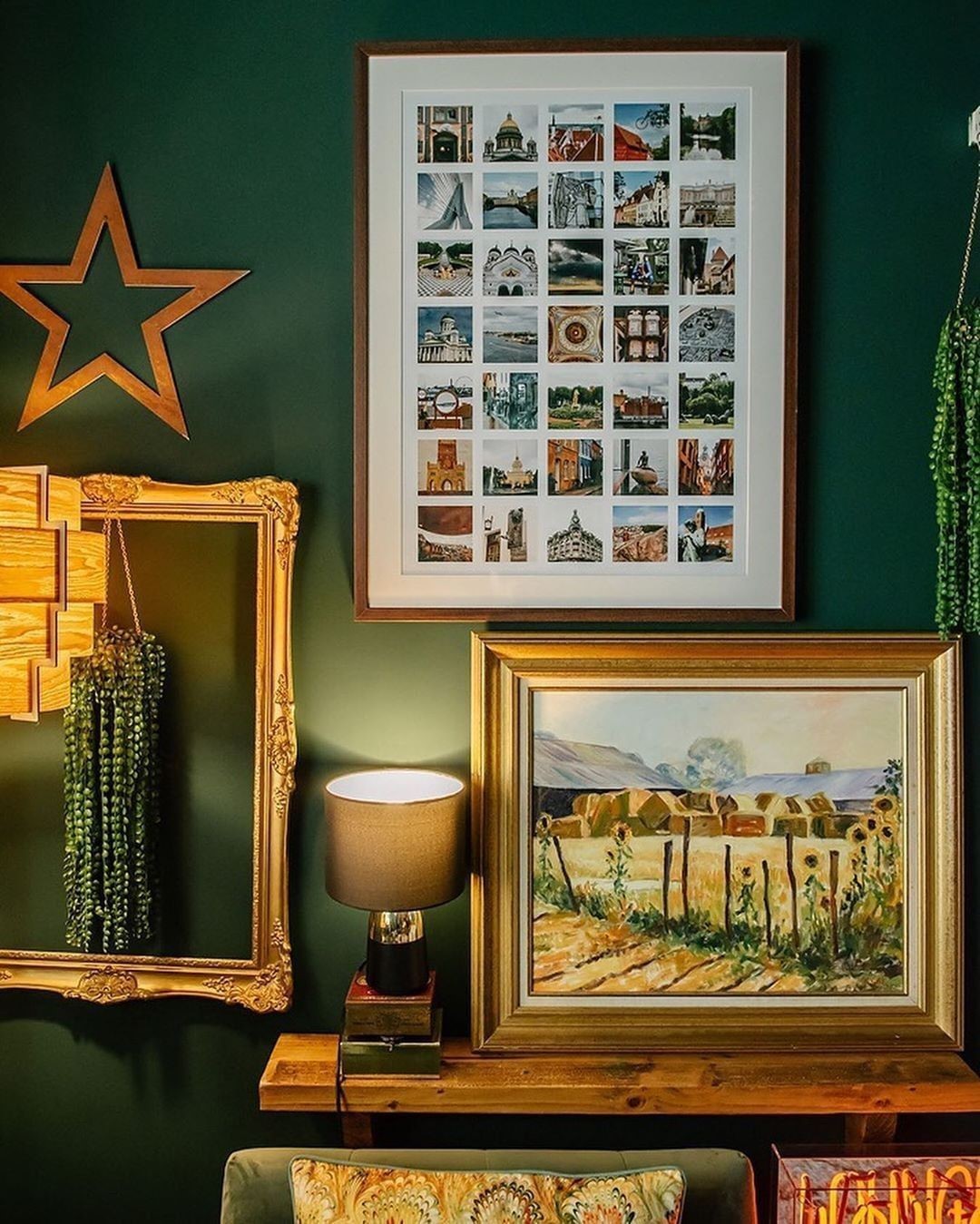 PHOTO BY @layered.home
---
So there you have it. Inkifi's ultimate guide to framing and hanging wall art. We hope you've found some inspiration for your own wall art designs.
If you want to create your own photographic wall art, be sure to browse our quality framed photo prints. And don't forget to share your Inkifi wall art by tagging us at @inkifi_instagram
Copyright © 2023 Inkifi. All rights reserved.